Meet the Greek Burger.
I enjoy planning family-style meals and the challenge of creating a meal experience that everyone will enjoy.
A few years ago, my best friends all wound up on the Left Coast. It was a dream come true — one that none of us thought would actually happen.
So, in celebration, we headed out to a sleepy town on the Oregon coast and took up residence in a 50-year-old beach house for a long weekend.
The house is charming and every wall is covered in pine paneling with aged brass. Every room is full to the brim with friends, and every year we add more babies and dogs to the mix. It's loud and fun and rejuvenating, even though it's full.
We've returned to the same pine-paneled house every year and enjoy hiking, playing, beach combing, and definitely eating. We bring enough food to feed our small army and rotate cooking meals thought the weekend. As a home cook, I love this part. I enjoy planning family-style meals and the challenge of creating a meal experience that everyone will enjoy.
I will say that we are fortunate. We have few food restrictions, which is a goddamn miracle in this day and age, and mostly everyone is happy with a variety of foods. This makes eating easy, and EASY is my favorite way to eat. And because we are basically reproducing like bunnies, easy is also essential.
This summer, my son celebrated his third birthday during our trip. His very favorites meal is a hamburger and fries. So, we cut up potatoes in the shape of French fries and fried them in coconut oil until they were crispy and golden.
But the burgers... those were special.
On a whim, I grabbed some feta cheese at the store and fresh parsley. Then a few sweet peppers, cucumbers, garlic, yogurt, dill and mint found their way into my cart, as well. What transpired was nothing short of an absolute inspiration.
Meet the Greek Burger.
Juicy, bursting with flavor, fresh herbs, and tangy tzatziki sauce, this burger literally made everyone at the table gasp. Served with a side of homemade fries, it was an actual revelation.
This is how you do it.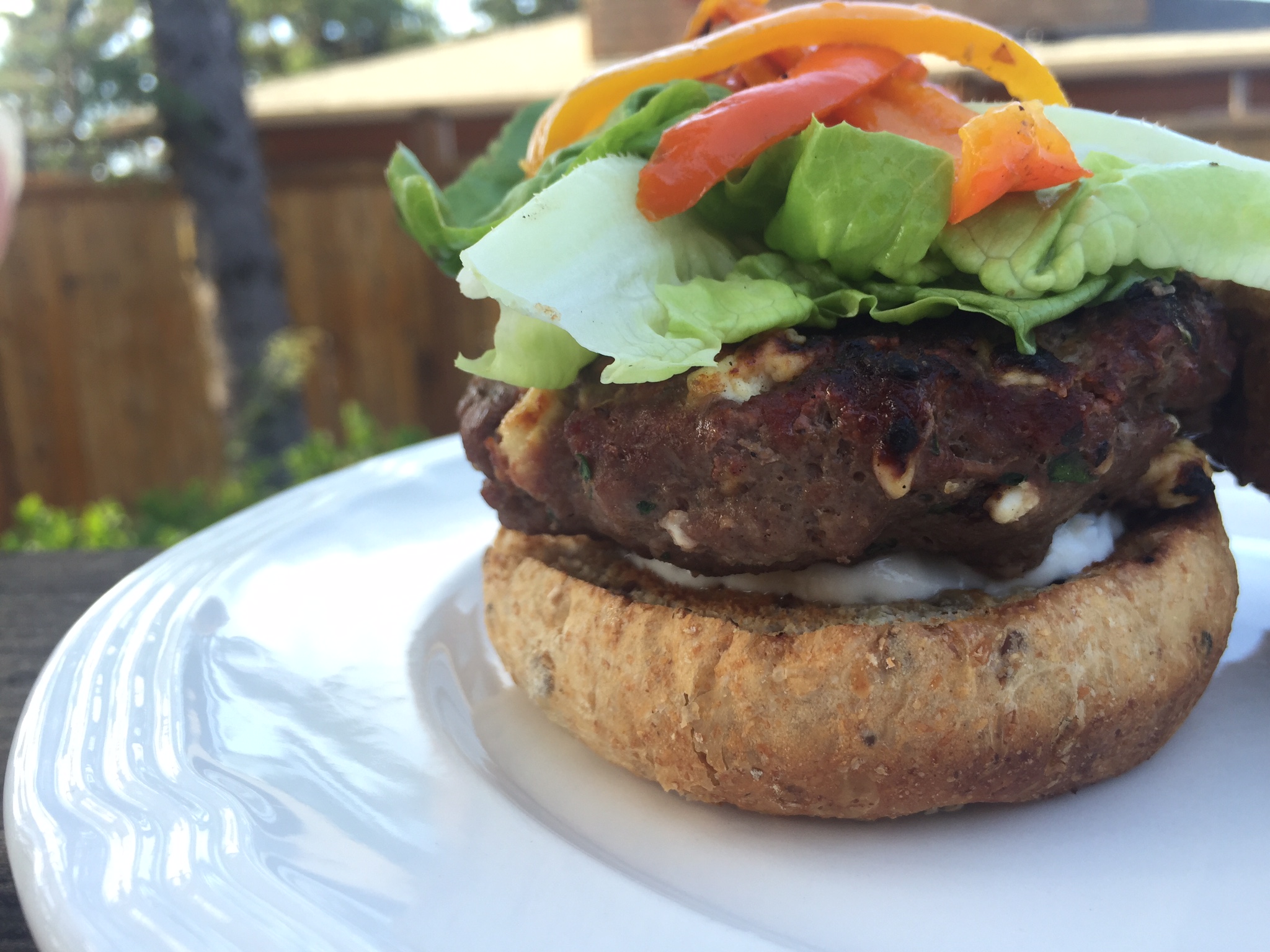 Ingredients:
2 lbs ground beef
8 oz feta cheese crumbles
1/3 cup fresh Italian parsley, chopped
5 mini sweet peppers
olive oil
sea salt and pepper
Directions:
Start your grill or preheat your oven broiler. This is the hardest part.
Next, combine meat, feta cheese crumbles, chopped parsley, and salt and pepper in a large mixing bowl. Use your hands to combine thoroughly and form into patties.
Coat the peppers in oil.
Cook whole peppers and burgers on grill or under broiler for 4 minutes on each side (8 minutes total). You might need to remove the peppers earlier, depending on the size and heat.
De-seed cooked peppers and slice lengthwise. Serve on burgers with tzatziki sauce. And if you want to up your burger game, see the video below!