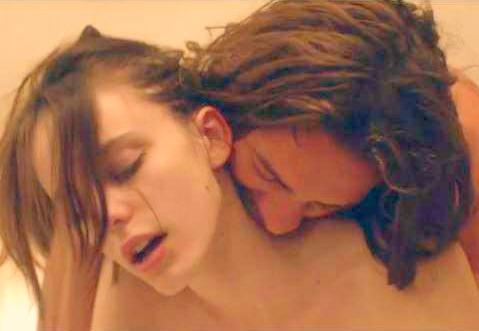 Few, if any, films this year have elicited more buzz than Lars Von Trier's Nymphomaniac: Volume 1 and Volume 2. The two-part film explores sex through incredibly explicit and sometimes "repulsive" scenes (at least, that's what I'm reading. Full disclosure that I haven't yet seen it), which could very well turn off mainstream audiences. This is often the case with such films: it is indeed rather cruel to promise the escapist thrill of steamy hanky-panky, then deliver uncomfortable sex scenes designed to make you question those very desires.
Then again, this is also what also makes these films so frequently great. Because really, sex isn't always, well, sexy. It can also be dark, twisted and very, very weird. Here are some picks for great sex movies in which the sex will definitely turn you off—but in a totally thoughtful, provocative way!
Showgirls

Oh, how woefully misunderstood this strange, darkly satirical, campy film is. While mostly and justly trashed for a cringe-inducing performance by Elizabeth Berkley (Jessie Spano, no!), it is still a piercing look at what sex looks like when distilled to its cheapest and most meaningless form, as seen through the lens of degrading showgirl and prostitution culture in soulless Las Vegas. In the movie's best, yet most-maligned scene, the Berkley showgirl character, Nomi Malone, has sex with a slick entertainment director in his Sin City pool, where in a brilliant touch, actual palm trees are accented with fake neon light palm trees. As she writhes around wildly, so disconnected from actual pleasure that it's not sexy at all, we realize the intercourse is purely for show and her life has been reduced to tragedy in the face of a misogynistic culture. No, seriously guys: it really is a great film!

Boogie Nights

The brilliance of this movie, besides employing the world's best casting director (Julianne Moore! Mark Wahlberg! Don Cheadle! William H. Macy! John C. Reilly!), is that it lures us in with a truly titillating look at the porn industry, then slowly takes the sex in darker and scarier directions until we're forced to confront our own twisted desires. By the time we see Mark Wahlberg's famously sizable d*ck at the end, we've become so turned off by the dark side of the porn industry that even the magnitude of his schlong can't possibly turn us back on.

Shame

Before addressing slavery in the Oscar-winning 12 Years a Slave, writer and director Steve McQueen—whose signature touch is to make his audience think as they squirm—tackled sex addiction in this incredibly bleak film that makes even threesomes with beautiful people look like something out of a horror film. Cheap mood lighting, a super-depressing protagonist, and sex scenes that test our patience, then last another five minutes after, make for an experience that is truly discomfiting. The result is a profound dissertation on the demoralizing power of addiction, but take it from experience: if you buy a bottle of wine one night and pop this DVD in hoping for some Michael Fassbender sexy time, you will be sorely disappointed.
Stanley Kubrick's final film, starring then-married couple Nicole Kidman and Tom Cruise right before they called it quits, is as weird, surreal and meticulous as his other classic films. Taking place mostly over the course of one very long night, it tracks Cruise's character after he learns his gorgeous wife has felt unfaithful urges. In a sort-of fever dream, he solicits sex on the streets, is hit on by a teen who's later pimped out by her dad, and explores a bizarre orgy cult where hot women and their cloaked suitors hide themselves behind masks. In the end, he confronts a prostitute in a morgue before ultimately finding his way back home. The ultimate message seems to be something along the lines of: monogamy is hard and our desires to stray can be very dark indeed. 
Did we miss any? Let us know below!
Image: Nymphomaniac trailer YouTube screenshot