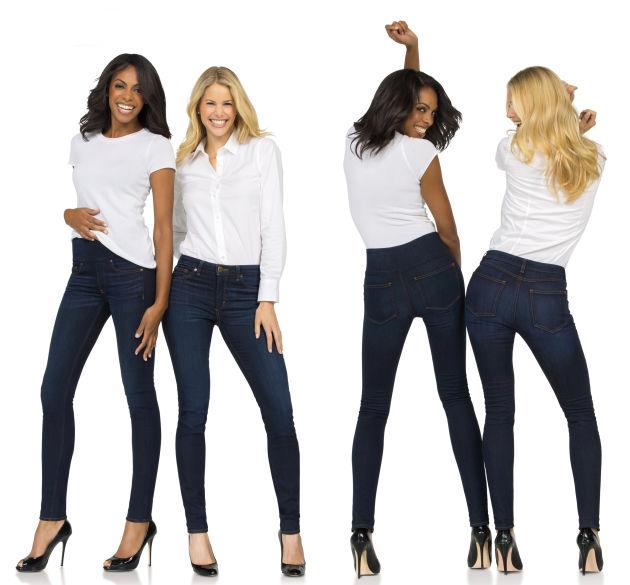 Oh, Spanx. We have such a love/hate relationship with you. One minute, we're cursing you as we squeeze you over our thighs and FUPA. The next, we're admiring how skinny and smooth we look in our new LBD. The next? We're cursing you again for being so goddamn tight and hotter than hell. It's complicated, Spanx.
Now, what's this? You're adding denim into your mix of slimming, cellulite-hiding shapewear? Like actual, wearable, "I'm wearing Spanx as jeans" denim? Things just got a lot more complicated.
In July, Spanx is getting its denim on in two distinct styles and to be honest, we're not sure how we feel about it. The "Signature" is meant to be worn with a long top and features a wide, tummy-hiding waistband and a side zipper for a smooth, sleek style. The "Slim" X, a classic five pocket style, will feature a stomach control panel and a high waist. Both will be available in skinny, straight and boot-cut styles and retail for $148. So Spanx isn't just making denim, it's making premium denim. What's more, the jeans have "patent-pending hidden shaping features that create a perky rear and all-around slimming fit." We'll see. It mostly just sounds unpleasant. 
Here's the thing about Spanx: they're really, really good at sucking in and smoothing all your business and making you look skinnier—owner Sara Blakely has built a billion dollar business doing just that. But they are so friggin uncomfortable, we usually save them for special occasions when we want to look super hot and svelte. We can't imagine actually wearing them like jeans, a.k.a. every day, all day, all the time.
All we're saying is, if they are going to live up to the Spanx name, and suck in and smooth and minimize and all that, how the hell are they going to be comfortable? Moreover, how are they going to be cute? I mean, the squeezed-fat look is fine when obstructed under clothing, but it ain't exactly pretty on its own.
Hopefully, all of these questions will get answered in July. Until then, we will continue to love Spanx. And hate it. And love it. And . . . damn, it's complicated.