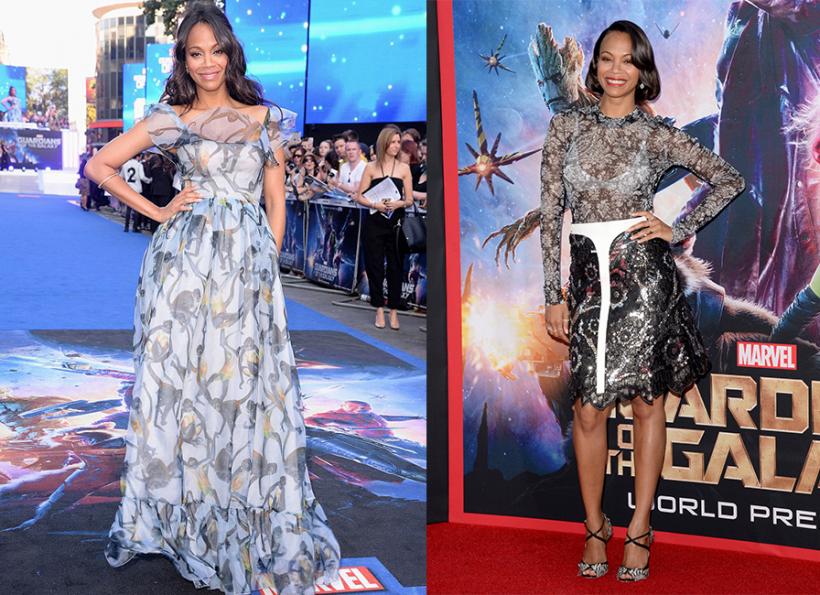 Any woman who's ever been pregnant knows that dressing up, even in your first trimester, is hard to do. You don't want to wear anything too form fitting because your body feels like its being rented out to someone else (and let's face it, it is), but you also don't want to wear a giant shapeless tent (it takes a lot to make a caftan look chic). Most of all, you don't want to look too cutesy, so anything pink, too ruffled, too covered-in-bows is out of the question.
Which is why we're so impressed with Zoe Saldana's pregnancy style over the past week. After her pregnancy (Marco Perego is the lucky father) was outed just a few days ago—and Saldana publicly shamed all media for invading her privacy—she brushed her shoulders off, called her stylist and said "Let's do this." She has a movie to promote, after all, and those promotional contracts were signed way before the babies were made.
She did not disappoint. Never one to shy away from a dress that could potentially put her on the "Worst Dressed List," Saldana wore a monkey-print Valentino dress to the Guardians of the Galaxy premiere. Yes, you read that correctly—monkey-print, but it works. She also rocked a Louis Vuitton blouse, sequined skirt and a white leather harness, proving that there is actually a time and a place to wear a white leather harness.
Saldana also had some more conservative looks. Our favorite was the simple white Calvin Klein dress she wore to ring the bell at the New York Stock Exchange. The claret shirtdress she wore to Good Morning America, also by Calvin Klein, was a great wear-to-work piece. Moms-to-be, take note!
But the best part of Saldana's whole tour de pregnancy fashion is that she never actually confirmed nor denied she's pregnant. Take that, media! She just lets the people talk and the haters hate, and then promptly takes a nap, like any other expectant mother.
Images: Valentino, Louis Vuitton, Calvin Klein, Calvin Klein