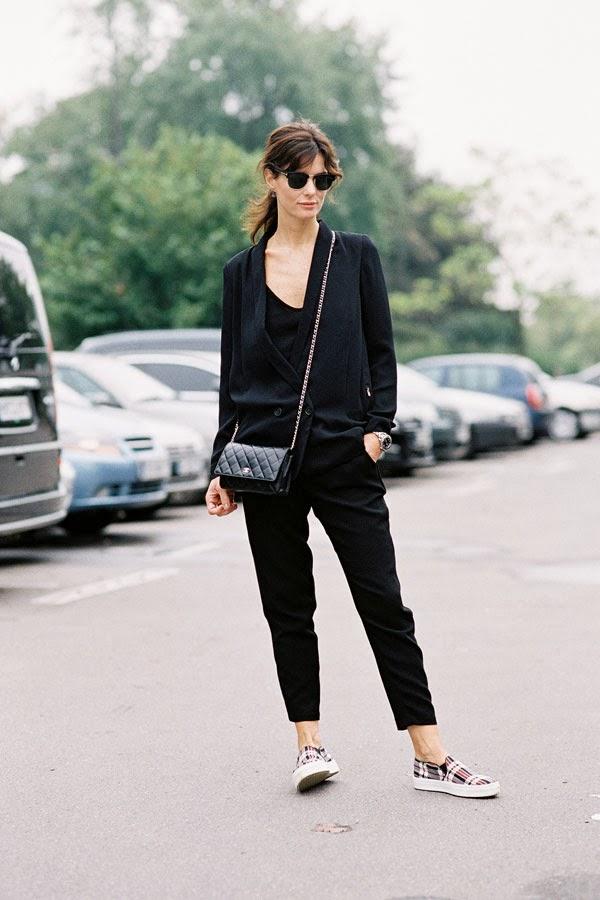 Don't worry, we're not about to get all "No white after Labor Day" on you. That rule is for Junior League grandmas and people scared of Anna Wintour. We're just saying that Labor Day is the unofficial end of summer, and it's time to start transitioning some of your turquoise and coral Hawaiian prints to some textural leathers and plaids.
But fret not, we've made your fall wardrobe update super easy! Swap out your summer favorites with our on-trend fall picks!
Summer staple: White eyelet top
Fall transition: Menswear stripe shirt
While white after Labor Day is 100% a fashion do, quintessential summer pieces like eyelet tops, little white dresses and linen separates should be replaced with more substantial pieces. Try a menswear-inspired stripe shirt with black jeans and simple flats.
Summer staple: Printed silk shorts
Fall transition: Colorful cropped pants
Who wears short shorts? Not you anymore. As temperatures drop, slip on colorful cropped pants, which were a huge hit on the fall runways, and (bonus!) are universally flattering on all body shapes.
Summer staple: White boyfriend jeans
Fall transition: Distressed girlfriend jeans
Let's be honest, by the end of the summer, your white jeans are starting to turn grey. Switch them out for the new girlfriend jean shape. They're a little bit fitted, a little bit slouchy and a lotta bit sexy.
Summer staple: Jersey maxi dress
Fall transition: Leather midi skirt
In the summer, the maxi dress is the easiest way to look polished and ladylike while fighting the heat. For fall, step up your game with some textural leather. We've already established our love of midi skirts, and a leather version is edgy yet sophisticated.
Summer staple: Birkenstocks
Fall transition: Slip-on sneaker
Keep your ugly sandals—they'll surely be around next summer—but swap them out for cool slip-on sneakers. Perforated, snakeskin, silk—there are plenty of options to choose from. 
Images: Pinterest, Zara, Aritzia, Piperlime, Shopbop, Coach