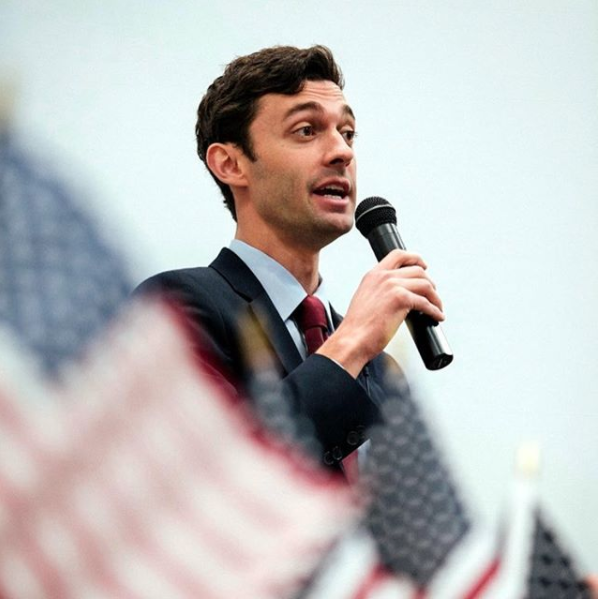 Jon Ossoff is trying to #flipthe6th by winning as a Democrat. Celebs can help by shutting up. (Image Credit: Instagram/jonosstoff)
Democrats and Hollywood. Hollywood and Democrats. The two have shared a locked embrace for decades, fawning with delight and admiration, one over the other.
Hollywood is cool. Of course. Celebrities are gorgeous, they're filthy rich, they're smooth-talking and confidence-exuding. If alien beings arrived and asked for evidence that we should be spared immediate annihilation, I'm betting we'd offer up Lupita Nyong'o, Ryan Gosling, Angelina Jolie, Matthew McConaughey, insert-your-preferred-hot-list-here. They beam on camera the kind of perfection mere mortals can only dream of, and dream we do.
Democrats are also cool. They have all the cool policies on lockdown. Saving the environment, gender equality, making the rich pay their "fair share," standing up for minorities. These are 21st century movements.
Plus, that's where all the college kids are at, and as the old adage goes: where the college kids stand, there shall you find the latest coolness. Or something.
The love tryst between L.A. and D.C. became more emboldened and undeniable during the White House tenure of President Obama. No one could hold more cool cards than our 44th prez and his preternaturally lovely wife Michelle, and Hollywood definitely noticed. Michelle joined Jimmy Fallon on his late night show multiple times, spawning the viral hit video(s) "The Evolution of Mom Dancing." In 2013, she even announced Best Picture winner Argo for the Academy Awards.
The list of celebrities who heart Barack is too long to go into here, so let's save time and say it's all of them. From Lin Manuel-Miranda rapping at the White House to Oprah bestowing on him her first ever public endorsement to Beyonce and Jay-Z partying it up at his birthday. Is there anyone with an IMDB profile who doesn't love Obama for life? Maybe Clint Eastwood. Otherwise, no.
Here's the thing, celebs: people love you. They do. But when you're all up in their biz about who they should vote for, they start loving you a little less.
That's fine. It's been fun. I love Michelle Obama (FLOTUS for POTUS, as some say). And Obama is exactly the sort of person I want representing our country — thoughtful, unruffled, intelligent, gracious. Points. Hand claps. Yes.
But if Hollywood actually believes in the policies it generally espouses, and truly wants to help Democrats win seats, the time has come for them to do something sui generis for their profession: be quiet.
Witness the recent campaign of Jon Ossoff, a heretofore unknown 30-year-old running for Georgia's 6th district House seat. Celebrities poured in their dollars to support him, seeing this special election as an opportunity to notch a win against President Trump. (Georgia's 6th district voted for Trump, but only by two points).
But the actors and pop stars also let run their verbiage about how important it was that Jon Ossoff win. And while I don't want to minimize the importance of a House seat (one of 435), it does seem like the hubbub was much more about scoring a symbolic zing across Trump's ego.
Here's the thing, celebs: people love you. They do. But when you're all up in their biz about who they should vote for, they start loving you a little less.
The reason is simple, to my mind. If you have achieved this kind of success — career accolades, mountains of cash, pristine physicality, and all the open doors fame brings — why should you also be lauded and revered in the political sphere?
It's all just too much. You seem… greedy, Hollywood. Like, not only does your music and amazing acting matter, but ALSO your political opinions are clearly perfection.
This kind of thing can feel patronizing. And I don't think it's gonna help Jon Ossoff.
Just look at what it did for Hillary Clinton.
After Katy Perry belted her heart out.
After Jay-Z threw a free concert in her honor.
After Kerry Washington appeared in ads for her.
After Julianne Moore spoke at a Clinton fundraiser.
After Lena Dunham and America Ferrerra spoke at the Democratic National Committee.
After this PSA begging the electoral college to stop Trump.
Donald Trump still won the election.
You gotta read your audience, Hollywood. And right now, that audience is saying: get off my lawn and get out of my election.
It's time for the good old days of quiet fundraisers where you let your money speak for you.
(Warning: I hate the money in politics, and will be writing about how all that mess needs to be done with, but for now… okay, for now, just stick to the fundraising).
Jon Ossoff didn't quite make the 50 percent threshold necessary to avoid a runoff, so he'll face Republican Karen Handel in June. I'm sure he'd appreciate your dollars, celebs.
But maybe keep the tweeting to a minimum.