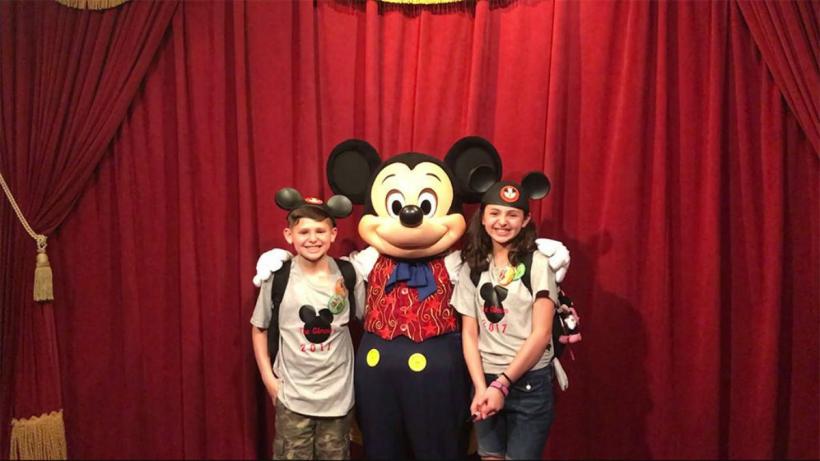 image credit: Facebook
Yeah, I cried. WHAT OF IT?!
I see so many videos pass through my news feed that I often skip them; I don't want to see random animals being hurt, how to put on lip gloss with my elbow, or 10 things I should do before I turn 30 because I'm already in my mid 30's and haven't done 99% of it.
But this one video kept popping up that featured Mickey Mouse. I'm not an obsessed Disney fan by any stretch of the imagination but come on, who can say no to freakin' Mickey Mouse?
So, I watched ... and cried. Then I watched again, and cried again.
Courtney and Tom Gilmour of Portland, PA. had been fostering 12-year-old Janielle and 10-year-old Elijah for three years. 
They had planned a vacation to Orlando for the Star Wars celebration, but realized that the official adoption date they had secretly been working on was to fall during that trip. 
With the power of Twitter and Disney, an already awesome time became an emotional one.
Janielle and Elijah met with Mickey Mouse and thought they were just going to get autographs for their book, but they got SO. MUCH. MORE.
Disney offered a special meet and greet with Mickey so he could let them know their adoption date. The kids had no idea any of this was happening. They just thought they were getting their books signed. This went better than we had hoped. They were beyond shocked and we were beyond emotional. We were very lucky to have Aunt Vicki there to film it! *side note* have tissues when watching PURE DISNEY MAGIC! #adoption #Disney
Courtney told E! News, "The response has been awesome and overwhelming. I was just sharing it to share it but it's taken on a life of its own... It's put foster care in a positive light that doesn't always get shone."
We are absolutely thrilled for the Gilmour family and wish them a lifetime of happy memories.
Related: