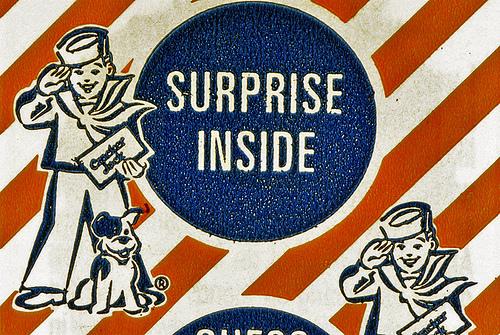 Oh Em Gee, new trend alert!

First, invite your family and closest friends to a big birthday bash.
Then, surprise them all by turning the party into a blasted wedding.

Seriously.

Apparently this is trendy amongst celebs, which (hear us out) makes sense. Gisele Bündchen and Tom Brady gathered their lovelies for a "christening" back in 2009 then — surprise! — tied the knot at the St. Monica's Church. In doing so, they reduced the opportunity for paparazzi to ruin their nuptials and were able to keep the crowd small.
(Sidenote — what a genius filtration system! Come on, you really have to love your friends to sit through their baby's baptism. People crash weddings, not christenings.)

For us normal folk, weddings are bloody expensive. The majority of US couples spend between $19,242 and $32,070 on tieing the ol knot. Oh, and that doesn't include the honeymoon, bribing relatives to behave, or pre-nuptial counseling. Flowers and decorations are also wicked expensive so you can skip those for your ambush wedding too (duh, it would ruin the surprise!). You also avoid sending out save the dates, which is good because Pinterest has majorly upped the ante on those puppies.
Surprise weddings allow you to skip over all skip these costs. 

If you're planning a small wedding, you will additional benefits like avoiding all the "why didn't you invite me" drama before your big day. Liz from HR (who you got beers with, like TWICE), can complain about being overlooked later. Time is also a factor. On average, US couples spend 14 months planning their wedding. A surprise wedding can be planned much quicker — Tom and Gisele claim theirs took less than two weeks. Think about it: that's 14 months you won't be stressed and making excuses to weirdo Liz. We can totally see why people do this.

So, be sure to watch your backs now. Every time you're invited to an engagement party (please), christening (it's been done), birthday party (pshhhh) or bar mitzvah (okay, maybe not that one), YOU TOO could actually be attending an ambush wedding.