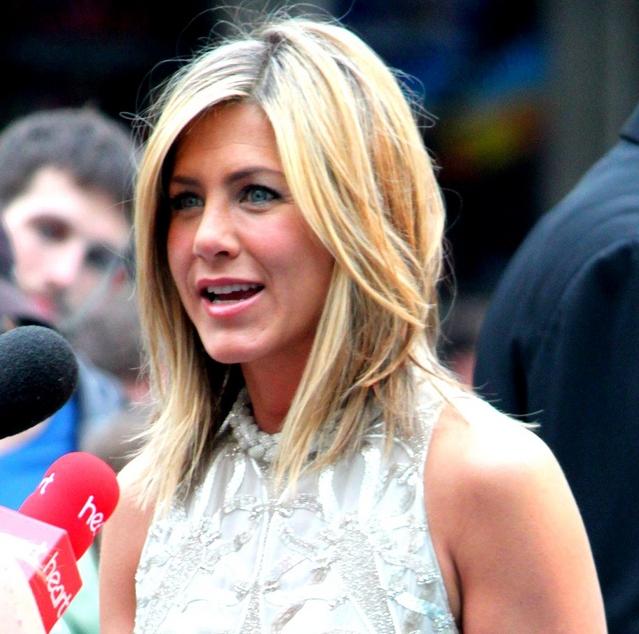 Among tabloid victims, Jennifer Aniston has indisputably taken the most vicious hits. Hardly a day goes by without seeing a cover line decrying her sad-sack love life or celebrating her (not-real) pregnancy.
It's hard to imagine what exactly it would be like to be slandered on a regular basis, so we give Jen props for fighting back in a new Associated Press interview, saying of tabloid rumor-mongering, "All that stuff, it's toxic," while adding:
It never gets un-jarring, but you do have to not let it imprison you, which is possible too.
It's not so much that the tabs are lying (that's what they do, and we should know that by now...right?). It's that they lie in a way that is damaging to Jen and ladies and all people everywhere by being nasty and playing into harmful stereotypes. All is takes to see this in full, devastating effect is to pore through a Google Image search of Jen-related Star magazine covers, which regularly reveal the following hurtful "facts":
Jen is Preggers (Except...Um, Not)!
Here, we learn that Jen is finally, at last having the baby she so desperately wants, because any woman above the age of 30 must be hungering to pop out them babies. This trope is notable for the fact that it has never turned out to be true, but is still used to sell magazines. Also, it usually involves fat-shaming by trying to play up teeny-tiny pseudo bellies (this is rock-hard Jen Aniston, remember) as proof of a pregnancy. A sampling from Star:
"Mom at Last!"
"Jen's Joy! Baby at Last"
"Baby at Last-With Brad's Help!" (say what again?)
"Jen: I'm Pregnant-With Twins!"
"Jen Gets Ready for her TWINS" (twins are much more dramatic, apparently)
"Twins for Jen!" (oh my god, you guys, why do you want Jen to have twins so badly?)
"Jen's Pregnant!" (with an arrow pointing to a small "belly" using an unflattering side-view shot)
Jen is Desperate to Get Married!
When not hoping for lots and lots of babies (and twins!), Jen is reportedly clamoring to walk down the aisle. Because every woman over the age of 30 wants to get hitched (wait, we're sensing a pattern here) . . .
"Jen Pops the Question: Marry Me!"
"Wedding is Off: The Fight To End All Fights" (including a photo of Jen wimpily weeping)
"Jen: Pregnant Bride!" (a mix of two tropes...clever!)
Jen is an Emotionally Needy Perpetual Dumpee!
Condolences to Jen, because apparently, men are always dumping her and she's always super-bummed and mopey-sad about it, to the extent that she'll do anything—anything!—to get her man back.
"It's Over!" (with a photo of the "other woman" who stole her man, Justin Theroux, plus—bonus!—the line "Jen to friends: I can still be a mom without him")
"Jen's Heartbreak: DUMPED"
"Hurting After Her Heartbreak, Jen Turns to Brad"
"I Can't Stop Loving Brad"
"Jen Tells Brad: I'll Take You Back!"
"Pregnant and Alone, Jen Tells Brad: I Want You Back" (this headline is such a juicy winner, OK magazine has also run the cover line "Pregnant and Alone" for Jen)
We'll remind you here that this is only a small sampling from just one trashy tab. If you want more of the exact same, check out the Google Image searches for covers of In Touch and Us Weekly.
Warning, though, that it turns out Jen is so very right: This sh*t is toxic.
Image: Brett Cove/Flickr