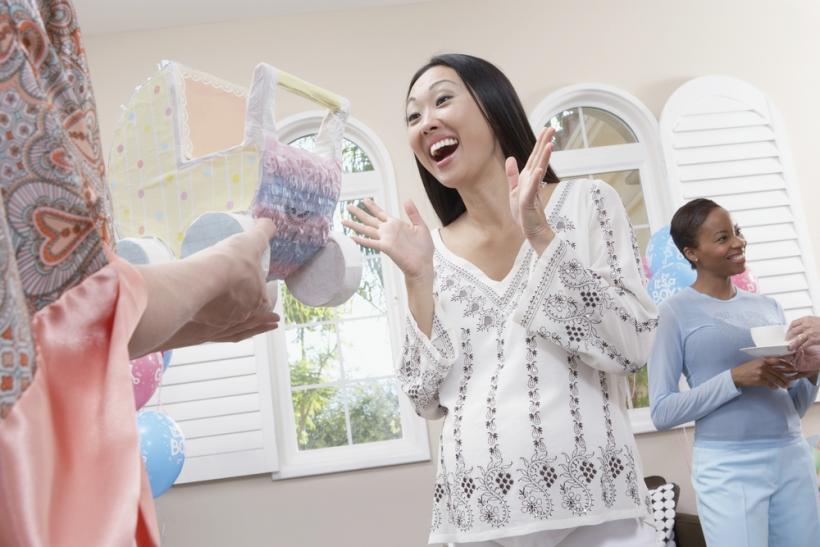 Here are some real talk, non-cliche baby announcements and invites you can use instead.
A friend of yours gets pregnant and, for the next ten months, you are inundated with social media posts and actual mailbox mail about every detail of her womb trophy and invitations to her myriad baby-related events. 
"We're pregnant!" Date stamped pic for eight months down the road, the couple's Labradoodle, 'Knickerbocker,' adorably wearing "World's Best Big Sister" shirt. 
A few weeks later...
"Oy with these pickle and peanut butter cravings!" Cheeky picture of friend and her partner with hands on her bulging belly. Knickerbocker playfully being kneed out of frame.
A short while after that...
"Frocks or frogs? Trucks or tutus?" Pink and blue gender reveal party invite. 
A few months go by:
"Come celebrate our joy! We're registered at Nordstrom." Baby Shower invite in the appropriate blue/pink hue with cute graphics of strollers and rattles to remind you to buy things.  
A few months later, again: (Holy God. Is she STILL pregnant? Hasn't it been, like, three years?! Is she part elephant?) 
"Any day now..." Pensive black and white maternity photo, your friend looking down wistfully cradling enormous pregnant belly. Extra points if snow falling. Knickerbocker seen sulking in the background. 
FINALLY: 
"He/She has arrived!! We never knew our hearts were capable of such heart love!! Heart!" 16,000 pictures of sticky newborn in various plop positions. 
A short while later: 
"Our perfect family of three! Blessed beyond words!" Birth announcement with professional photo of parents and newborn. Ominously, Knickerbocker is nowhere to be seen. 
That's how it goes. Every time. It's standard operating procedure...but it doesn't have to be. If the whole thing gives you the willies, and it's your turn to be pregnant and smash your family and friends' faces in the gladness of it all...
Here are some real talk, non-cliche baby announcements and invites you can use instead. (Someone should probably check on Knickerbocker.)
---
Related: