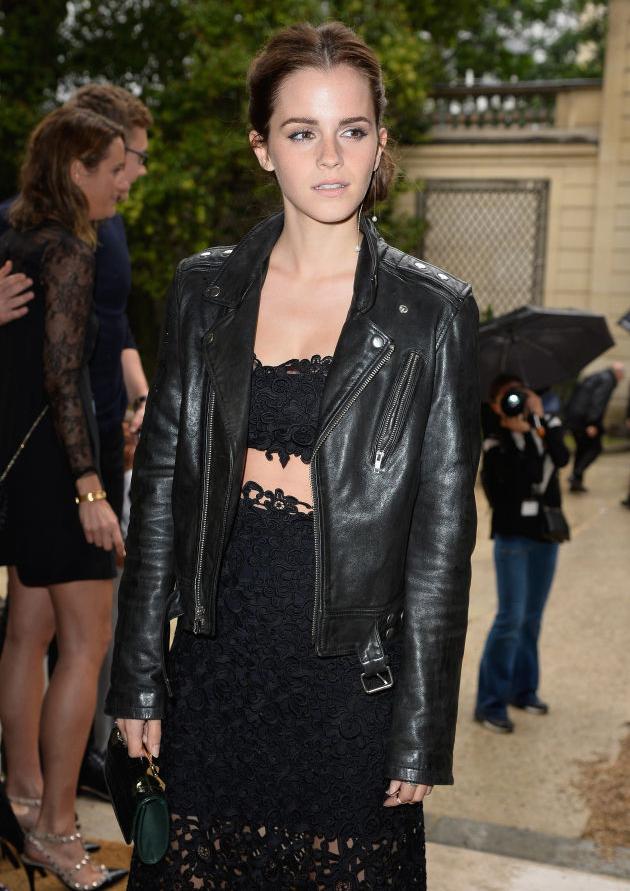 If you didn't hear, Emma Watson got palm-planted by celebrity jokester Jennifer Lawrence in the front row of the Dior Haute Couture earlier this week. Poor Emma Watson! The Internet has been so preoccupied with the hand/face contact, they've failed to mention that Watson has been absolutely murdering it on the red carpet at damn near every show during Couture Fashion Week. Girl looks amazing!
While we've always loved Watson's offbeat yet classic style, this week she's introduced a more mature, dare we say "witchy" vibe, with losts of black and touches of skin. She started out simple on Monday for the Giambattista Valli show—a black draped blouse, skinny black pants, simple black pumps and a statement frame bag. Finished with a center part and a red lip, this look was super austere, but still totally worked.
For the Dior show (the site of the face-palming incident), Watson went girlie. She wore Dior of course—a layered black layered kite dress with a crème under layer, paired with some kooky heels. On anyone else, it could have been a borderline miss, but on Watson, it looked cheeky—like she just swigged some champagne, threw it on and walked out the door (though we all know this is not what happened).
The black cherry on top of Watson's reign of couture week occurred yesterday at the Valentino show. Watson pulled out all the stops in a back lace crop top and matching full skirt (pictured above). Bitch looked bad! She topped it with a leather motorcycle jacket and wore a single pearl dangly earring.
J.Law, while you may have won the attention of the Internet this week, Emma Watson definitely won the fashion prize. We can't wait to see more.
Images: Facebook