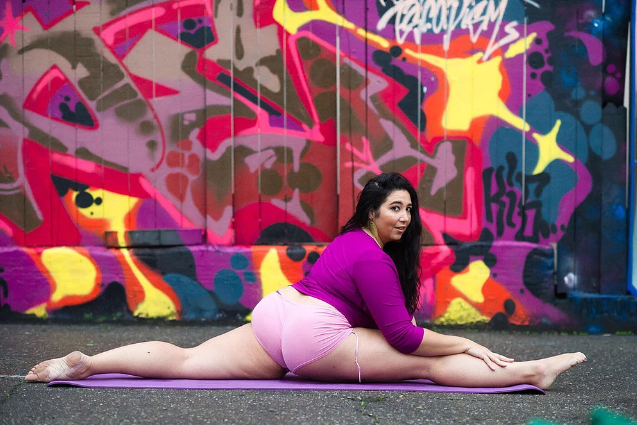 Alexandria Nichandros by Chloe Jackman Photography
The world loves to define fat people. Always too much and never enough, society's attitude toward plus-size bodies often holds us back from pushing forward and doing the things we want to do. 
How many times have you felt that something was "too much" or you didn't want to draw attention to yourself? How often have you sat out an opportunity, a dance, or the chance to ask out a person that you are interested in because you have felt undesirable, incapable, or unwanted? 
What if you could gain that back? Many people are doing just that with taking dance classes. In some areas, you can even find dance classes specifically for people with bigger bodies and/or limited mobility. 
It's easy to feel overwhelmed and discouraged when you don't see anyone doing the things that you love. That's why we've compiled a list of nine dancers who you must see. Check out these big-bodied badasses as they joyfully jiggle and shake their bodies and keep them in mind the next time you want to hit the dancefloor! 
Charlotte-based plus-size dance troupe 4Thirty-Two shows off their moves in matching outfits by SimplyBe. These body-positive advocates are making a change by teaching other big-bodied babes how to embrace their curves and move it with pride. 
2. Dexter Mayfield (@dexrated)
Queer brawn model, dancer, and choreographer Dexter Mayfield owns any runway or stage that he graces. Aside from his incredible dance moves, Mayfield went viral in the 2015 Marco Marco fashion show as he slayed the runway for himself and plus-size men everywhere. "We need to be out there on billboards. I think that so many more young men will be confident in themselves and happy as the person they are if we can do that," he told Mic in a 2017 interview. "No matter how far I've come in the industry, I've been told, 'You still need to lose weight.' When it comes to presenting an image of male beauty, we need to expand that. We have Zach now, but we still have a long way to go."
3. Lizzy Howell (@lizzy.dances)
Teen ballerina Lizzy Howell has been dancing since she was five. Last year, a video of the teen doing fouettés went viral and helped launch her body-positive dance career. 
4.Charli Michelé (@chalayymichele)
Bay area babe turned Los Angelino, Charli Michelé, dances her ass off in the Brooklyn Jai dance class. 
5. Alexandria Nichandros of the Click Your Heels Movement (@clickyourheelsmovement)
Dancer and teacher Alexandria Nichandros teaches many different forms of dance with a repertoire including swing, salsa, merengue, bellydance, pole dancing, floorwork, non-verbal communication and body language, specialty work with so-called "no-rhythm/two-left-feet" types, and more.  
6. emFATic Dance (@bigmoves_bayarea)
Founded in 2008, Big Moves is the only organization dedicated to getting people with big bodies out and dancing. Big Moves' entirely plus-size dance troupe, emFATic Dance, creates beautiful, impactful performances. 
7. Thais Carla (@thaiiscarla)
Plus-size dancer and new mom Thais Carla has moves to kill! From ballet to modern to hiphop, Thais Carla has followed her dream and perfected her art despite naysayers. Check out this great video. 
8. Amanda LaCount (@amandalacount)
Plus-size dancer Amanda LaCount is dedicated to breaking the stereotype of the thin, underweight dancer… so much so that she created her own hashtag — #breakingthestereotype. From music videos (Katy Perry's "Swish Swish") to TV (The Ellen Show, Dancing With The Stars, The Voice) and stage, LaCount is proving folks wrong left and right. "The media tells us that if you aren't skinny, you aren't beautiful. This is especially true in dance, where the underlying stereotype is that to be a dancer you must be tall, skinny, and caucasian. I was told by many people — peers, parents of peers, dance teachers, studio owners, strangers, even Richard Simmons! — that I was too fat to be a dancer. But I'm here, and I've proved them wrong," she tells Dance Spirit. 
9. Leticia Brum (@leticiaableal)
Brazilian dancer, actress, and model Leticia Brum breaks it down for cameras. You can follow her via YouTube, as well, to see what new moves she has mastered.
---
Related: