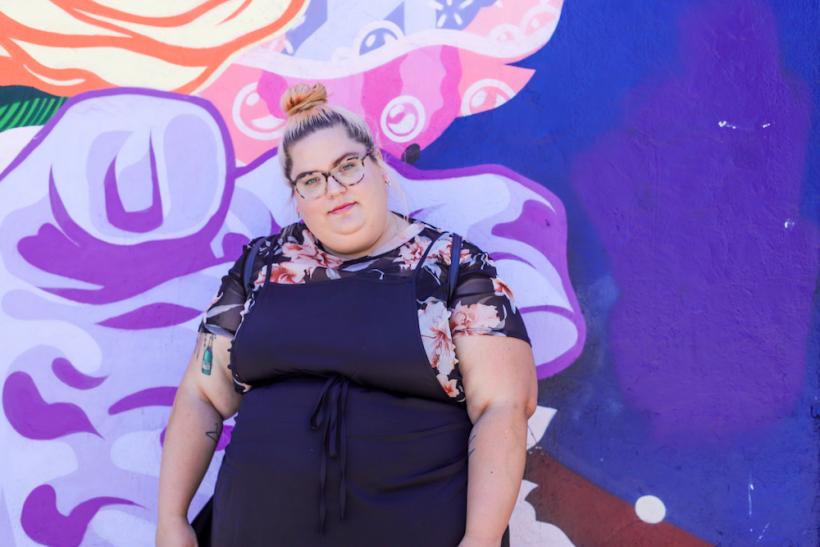 Jessica Hinkle by Marcy Guevera-Prete
If you're Gen X or even an older millennial, seeing the 90s and early 00s come back around as a "retro" look can invoke a multitude of emotions from nostalgia, to oh-my-god-am-I-that-old, to disgust. Some shit should just stay buried, y'all.
Other trends look fabulous and actually make a ton of sense with their wearability and convenience for your plus-size summer wardrobe.
For many of us plus-size fashionistas, the resurgence is bittersweet. Whether you were a virgin who couldn't drive or as popular as Dionne Davenport and Cher Horowitz combined, fashion options were still rough for plus-size bodies. As someone who spent a large part of their childhood and teenage years yearning for the cool trends that their thin friends could rock and sadly circling my favorite trends in the Delia*s, Girlfriends, and Alloy catalogs (shout out to Alloy for carrying up to a size 25, albeit ill-fitting), it can be both sad and an opportunity to wear the trends that I did not get to enjoy at that age because they didn't come in my size and my family was too poor to afford them.
From t-shirts under spaghetti-straps to platform sandals to mini-backpacks and fannypacks, there are some things that deserve a comeback. Hello, combat boots with a babydoll dress and dark, vampy lipcolors? Yes, please. Frosty silver eyeshadow and glossy lips? You bet. 
The secret to making these looks work and not look like you're trying to be Cool Mom is to simply not try too hard. Don't toss five things on at once and expect it to simply work without looking like a costume, when in reality you're a lot more likely to look like Jerri Blank returning to high school.
While halters can be hell on a larger set of breasts and the neck expected to hold them up, you can get the look with high-neck tank tops made to look like the 90s squared halter neckline but without the ergonomic hell, as seen on Coco Madrid in #3. However, there is no substitute for the scarf-as-a-shirt trend of the 90s. Any size can make it work, you just need to get a larger scarf or square of fabric.
Go, Speed Racer, Go! The 90s and early 00s served some serious racetrack inspired looks, for better or worse — think Britney, Spice Girls, Lil Kim, Miss. There were some major looks and each had a much more modern take on the original B-Girl tracksuit. Samoan-Australian rapper Asia Penelope puts a couture spin on the look in this amazing blue and white dress.
The 90s were all about bold vertical stripes. If you're nervous about it, try a simple pinstripe to start and then try a blue-and-white. Some of the best throwback examples of vertical stripes are the multicolored neutral striped flares which were hella popular in the 90s and early 00s.
Ditch the back-breaker that is a heavy, oversized purse on one shoulder in favor of a mini or midi backpack which is balanced across both shoulders.
The summer-friendly version of the overall, short-alls have made a comeback and YES, plus-size clothing companies are recognizing how rad they are and making them for our bodies, too! If you've got a pair of denim overalls that you love but don't love the silhouette, just turn them into cut-offs for a much more stylish summer-friendly option.
The quintessential wardrobe basic of the nineties, the cropped baby-tee is back. Why not make it a political statement, as well? PNW-based model Katana Fatale rocks a fat-postive tee by fellow fatshionista Jessica Hinkle over at Proud Mary.
Just say yes to a bit of extra foot support. Even Teva has caught on and started making stylish sandals for 90's lovers for a little less "granola" crunch and a bit more glitter.
You don't have to look like the lost member of Color Me Badd or Jessie Spano's body-double if you wear colored denim. Be careful not to incorporate too many trends into one look when utilizing this bold but simple trend. Floral is a great accompaniment, but leave the vertical stripes at home.
Tees Under Dresses and Jumpers (@kawaii.chola)
How many times have you had a great dress but just felt like not being that exposed? You can remix your looks by tossing a cute tee underneath a spaghetti strap column or slip dress and extend that look to other cuts, too, like jumpsuits and rompers.
Fanny packs make sense and they're cute. Fight me.
(A quick reminder for our global readers: in the U.S. we mean fanny like your backside, not your frontside. Otherwise, this would be totally different type of article…)
Yes, we know how Miranda Priestly feels about florals, but whatever. Florals have gotten bolder and more interesting as indie pattern designers have greater access to creating their own printed fabrics which is an amazing way for DIY seamstresses out there to create incredibly unique pieces right down to the fabrics. Either way, yes, florals can be "groundbreaking." So shove it, Priestly.
---
Related: