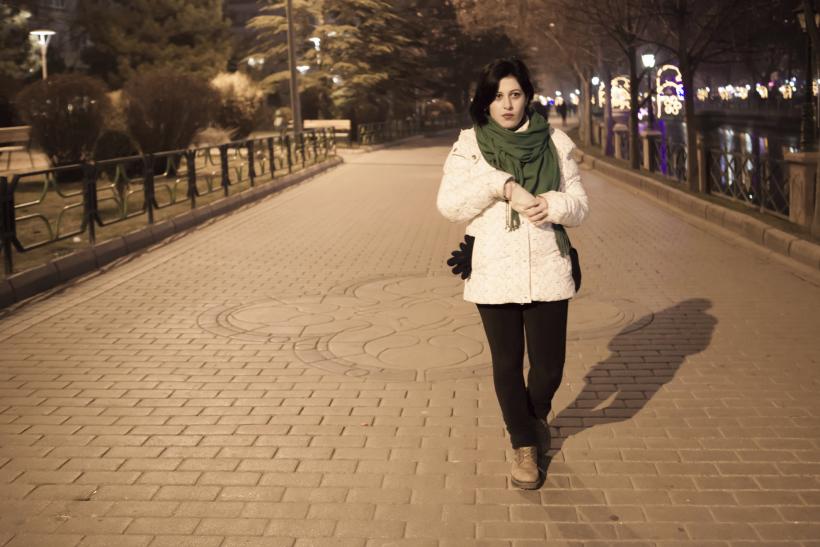 Recently all our friends' feeds have been glutted with BuzzFeed's recent article: '29 Things Women Avoid Doing Because We Fear For Our Safety'. Given that the article's been viewed over a 1.5 million times, clearly this issue has some serious resonance among the woman-folk in our lives. Apparently we're all a bit worried. (If not for ourselves at least for each other.)
A 2014 study conducted by Stop Street Harassment found that 65% of the 2,000 women surveyed had experienced street harassment--23% of those women had been sexually touched. 
Suffice it to say, shit can scary out there for us ladyfolk. But for those still looking to paint the town red, but want a little more peace of mind, we got you. (Because clutching car keys in our fist doesn't fill us with an overwhelming feeling of security either.)
1. Circle of 6 — "A free app that prevents violence before it happens"
Created by CEO and activist Nancy Schwartzman, Circle of 6 is geared toward preventing sexualized violence among college students (which, um, is kind of a giant thing these days). The app allows users to program in a safety network of six people (your "Circle") and with a quick tap, send the network a request for either a.) an interruption b.) an immediate pick-up (complete with a map to the user's location) or c.) advice on healthy relationships. Another emergency button gives the user the option of contacting a rape or abuse hotline or the local authorities.
Bonus points awarded to this app for Schwartzman's handle on rape culture: "We wanted to be very, very careful to ensure that none of our materials—not our ads, or a press release, or even a tweet—could be construed as victim shaming. I don't want anyone to ask why she was out at four in the morning. I just wanted a tool focused on harm reduction." Preach.
2. bSafe — "Safety is in your hand. Everyday. Everywhere."
A multifunctional app, bSafe also involves the creation of a personal network of friends and family (called "Guardians") and enables them to "follow" you home via GPS trace. The app also has an alarm feature which, when pressed during an emergency, sends your "Guardians" an alert with your precise location. Meanwhile, bSafe also records audio and video in case, heaven forbid, you need it for a police investigation.
3. Nirbhaya — "Be Fearless" 
Developed in India in light of increasing reports of sexualized violence, Nirbhaya also offers a personal alarm, which users can trigger if they find themselves in harm's way. As with the other apps, Nirbhaya sends the user's geographical location to her network. What makes this app unique is that you can trigger the alarm by tapping on the screen, clicking the power button in quick succession, or shaking the phone three to four times. Nirbhaya also has a geo-fencing feature, which allows users to designate safe areas and notify designated contacts when users have entered or exited these spaces.
4. Kitestring — "Safety, with strings attached"
Designed by an MIT grad student whose girlfriend asked him to check up on her after she walked home from work in San Francisco, Kitestring is different from the other apps in that it doesn't require an action to trigger an alert, but instead inaction. You use the app by informing it that you're in a dangerous place or situation and set a time frame of when it should check in with you. If you don't reply when the app inquires about your status, it'll send your emergency contacts the custom message you've set up. Running later than you thought because of a stupid public transportation delay? The app makes pushing back the check-in time a piece of cake. It's a fantastic idea as it doesn't require the user to do anything in the case of an emergency—which, realistically, you may not be in the emotional or physical place for.