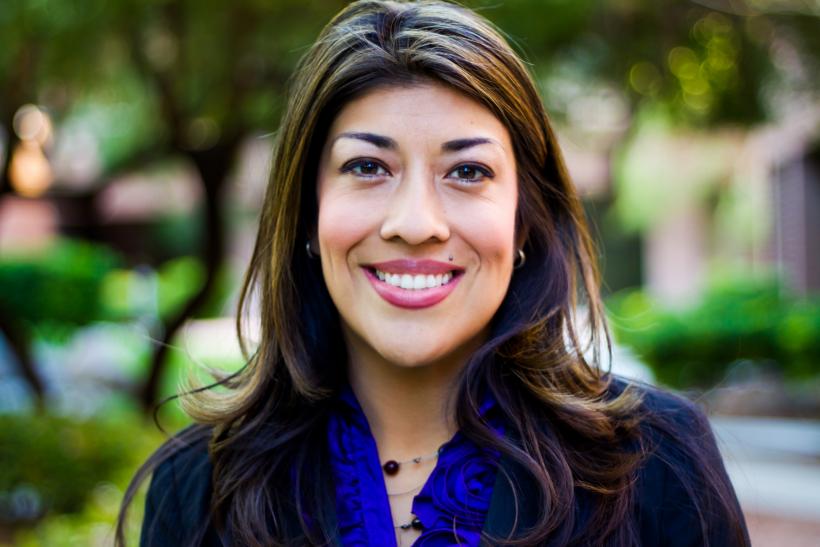 Lucy Flores, Democratic candidate for Nevada's Lieutenant Governor (Credit: Twitter)
One need only look at the Oval Office to see that when it comes to politics, we've got a bit of a gender discrepancy. In this weekly roundup, we focus on powerful political women in the news who are creating (or sometimes preventing) new cracks in the proverbial glass ceiling of policy-making. Politicos, move aside. We bring you . . . politicas.
Lucy Flores
The Democratic nominee for Nevada's Lieutenant Governor is making waves for her frankness about an oft-taboo topic among politicians: abortion. During a debate over a bill to improve sex education in schools, Flores revealed that she had an abortion at age 16, and spoke eloquently about her struggle:
I always said that I was the only one who didn't have kids in their teenage years. That's because at 16, I got an abortion . . . I don't regret it. I don't regret it because I am here making a difference, at least in my mind, for many other young ladies and letting them know that there are options and they can do things to not be in the situation I was in, but to prevent.
Considering how controversial abortion is—even within her own party lines—Flores' honesty is quite remarkable. Will it inspire other politicians—female and male—to drop the pretense and get real about their experiences with politically fraught issues? Something tells us not to hold our breaths.
Hillary Clinton
Meanwhile, in Hillary-world, Clinton continued making the news-shows rounds with an appearance on The Daily Show, during which she addressed the crisis in Gaza and said she was "amazed" by the "cottage industry" of media scrutiny surrounding her.
Also making headlines? She boldly called Putin out over the MH17 crash, pegging the tragedy to Russian-backed rebels while saying the Russian president has "gone too far."
Meanwhile, she remains strong in the polls—though the progressive faction of the Democratic party remains loyal to Massachusetts senator Elizabeth Warren. And no, still no announcement.
Renee Ellmers
And now for a woman of dubious merit—you almost have to feel bad for the GOP sometimes. When a group of conservative female lawmakers got together recently to discuss ways to boost the female vote, this is what one of their leaders—North Carolina Rep. Renee Ellmers—had to say:
Men do tend to talk about things on a much higher level. Many of my male colleagues, when they go to the House floor, you know, they've got some pie chart or graph behind them and they're talking about trillions of dollars and how, you know, the debt is awful and, you know, we all agree with that . . . We need our male colleagues to understand that if you can bring it down to a woman's level and what everything that she is balancing in her life — that's the way to go.
Trillions of dollars? Pie charts? Graphs?! Pretty head hurt. Must be tiny woman brain.
Clearly, Ellmers does not represent all conservative women, many of whom I'm sure have legitimate ideas for reaching out to a demographic that has been slipping from the party's grasp as a result of divisive policy stances and statements like Todd Akin's infamous "legitimate rape" remarks.
One thing's for sure: Ellmer—who also once called the Affordable Care Act part of a "war on women"—is probably not the person the GOP should trot out to recruit more ladies to their camp. Then again, perhaps women are so dumb they won't notice either way?
BONUS! Search Engine Hilarity and Commentary
Weird fact: When you search "woman politician" in Google News, this is what comes up. Insert commentary on the degradation of female politicians here . . .