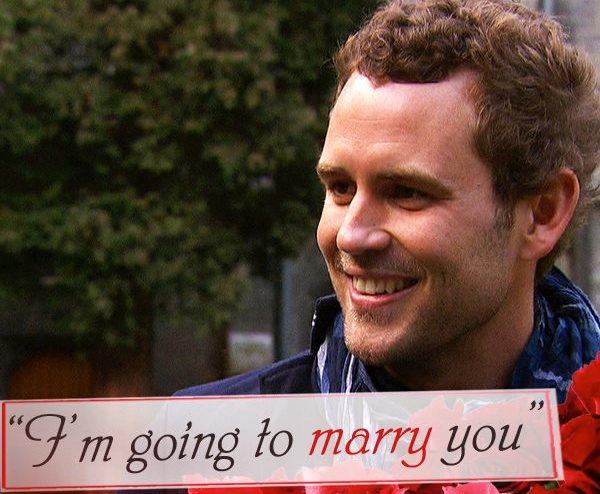 Image: That face though . . . Courtesy of Facebook
In last night's finale, we saw Bachelorette Andi Dorfman opt for Josh and his surprisingly symmetrical hairline over Nick and his neon outfits. And you know, their personalities and all of that blah blah blah—not like viewers actually get an accurate portrayal of that superfluous aspect of a person anyway.
What was shocking wasn't Andi's decision, but rather the reaction of fans to Nick's heartbreak. (Specifically, one moment on the After The Final Rose.) 
See, Nick was, well, devastated and confused by what happened. He tried to contact Andi to chitchat about their end before facing her on TV. No such luck. Needless to say, Nick was harboring some pent up anger, confusion and betrayal and dropped these shit-storm-creating words: 

"Knowing how in love I with you I was, if you weren't in love with me, I'm just not sure why, why did you make love with me?"

Some cry "slut-shaming!" Others claim, "asshole shaming!" Personally, I'm more inclined to agree with the latter. Why? 

Don't be reckless with someone's heart

I was a female player. Guilty as charged. Let me tell you something: there is a big difference between having casual sex and toying with someone's emotions (also, guilty of both). 

Viewers are free to mock the seriousness of reality TV (okay, I'm just guilty all across the board), but it is real to the people on it. Yes, heavily guided dates with camera crews capturing every word look ridiculous and yes everyone chose to be there, but—remember—those are real people with real emotions. 

Sometimes, your date likes you more. Other times, you're the one falling hard. Eventually, there comes a point where feelings are revealed—either through honest conversation, a series of drunk phone calls, sexts, etc. etc. If you are the receiver of such amorous feelings, you have a responsibility—you've been entrusted with someone's heart and this isn't a possession to be taken lightly. The way you react may dictate the future actions of its owner. 

If you don't reciprocate these feelings—but carry on as if you do—you are committing an emotional atrocity. You can justify it—I believe Andi kept swearing she never said "I love you" to Nick—all you want. But that doesn't free Andi you from guilt. When we're drunk in love, it's all about riding the proverbial surfboard; our brains are bombarded with lovey dovey hormones (lookin' at you, oxytocin) that cause us to overlook red flags. This means that the victim of unrequited love will look for "clues" that the feelings are mutual. Refusing to say "I love you" isn't enough. 

When the truth is revealed (as it was for Nick), it's devastating. Men especially are taught not to showcase vulnerability; social research has shown that (as a whole) men suffer more post breakups. Worse yet, the injured party likely won't bounce back 100% fine after two days; instead, that person may start dating with the same laissez faire attitude and be an asshole to someone else. That person will do the same. And, thus, a chain reaction of heartbroken assholes is born. 

Given that potentially twisted little merry-go-round, Nick's comment makes sense. It's not acceptable to be reckless with someone's heart—even in the sick, sad world of reality TV.