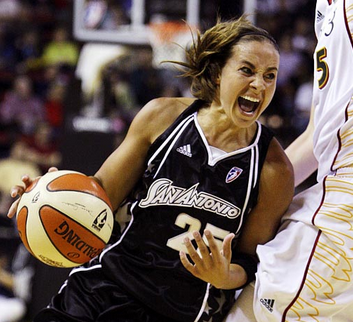 The badass Becky Hammon courtesy of People1971.com
What's that you hear? It's the satisfying shattering sound of a very thick—previously seemingly impenetrable—glass ceiling: The NBA has hired its very first full-time female coach. Just this afternoon, 37 year-old Becky Hammon was named assistant coach for the San Antonio Spurs. 
Not only will Hammon be the first female coach in the NBA, she will become the first full-time female coach in any of the four major professional sports. And gosh it feels like a hat trick mashed up with a grand slam for us double-X chromosome-types everywhere.
Hammon announced on July 23 that she would retire after the completion of her 16th season playing in the WNBA, closing out her eighth season with the San Antonio Silver Stars (previously she played for New York's Liberty team). And while many people guessed that the star player would pursue coaching post-retirement, most posited that she'd head over to her alma mater, Colorado State, and coach college basketball. There were even rumors of a wink-wink deal that she'd have a guaranteed position there.
But nope! Hammon is off to the NBA—and Spurs head coach Gregg Popovich is singing her jock jam praises:
"I very much look forward to the addition of Becky Hammon to our staff. Having observed her working with our team this past season, I'm confident her basketball IQ, work ethic and interpersonal skills will be a great benefit to the Spurs."
While we were already pretty stoked about Natalie Nakase's "big NBA break" last week wherein the LA Clippers announced they'd hired her as an assistant coach for its summer league team, Hammon's full-time coaching gig for a regular season team? Now that's for real, for real. 
Nancy Lieberman, the assistant general manager of the Texas Legends, agrees that this was a crucial step both for women and the NBA:
"First and foremost, this means respect. She did not get hired just because she is a woman. She was hired because she was qualified, because they know her personality, how she interacts with players, how she understands X's and O's."
In her statements on the hire, Lieberman also pointed out that there were plenty of other women in the sport who deserve similar positions; we join her in hoping that Hamman's hiring will "open the minds" and close the gender gaps of the league's other teams.
Only time will tell, of course, but in the interim, we're busy chugging beer and throwing up a giant foam finger.