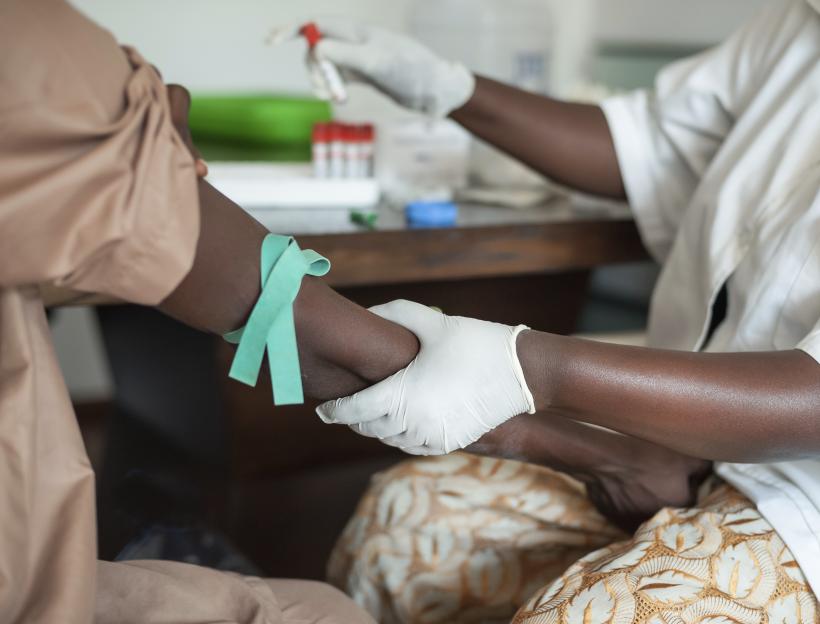 Thinkstock
A new draft report from the World Health Organization asserts that the Ebola outbreak grows ever bleaker; more than $430 million will be needed to get the current situation under control—marking a staggering $359 million up-tick from the (comparatively paltry) $71 million the WHO proposed less than a month ago. Meanwhile at least 1,427 people in Liberia, Guinea, Sierra Leone, and Nigeria have died. 
It would seem that there is very little hope—even the stoically optimistic are struggling to see any light shining through this darkness—but there is: Nurse Josephine Finda Sellu of Sierra Leone.
Toiling away in the midst of the virus' war path at the government hospital in Kenema—a veritable "death trap" in the dark months of June and July—she carries on with her work despite having lost 15 nurses. (The hospital, fortunately, has since received some much-needed resources.)
Nurse Sellu is steeped in a steady stream of death slowly striking down those around her, but as the deputy nurse matron told the New York Times:
"There is a need for me to be around. I am a senior. All the junior nurses look up to me." Were she to leave? "The whole thing would collapse."
Where many workers have fled, leaving already ill-equipped and ill-staffed health centers in shambles, Nurse Sellu has stayed. Her work now takes place in rooms plastered with pictures of her other beloved nurses, tributes to those who've fallen to the virus in their line of duty.
"Today three, tomorrow four—it was just like that, rapid," Ms. Sellu described. "We said, 'What is happening?' You are asking, 'Who is next?'" 
So far Ebola has sent 22 of the hospital's workers to their graves. 
It was the hospital's second case of Ebola that "put the calamity on us," Nurse Sellu recalled. The patient was a local chief who checked in with symptoms of vomiting and diarrhea; he infected three nurses and a porter. And one of the nurses who was infected? She was pregnant. Not only did she die after a miscarriage, but she infected four nurses who aided in her delivery.
All four of those nurses also died. 
Why So Much Death?
Dr. Peter Piot, the scientist who discovered the virus back in the 1970s, has called this outbreak "unprecedented"—but has also said the virus "should be easy to stop." Huh? The current spread of the disease has the veneer of being anything but—so why would the good doctor make such a claim? He explains:
"You need really close contact to become infected. So just being on the bus with someone with Ebola, that's not a problem."
Thus, simple acts like using soap and water, not re-using syringes, and using recommended protection when handling infected cadavers should cease the virus' deadly rampage, he says. So why such a rampant outbreak, then? He goes on:
"This is an epidemic of dysfunctional health systems. Fear of the virus, and the lack of trust in government, in the health system, is as bad as the actual virus."
Especially in Sierra Leone which is, lest we forget, a country a mere 12 years out from a brutal 11-year civil war. So even before the outbreak, health care needs were struggling to be met. In an on-the-ground report, Atlantic author Raphael Frankfurte said: "Often, health workers cannot offer essential care because the necessary equipment, drugs, and trained professionals are not, or never were, available." Thus in the aftermath of the Ebola onslaught, the healthcare centers that do exist tended to fundamentally lack the ability to meet the CDC's recommendations for treating those afflicted with the virus.
Not to mention the cultural hurdles. The Economist's Baobab Blog explained: 
"Many people in Sierra Leone, where an Ebola epidemic has gripped the country for the first time, refuse to accept that the disease can be tackled by Western medicine."
Health workers have taken infected loved ones home from treatment centers. Nurses have gone on strike. Whole clinics have straight up shut down.  
These pressures have created an intense strain that Nurse Sellu has been far from immune to. In the wake of her colleagues' demise, Nurse Sellu's family begged her to stop working. Even the other nurses—all 40 of them—appeared at the door of her house and screamed, "If one of us dies again, prepare yourself to die!"
You might assume Nurse Sellu would have given up, opting to stay home in safety. But instead? She took to sneaking back to the hospital. 
"There are times when I say, 'Oh my God, I should have chosen secretarial." But her job as a healer she views as "the calling of God."
On the outbreak itself, she said as she zipped up her protective suit for another day of grisly, grueling work and turned her eyes to the sky: "By the grace of God, it will end."