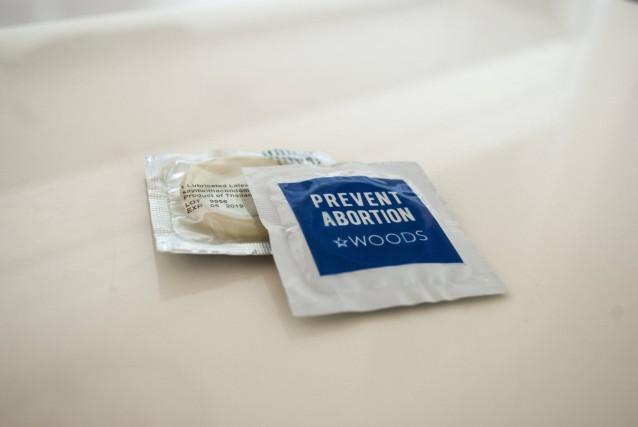 Credit: Facebook
OK, so obviously we're generally a pretty anti-trolling bunch—especially when it comes to violent misogynistic trolling. But here's some trolling we can totally get behind: Arizona Congressional candidate James Woods' recent actions. Why are we fist-pumping Woods? Because he sent an anti-choice group condoms emblazoned with the phrase "prevent abortion" in response their asking him about his views on the "sanctity of life." Yeah, totally Team Woods over here.
Apparently, the National Pro-Life Alliance asked Woods to fill out a survey on his beliefs concerning the "sanctity of life." In addition to passing along these perfectly phrased prophylactic gems, he also attached a letter:
We love it! Not only is he polite, thoughtful and emphatic, he is chock-full of scientifically-proven knowledge bombs. Abstinence-only education? Dismal and dangerous failure—especially when 95% of Americans engage in pre-marital boot-knocking. 
And working to support low-income women and children? You're just killing it, Woods. 
Another interesting tidbit about our new hero and champion? He's blind. At age 27, he barely survived a life-threatening staph infection that was antibiotic-resistant. Not only did it leave him blind, but he had to have some toes amputated, and it left him in need of a new kidney (which he recently received).
The guy's also unafraid to challenge the status quo. Were he to win his race, he would be the first person elected to Congress to openly campaign as an atheist. Yeah, you read that right: the first. 
His atheism, in fact, is what supports his views on reproductive justice. According to a campaign press release, his "reproductive justice position is part of a progressive Humanist platform that he hopes will motivate other politicians to be open about their Humanist values and identity."
Now, how do we go about registering to vote in Arizona . . .