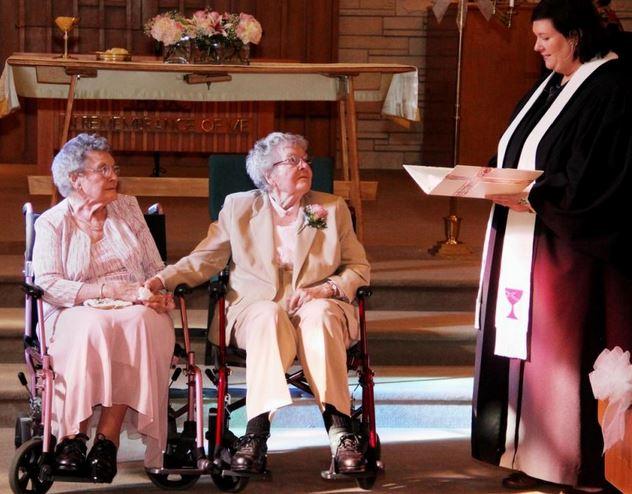 Dear Vivian Boyack and Alice "Nonie" Dubes,
Thank you for existing and for making our world a whole lot brighter. We couldn't be more stoked about your nuptials on Saturday, and only wish we could have been there to shower you with rice and release tens of thousands of doves in honor of your love.
Why do Ms. Boyack and Ms. Dubes inspire such cheerleading? Because at ages 91 and 90, this couple tied the knot in Davenport, Iowa, this weekend after—bless them—72 years together. According to the happy couple, "It is never too late for people to write new chapters in their lives." 
Inspired much?
Officiating their wedding was First Christian Church's reverend Linda Hunsaker, who said: "This is a celebration of something that should have happened a very long time ago." Of course she's not throwing shade on the seven-decade-strong union or the failure of the couple to get their shit together and down the aisle—but instead commenting on U.S. laws that still lag woefully behind in terms of allowing any and all of us to wed. Happily, Iowa has seen the light and overturned its ban on gay marriage in 2009—making it now, still, one of only 19 states that allow couples such as Dubes and Boyack the joys and legal equalities of matrimony.
But back to the happy couple. If you're not emotional enough about this pair holding hands as they tie the knot in their ninth decades, check out this quote from 73-year-old wedding guest Jerry Deast, who's known the couple since he started working on their yard as a teenager 55 years ago: "I've known these two women all my life, and I can tell you, they are special. This is a very special day for all of us."
And just to make sure your heart is completely melted, here's Dubes on the life she's had with her at-long-last wife: "We've had a good time."
Seriously . . . does anyone have a damn tissue?