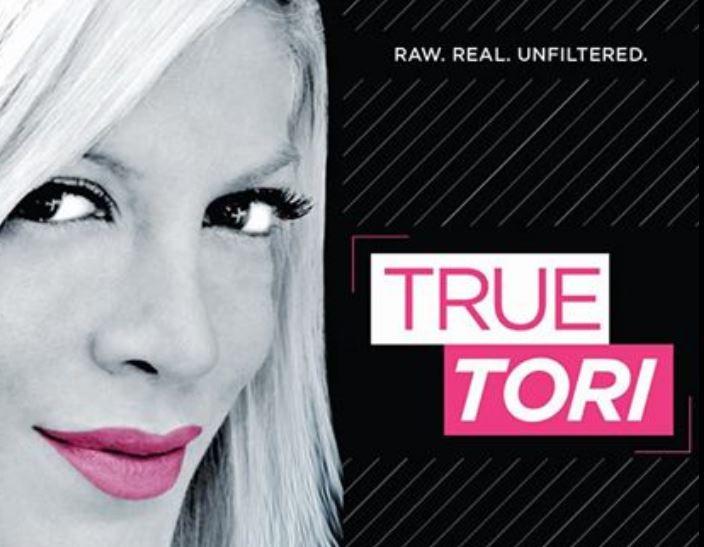 I hope True Tori, Tori Spelling's "cleverly" named reality show for Lifetime, is anything but true. I fantasize that after this season, she and her husband, Dean McDermott, will proclaim that it was all a ruse, and they just have acting abilities that rival Meryl Streep.
But let's just say, I'm not holding my breath. Because while we all know reality shows are hardly "real," I'm under the impression that True Tori is a little too true.
As the story goes, over eight years ago, when Tori was married to Charlie Shanian, she shot a Lifetime movie in Canada where she met the very cute Dean McDermott, a well-established "working" actor. He was married with a child to Mary Jo Eustice—who from what I understand is high up on Canada's D-list. Tori and Dean had sex the first night they met, fell in love, and left their respective spouses for each other.  
Next came a not-so-shocking twist—eight years and four kids later, Dean had an affair with Emily Goodhand, who he met on set while shooting a movie in Canada. Oh, and he has a huge drug and alcohol problem and went to rehab last year.
True Tori's sophomore season premiered a few weeks ago, but this is hardly the couple's first foray into reality television, as they've had several other reality shows throughout their marriage. But a string of relatively unsuccessful reality TV attempts is the least of Tori's problems—because her husband, marriage and life as she knows it are hanging on by a thread.
Here's how McDermott recently described his family situation on Access Hollywood Live:
"The fact that I cheated on my wife, I wish never happened. I wish my alcohol and drug use hadn't gotten out of control. I still love her to death."

"That's why we're still together. I almost lost everything, everything that means anything to me. I don't want to ever do that again. I don't ever want to be in that dark place again. I was put on a 5150 at the UCLA psych ward . . . [My son] Liam had a performance and I didn't want to miss that performance . .  . I had plans that night to do it."

"I was driving around in my truck with a loaded 9 mm."
Let's sit on that for a minute: A man whose ruin has been broadcast on TV for hundreds of thousands of viewers to delight in has contemplated killing himself. This is an especially ominous statement in light of the suicide of another reality TV star in a troubled marriage, Russell Armstrong from Real Housewives of Beverly Hills, in 2011. If the same fate befalls McDermott, will we feel sympathy . . . or simply find it juicy?
In many ways, True Tori feels like a watershed show that has taken emotional exploitation to such depraved depths, we may finally need to recognize that things have gone too far. Yet nobody seems to be acknowledging it as such. Have we become so immune to emotional exploitation that we longer even recognize it?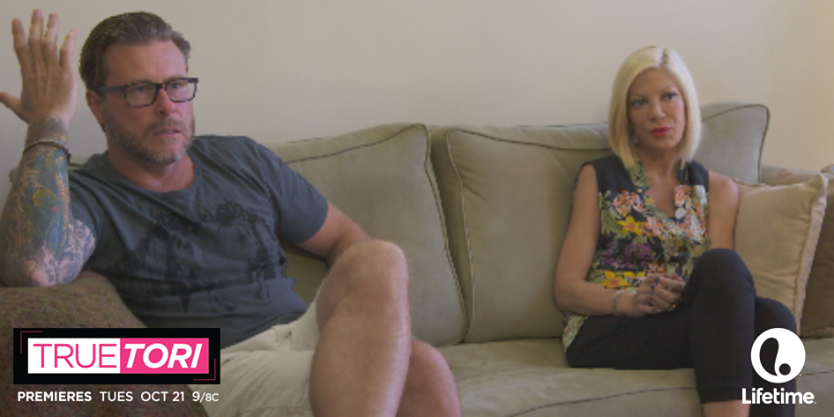 On a Countdown with Keith Olbermann interview back in 2004, Depauw University Professor Jonathan Nichols-Pethick had a conversation with the host that touched on the impact exploitative reality shows can have on their audiences. Said Nicols-Pethick:
"Reality television, which we often associate with this coarsening of television, is part of a larger media environment that capitalizes on the routine documentation of all sorts of behaviors, from humiliation . . . in terms of scandalous behavior and even tragic behavior."
Olbermann, for his part, asked if "the active popular public humiliation seen in reality shows . . . is entertaining, and because it is entertaining that on some level it becomes acceptable." In other words, have we become dangerously desensitized to the truly real impacts tragedies like suicide and addiction can have on families?
Of course, most all reality shows are exploitative, and there are times when this can even be helpful. While Celebrity Rehab was widely criticized, no one can deny that it did create awareness for drug and alcohol addiction. To a certain extent, I think that True Tori also does that, because Dean talks about being in recovery and is open about his struggles. And for partners of addicts, Tori is probably someone they can relate to.
There's also the argument of choice; Dean and Tori have made the decision to be exploited, presumably for money purposes. In fact, while McDermott has smartly decided not to appear in the final six episodes, Spelling seems keen on doing whatever she can to exploit her family drama further. She had a two-hour meeting with her first husband, which wasn't shown on camera (his decision, not hers) and grabbed lunch with Mary Jo Eustice alone for the first time since she found out Dean cheated on her (which did air). It's also been reported that Tori is trying to get Dean's mistress, Emily Goodhand, to appear on the show. She's not just pouring salt in the wound—she's stabbing it with a scalpel. It seems Spelling will do anything for money, ratings and to remain relevant.
But does her more-than-willing participation in the exploitation make Lifetime's broadcasting of it morally right? Does it negate the suffering and public humiliation she and McDermott are enduring, however willfully, as a result? And how much worse can reality TV get before we draw a line and say, This should no longer count as entertainment?
In other words, will we soon be watching previews for True Suicide Attempt after the finale of True Tori? And just how many millions of people would tune in?
Images: Facebook