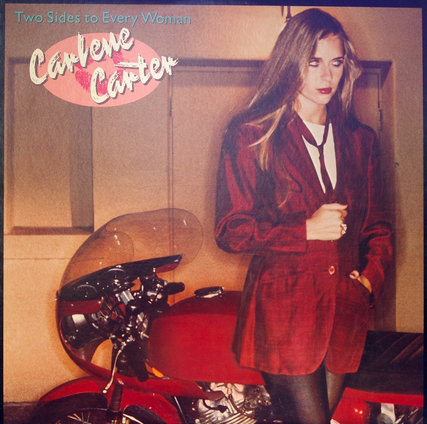 The illustrious and utterly rockin' Carlene Carter. Flickr.com
The Yeah Yeah Yeahs aren't usually thought of as rockabilly performers, but Karen O's barrage of stutters and shrieks comes to her direct from the '50s, as does the band's swaggering cool.
Rockabilly's particular brand of slicked-back, hiccuping, hopped up cool is defined in the popular imagination by Elvis and a slew of jiggling male imitators and peers: Buddy Holly, Jerry Lee Lewis, Gene Vincent, Eddie Cochran, Charlie Feathers. Female rockabilly performers are less well-known, though no less hep. In fact, there's a good argument to be made that the earliest, and the best, rockabilly performers were women. 
Here's a list of rockers who could shake Elvis up.
Rosetta Tharpe
Rosetta Tharpe is the grandmother of rock, and of rockabilly too. The pace here is a bit slower than the usual rockabilly rush, but you can hear all the other elements in place, from the hot picking guitar to the vocal swoops. Chuck Berry, the Beatles, the Rolling Stones, and Elvis too built their careers on Tharpe's guitar.
Charline Arthur
Charline Arthur started out in a hillbilly boogies style—which basically means she was doing rockabilly before Elvis came along and told everybody that rockabilly was what it was called. With a powerhouse voice that foreshadowed (and influenced) Patsy Cline, Arthur's "Burn That Candle" is a paean to never sleeping backed by an amphetamine-jumpy rhythm. The way Arthur throws a hiccup in to turn "Pie" into a multi-syllabic word points the way to many rockabilliers to come.
Rose Maddox
Like Charline Arthur, Rose Maddox and the Maddox Brothers were hillbilly boogie performers; when rockabilly came along, they just kept on doing what they'd always done. In "Move It On Over," the backing guitarist gets with the Chuck Berry imitation while Rose's crazed falsetto swoops demonstrate the link between Western yodels and rockabilly hiccups.
Ruth Brown
Rockabilly is usually seen as a country-tinged offshoot of jump blues and/or rhythm and blues. But as this tune shows, the genre lines can get pretty blurry. Ruth Brown had been singing rock and roll since the early fifties, and she was certainly an influence on performers like Wanda Jackson and Rose Maddox (who covered one of her songs.) "This Little Girl's Gone Rockin," from 1958, is built around a stinging electric guitar line that any rockabilly queen would be proud to call her own.
Wanda Jackson
Wanda Jackson is probably my favorite rockabilly performer, and "Honey Bop" is a fine example of why. You can hear the Elvis influence in the vocal quiver, but Jackson has more glottal power, and her bands were always hotter than hot. That little "uh!" after the first "Don't stop!" has enough innuendo to peel paint off your bop.
Collins Kids
Larry and Laurie Collins were something of a pre-teen novelty act—which worked well with rockabilly, which was basically all novelty songs all the time. On "Great Balls of Fire" Laurie did a fine Jerry Lee Lewis impersonation while Larry chimed in with prepubescent helium interjections and played hot licks on a double-necked guitar bigger than he was. This Western Dance Party performance includes a sibling kiss which doesn't seem as chaste as you'd necessarily expect it to be; a reminder that rockabilly managed to be both scandalous and kids' music at the same time.
Janis Martin
Janis Martin was billed as "The Female Elvis," for obvious marketing reasons, but she was a great singer in her own right. Martin didn't have the overwhelming power of Wanda Jackson, but with a rich, virile tone that makes "Bang Bang" into a double entendre even before you listen to the lyrics. "Cock your pistol" indeed.
Bob and Lucille
Canadian duo Bob and Lucille made some inspired rockabilly sides; the nursery rhyme-based "Eeny-Meeny-Miney-Moe" is probably the best known. Lucille pulls out all the rockabilly stops, hiccuping, gulping and squeaking as she catches that hep cat by the toe.
Mickey and Sylvia
An early rock and rockabilly duo, with Mickey Baker performing the guitar solos and Sylvia Robinson taking vocal lead. The nursery rhyme and electric guitar are pure rockabilly—and Sylvia gets some of those vocal leaps in there too. (Robinson, interestingly enough, went on to be the most important record executive in early hip hop.)
Patsy Cline
Patsy Cline is best known for her country torch song ballads. Her up-tempo numbers were flat rockabilly, though, filled with vocal jumps ("oooo-wheee!) and gritty growls. "Got a Lot of Rhythm in My Soul" lives up to its name, as she swings all around that big rock beat.
Carlene Carter
Unlike many retro-rockabilly acts, Carlene Carter manages to capture the spirit without getting mired in deadening nostalgia. "I Love You Cause I Want To" weds jittery rockabilly cool to country rock hook. It's all held together by Carter's wonderful singing, shifting between yodel and growl and yip in a manner that would make Wanda Jackson proud. Carter is one of the most underrated country performers ever; any of her albums are well worth your time.
Yeah, Yeah, Yeahs
The Yeah Yeah Yeahs aren't usually thought of as rockabilly performers, but Karen O's barrage of stutters and shrieks comes to her direct from the '50s, as does the band's swaggering cool. The Yeah Yeah Yeahs are often compared to Sonic Youth, but I think I like them best when they channel the Cramps, and Lux Interior's particularly feral take on Elvis, Jerry Lee, and of course Wanda Jackson.