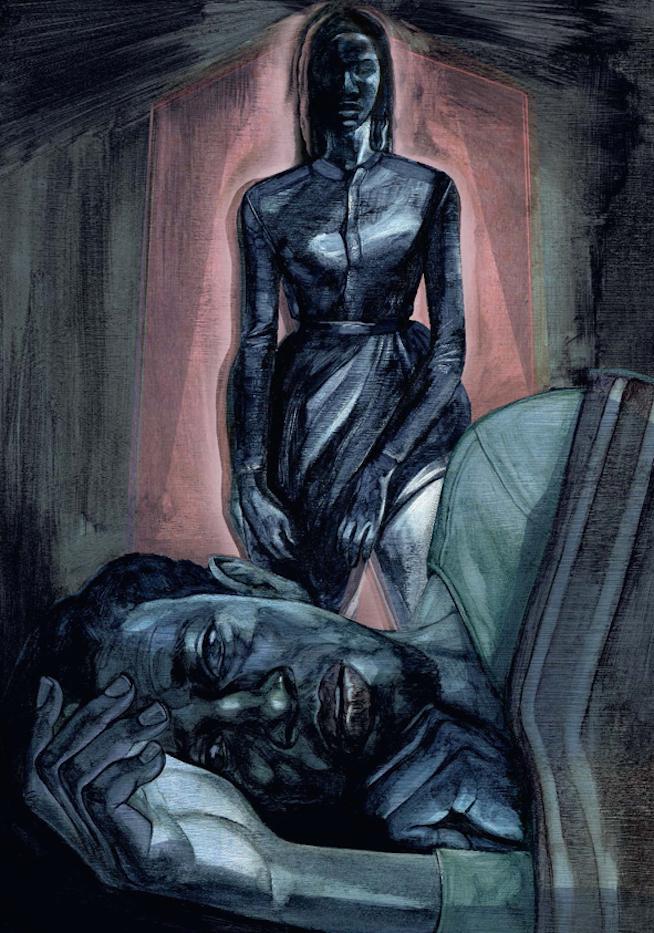 Illustrations by Joe Morse for The Folio Society edition of Toni Morrison's Beloved
Four summer reading selections for adventure seekers, serious readers, and beach bums.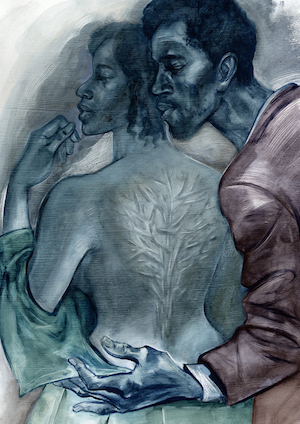 Beloved, by Toni Morrison, introduced by Russell Banks, illustrated by Joe Morse; The Folio Society, $69.95, 304 pages.
Please don't bring this stunning version of Toni Morrison's 1988 Pulitzer Prize winner to the beach: it's a beautiful, gift-worthy presentation of a modern classic (so read it on the porch instead). The Folio Society is a British publisher of fine books that specializes in enchanting editions of the world's great literature, and this, the first illustrated publication of Beloved, is no exception.  Bound in gray cloth with blood-red lettering on the spine and sheathed in a protective black clamshell case, the exterior suggests the startling and complex story within. Both the cover design and interior illustrations were executed by award-winning illustrator Joe Morse, whose eight watercolor paintings are a powerful match for Morrison's tale of slavery, mother-daughter relationships, infanticide, and resurrection. Novelist Russell Banks (The Sweet Hereafter; Continental Drift) writes an introduction compelling readers to be open to the power of transformation through the written word. If Beloved has been on your reading list for awhile, take the summer to delve into this masterfully wrought tale accompanied by equally deft art.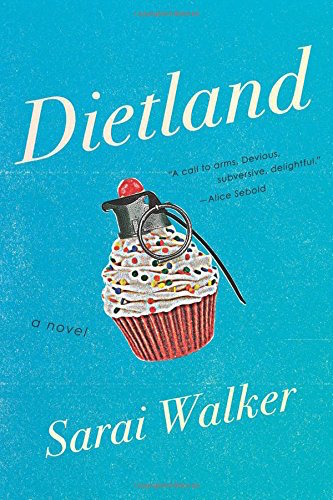 Dietland, by Sarai Walker; Houghton Mifflin Harcourt, $26.00, 310 pages.
It all starts innocently enough: Plum Kettle works at a fashion magazine, and she is fat.  Plum has dieted (unsuccessfully) for as long as she can remember, saving her hard-earned shekels for a weight-loss surgery that she believes will finally jump-start her life. That all goes out the window when Plum discovers a group of women battling social and gender inequality and unattainable beauty standards through decidedly unconventional means. At the same time, a separate group of women launches deadly worldwide attacks on rapists, abusers, and other villains. Sarai Walker's debut novel, a second-generation feminist manifesto, is at once witty, subversive, and supremely intelligent, and will no doubt encourage readers to question their own quests for perfect bodies. The writing is quick-paced, with Plum's narrative divided by italicized chapters mimicking newspaper reports and omniscient narration. My only quibble is that everything seems to wrap up too soon at the end — I would have liked to see a more fleshed out ending. In any event, Walker is a talented young writer to watch, and I'm eager to see what confection she cooks up next. 
Provence and the Cote d'Azur: Discover the Spirit of the South of France, by Janelle McCulloch; Chronicle Books, $27.95, 256 pages.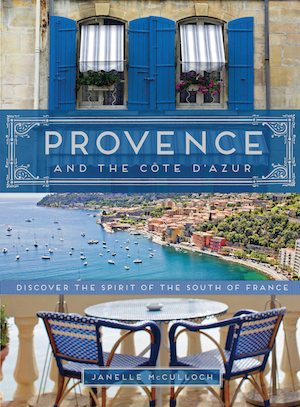 Whether planning a trip to Southern France or just dreaming from afar, ditch the dog-eared Lonely Planet and upgrade to this gorgeous guide by Paris author Janelle McCulloch. While larger than the traditional enchiridion (it measures a substantial 7 X 9 ½ in), Provence is flexibound with a ribbon page marker. It's worth the heft: Endless lavender fields, tree-lined allées and picturesque cafés are sumptuously photographed and populate every page, enticing readers to get lost in the details. Provence is helpfully divided into three parts and offers insider's tips and tricks for getting off the beaten path to discover the true spirit of southern France. Bon voyage!
Summer Cocktails: Margaritas, Mint Juleps, Punches, Party Snacks, and More, by Maria del Mar Sacasa, photography by Tara Striano; Quirk Books, $22.95, 160 pages.
I'm not going to lie, a great gin and tonic is what I consider the quintessential summer sipper, but for those who enjoy a little more sparkle and zest from their beverage, look no further than this latest offering by Maria del Mar Sacasa. Intended as the companion volume to Winter Cocktails, Summer Cocktails serves up over seventy summertime libations, from classics like the Long Island Iced Tea and the Cuba Libre to pinky punches and frozen concoctions. (I admit to testing the "tea", and it's as potent as ever.) Tara Striano's seasonally upbeat and bright photographs are sweet thirst-quenchers on their own, while a list of basics, further resources and (again) a ribbon page marker round out this all-in-one guide for crafting expert party drinks.