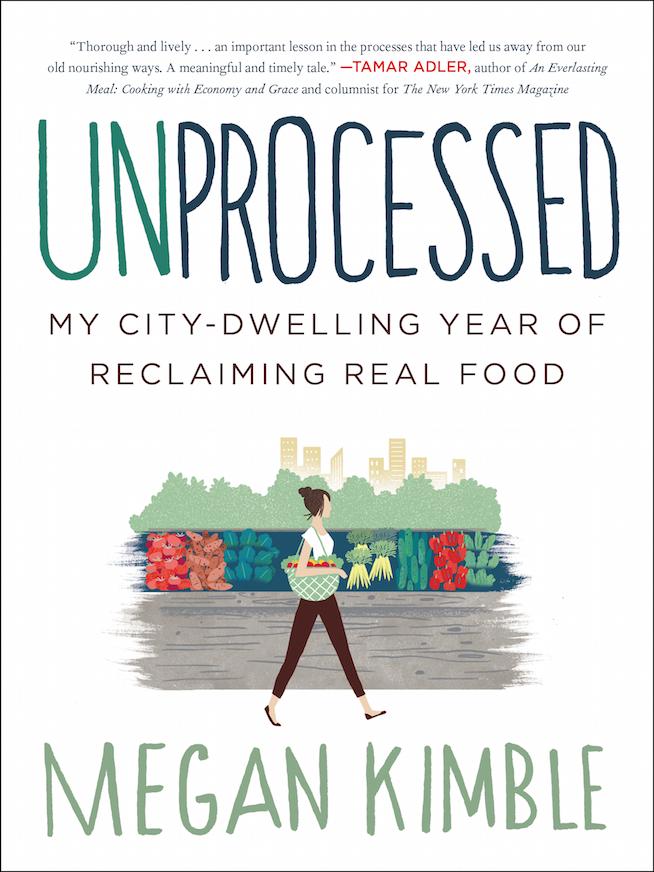 Author Megan Kimble, shares with us an excerpt from her book, Unprocessed: My City-Dwelling Year of Reclaiming Real Food
My first loaf of bread begins with a bag of Trader Joe's 100% Whole Wheat Flour. I believe that whole-grain flour, as opposed to refined white flour, is unprocessed because I believe I could mash up a bunch of wheat berries in my kitchen and make something grittily like flour. This is yet a theoretical belief on the fifteenth day of January; today, on this first day of unprocessed eating, all I have is a crumpled paper sack holding two pounds of whole-wheat flour and a hazy belief in its integrity.
I have never baked whole-wheat bread before—I've never baked any kind of bread that required kneading rather than stirring together sweet batter. While I am in my apartment baking bread, Hilary is in hers, overseeing chicken in a pot that will become chicken in a soup. Sarah is assembling ingredients to toss together in a salad; later tonight we will all converge for the first unprocessed potluck.
The philosophy that guides my cooking and my kitchen is this: don't let the perfect be the enemy of the good. In cooking, as in life, even as we strive for flawlessness, most often what we achieve is good enough. If one's oven knob is so old it no longer displays temperature settings, 350-ish is good enough. If one does not own a one-eighth-teaspoon measuring device, a pinch will do. This philosophy generally serves me well, as I cook with confidence rather than compliance. So when I try my hand at whole-wheat bread, I approach the task with the same sort of shoulder shrug. Wheat, water, yeast, honey, and oil. How hard could it be?
According to my recipe, I should dissolve yeast in one-quarter cup of warm water (110 degrees) and allow it to proof for three to five minutes.
I don't pause to consider the relative hotness of 110-degree water. One hundred and ten degrees sounds hot to me, so I release a stream of tap water into a stove pot and set it to boil, reasoning that I'll let it cool down to 110 degrees postboiling while I work on the other components of my bread. I measure out six cups of whole-wheat flour, a teaspoon of sea salt, a third of a cup of honey, and a fourth of a cup of olive oil. The final ingredient, apart from the proofed yeast, is the water, so I return to my steaming pot on the stove. I dunk my finger in, and indeed, it is hot. I measure out two cups for my flour mixture and a fourth of a cup to whisk with my yeast.
The yeast plunks into the water. One tablespoon, two; they plop into the water and then promptly sink in two fists of beige, decidedly not forming, as the recipe says they should, a creamy foam on the surface. The yeast huddles on the bottom of the glass, hugs the sides, sticks together as I attempt to whisk it about. I persevere. Yeast-water meets flour-oil-honey. I knead, I wait, I knead again. After six hours, the dough seems like it has risen a little—it certainly has not doubled as the recipe suggests that it will, but it seems a little lifted, a bit cheerier.
After fifty minutes in Hilary's oven, the spread of dough doesn't budge. It emerges breadlike, something less like a loaf and more like biscotti, more like a cutting board, like a wheat Frisbee. But it's warm and it tastes like wheat. It's Minute Maid bread, cooked from concentrate. "I like dense bread!" Hilary insists. Both Sarah and Hilary are low-maintenance dinner companions, so we eat it. We break the bread, slather it with honey, and the year of unprocessed begins.