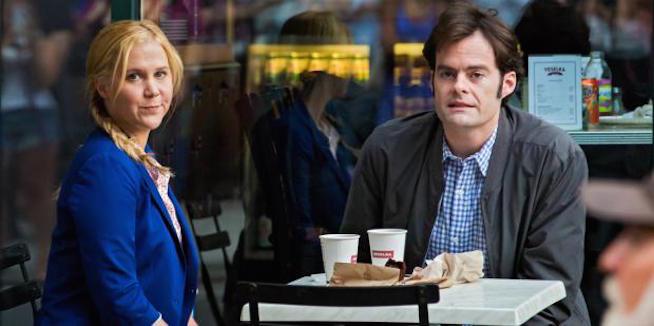 These are the rules according to Trainwreck.
What's sure to be Judd Apatow's latest blockbuster, Trainwreck, starring Amy Schumer and Bill Hader, takes viewers through the trial and error of the modern dating world. Schumer's character has her share of hookups throughout the flick, and when she locked lips with John Cena, we knew she'd be the perfect gal to give some killer dating advice.
1. Don't be judgmental.
It's easy to look at a person and think, "Uh … Yeah, No thank you. Next!" Keep an open mind when meeting someone new and don't reject a presented opportunity so quickly. A perk to giving them a chance? You could end up with a super geeky, yet sexy, sports physician like Bill Hader.
2.Experiment often.
You can't hate what you haven't tried. Life is a restaurant with an ever-changing menu, so you don't always have to stick to your "usual." Branch out and do something, or someone, you've always wanted to! You obviousl shouldn't go too crazy, but playing the field never hurt anyone ... and remember, "Monogamy isn't realistic."
3. Be yourself.
If he can handle your crazy, jealous and unapologetic rants — he's a keeper. Never change yourself for who you're dating, unless it's for the better. You may not be the perfect housewife. but you're still fabulous AF. Stay that way. 
4. Don't be afraid to let him have it.
When you're frustrated with him, don't keep it a secret. Even if it takes all night to resolve, never go to sleep mad at each other. Communication is key, and sometimes that involves yelling (and often leads to hot make-up sex).
5. Never stop trying to keep the spark alive.
Even if that means dancing with the Knicks cheerleaders to Billy Joel, do everything in your power to keep things fun and sexy. The fun doesn't stop when you two go exclusive.  
6. Always stick with good guy.
After you've had your fun, realize that the guy you so desperately need in your life is the one that can see past your imperfections and makes them perfect. No matter how many men come into your life (no pun intended), the one who stuck with you through it all is whom you've been looking for. He made all the crappy first dates and failed sexcapades worthwhile.
This article first appeared at Your Tango.
Also from Your Tango:
The Crazy Night My Hookup Took Role-Playing TOO FAR
I Went Undercover To See If A Girl Could Get Happy Ending Massage
The Perfect Love Quotes For EVERY Occasion Imaginable (Yes, Really!)