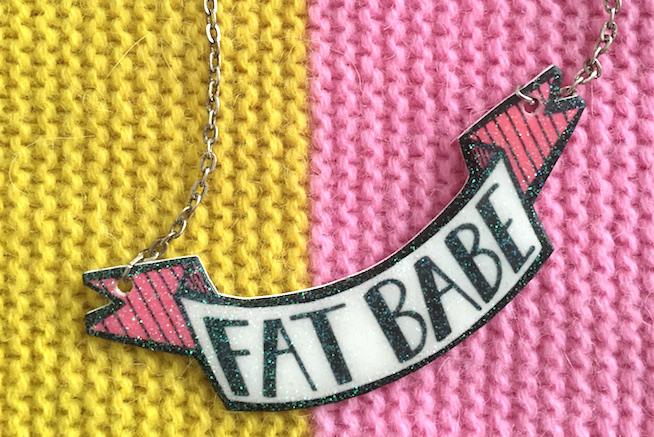 Necklace by Tiny Hobo on etsy
Here we go…
Ravishly's best feminist gifts (that won't make you poor, so you can donate your extra money to Planned Parenthood (you should actually do that here)):
Joni's picks: Have a kid? Know a kid? Like reading concise books that knock your socks off? My first pick is this kick-ass book Rad American Women A-Z: Rebels, Trailblazers, and Visionaries who Shaped Our History . . . and Our Future!. Under $10 it's awesome for your budding feminists.
Like cute shit? Frida Kahlo? Are you a Fat Babe? Check out Tiny Hobo on etsy. I have the Fat Babe necklace you see up top (which sadly isn't in stock right now). And it's worth every penny of the $15 it cost. BUT she does have these brooches which are perf. And you're supporting a rad human with your purchase.
Have a bigger budget? HERE. There is no person ever anywhere that wouldn't want a blanket that features a hissing cat and the words "DON'T TOUCH ME." No one ever. This blanket will A. Keep you warm and B. Warn people that you are not to be fucked with. The end.
If your friends and family have all they need, why not give a gift to someone else in their name? Worldvision.org is quick and easy (if somewhat problematic, read about that here and here).
Even more excellent places to give:
http://www.unhcr.org/cgi-bin/texis/vtx/home  
Jenni's picks: If you have a daughter/niece/granddaughter/little girl down the street who you buy Girl Scout cookies from each year to shop for, please get her The Girl Who Circumnavigated Fairyland in a Ship of Her Own Making by Catherynne M. Valente. Pretty much feminist Narnia. You can also totally buy this for yourself.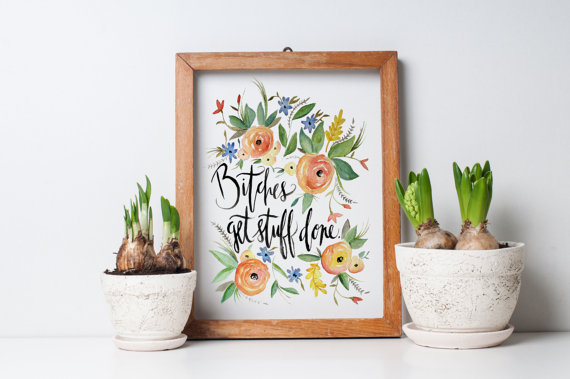 This "Bitches Get Stuff Done" print from Pale Fox Designs for your best friend's office.
Lilac Dawn Threads sells very cool feminist embroidery hoops fit for any badass grandma on your shopping list. Lisa Simpson as a feminist icon? Of course.
Have a college kid who needs a ~hiP AnD TreNdY~ gift? Before Girls, Lena Dunham made Tiny Furniture, which features a whole lotta feminism and is available on Netflix or Blu-ray/DVD. Get the kid their own subscription already so someone can get the profile spot they're taking up on their parents' account. Also includes: Jessica Jones and The West Wing. The gift that keeps on giving.
Meredith's picks: Nothing says empowerment like being able to fix shit yourself. Break gender norms and get this tool kit for the do-it-yourself gal in your life, in pink no less. Does your crafty bitch need to get things done on the go? Then perhaps this pink tool belt is the way to go.
Is your friend/gf/bf/parent/sib looking to challenge conventional beauty standards, but a little wary of commitment? Get them Tinge Pastel Conditioner, the non-permanent, subtle alternative to turning your head into a living middle-of-the-mall sand art display. It lasts ~3-5 washes and was created right here in San Francisco!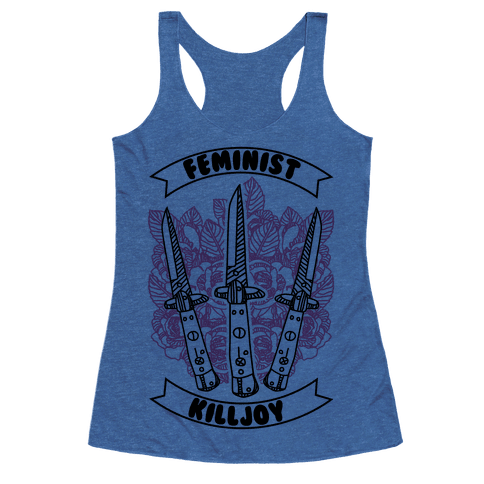 Jody's picks: The only reason I haven't bought this Feminist Killjoy tank to your right yet is because I (perhaps unnecessarily) worry about being kicked out of the gym for proudly displaying what looks to be a violent threat on my shirt. Like, I will call out your sexist bullshit, but I won't stab you for it. But if you are brave enough to wear it or know someone who is, buy it here!
I also recommend the I Don't Fucking Care If U Like It Tee, based on Amy Poehler's now-famous outburst that put Jimmy Fallon right in his place. I'm not crazy about the "u" in place of "you" (I am an editor, after all), but I can get behind it. This shop makes this design in a bunch of products, so you can wear it on your chest, over your shoulder, and even on your ass if you wanna.
And, hi! Let me tell you all about why Dorothy Gale from The Wizard Of Oz is my favorite fictional feminist. She's level-headed, methodical, and not afraid to smack a lion in the face, then tell him to shut up and get in line. L. Frank Baum was not perfect by any means, but he did have strong feminist ties IRL: His wife was the daughter of a prominent suffragette, abolitionist and activist, and Dorothy has always appeared to carry that tradition on to me.
Anyway.
There's a copy of The Annotated Wizard of Oz at my local mom-and-pop bookstore and every time I walk by it and think "Oh I'd never read all of that," then I go "Well, let me just look…" and then next thing you know I'm a bajillion pages deep. You can find a copy here.
Holly's pick: I find that the best gifts are the ones that promote self-care and that's why I'm a big fan of spa gift certificates. Most spas offer a variety of self-care services: massage, facial, manicure, pedicure or waxing if you are so inclined. If you are unfamiliar with the spas in your loved ones area, you can always go to SpaFinder.com, which covers over 26,000 spas and the gift certificates never expire. Treat your friends or family to a gift that they would likely not give to themselves this holiday season.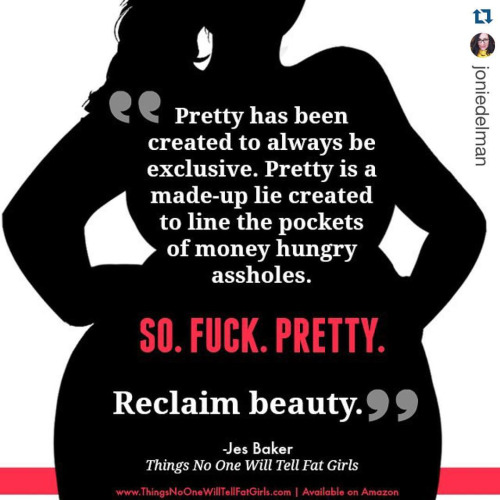 Sam's picks: If you are a human with a body or know OTHER humans with bodies, you absolutely need this fucking book. "Things No One Will Tell Fat Girls," written by fat babe/goddess/savior Jes Baker will absolutely change your life. If you're looking to love your body or know someone who could use a good helping of self-love themselves, this is a must-read (full disclosure: I wrote a chapter of the book, so I'm a smidge biased, but SERIOUSLY it's the best).
I also love supporting artists and creators around the holidays. It's a safe bet to say that I'll be supporting Kat Blaque this holiday season. If you aren't familiar, Kat Blaque is a YouTube star, amazing artist, children's book illustrator, and all-around badass. As a black trans woman, she is best known for wielding her powerful voice to bring attention to systemic oppression.
She also makes the cutest shit in her online shop. Throw pillows, mugs, shirts, totes - supporting Kat's shop is what allows her to create amazing content that educates the masses. So hop to it! I can't think of a more perfect gift than brilliantly designed gifts that ALSO support marginalized communities. Just sayin'.
Nicole's picks: Whenever someone mentions to me that they need a break from the judgmental, hateful comments that internet users spew, I direct them to one of my favorite online communities (second to Ravishly, of course): Humans of New York. That's why I MUST recommend Brandon Stanton's new book, which to me, is storytelling at its best — photos and interviews that reflect the broad spectrum of personalities and human experiences in our world. AND as a bonus, there's this, a collection of his favorite children's photos paired with the sweetest words to instill confidence and love for humankind in the little ones. Heart, hope, and humor — you can't go wrong!