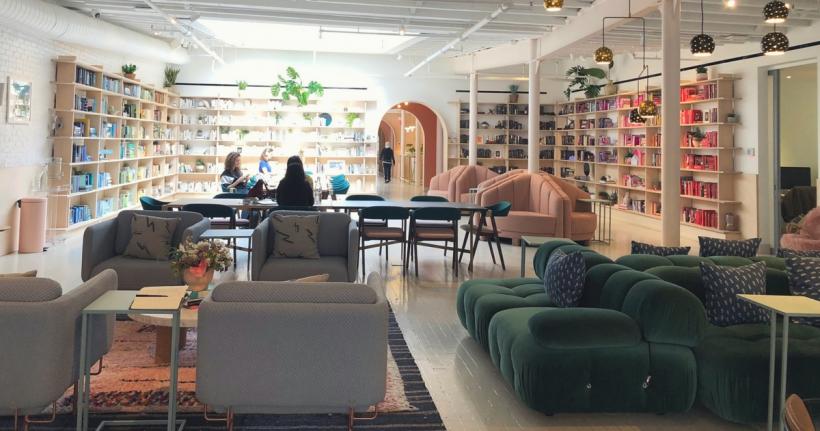 Women-run coworking spaces are rapidly in demand as folks envision a safe work space without cis men impeding on their space.
The new office is the coffee shop, the public space, the laptop computer — cramped and bustling with analogous professionals who work on their own time or hustle on the side.
The writer, the artist, the business owner, and the graphic designer coexist in increasingly popular public spaces.
Amongst these co-working conditions is the efferevesent presence of motivation, along with an onslaught of masculine inhabitants. True, ear plugs and laptop screens shield much social interaction, but nevertheless, women- and non binary-run spaces are rapidly in demand as folks envision a safe work space without cis men impeding on their space.
Traditional office spaces don't tend to lend themselves to catering to people's specific needs. Concerns like mental health, safety, community, and professional success are left unacknowledged or easily pacified. So it's really no surprise that women are reappropriating the office space into their own sort of cave away from the sexism, harassment, and unease of other communal workspaces.
I started working from home in October of 2016 as a freelance journalist. I mostly center myself on my couch, bed, or kitchen table. They serve as my office. I'm typically fashioning pajama pants and sipping tea. But still, I do venture out into a coffee shop when I need some form of interaction.
Giving myself a real sense of a work-space is imperative to my motivation and process.
Slinking around in my pajamas can often be unhealthy for my practice, so I seek a form of structure every now and then. A coffee shop or workspace is my make-believe office for a few hours. I typically find myself aware of my surroundings in co-ed work spaces; I'm too aware. When I'm sitting with my friends in a living room, working quietly amongst one another, I feel safe and comfortable. As I learned, women- and non binary-run workspaces are this type of model, but amplified with workshops, seminars, events, and similar attitudes toward community.
By embracing a more flexible career while also surrounding oneself with a like-minded community, we are better able to access the success and growth monopolized by men in other workspaces.
And working from home is clearly the future for many people who work office-incentive jobs or for themselves. A study conducted by Leadership IQ found that people who work from home are 87 percent more likely to "love their job." Moreover, millennials are all for flexibility, which can be defined by working remotely. Thanks to technology and the global landscape, an office space isn't necessary for a company or work force.
Additionally, people with children want to be able to create their own schedule in order to travel and spend time with family. Especially for those working remotely or at home, it's essential to taking a job or passing on an opportunity. A Pew Research Center study found that 51 percent of people found it difficult to advance in their careers as a woman, while only 16 percent of men felt the same way.
What's the solution? 

More spaces where people who aren't men can actively flourish and pursue a career they will love. 

By embracing a more flexible career while also surrounding oneself with a like-minded community, we are better able to access the success and growth monopolized by men in other workspaces.

Women-run spaces like Ladies Room Chicago, EvolveHER, and The Wing are a few examples of how the future of the office will pan out in the workforce. Spaces like this offer women and non binary people a safe environment without a male-dominating presence.

Karen Hawkins, the co-leading lady at Ladies Room explained to me that women-run gender non-conforming office spaces are especially important now. She says, "In all of our experiences, traditional coworking spaces have been run by men for men, and they fall short of meeting our unique needs. Having spaces run by women and GNC folks gives us the opportunity to develop programming, culture and community that has us in mind from the very beginning, not as an afterthought." The space can hold 15 people, where memberships range from $20 for a day pass to $650 for a three month premium pass. Ladies Room founders told Chicago Mag that their end-all dream is a women-driven coworking space that includes nursing room, on-site daycares, and flexible hours.

 

 

Erin Khar, the Managing Editor of Ravishly, is one of 1,500 members of The Wing in New York City, where she retreats to since she works from home.

What's special about The Wing is that the founders have a celebrity roster including Tavi Gevinson, Jessica Williams, and Hari Nef. For most people, it's the awestruck beauty of The Wing's space that has them join for a membership. When I ask Erin, "Why The Wing?" she says, "I chose The Wing initially because it was such a beautiful space and I really needed a co-working space outside of my home. I didn't realize how fantastic the women [and] non-binary aspect would be. But, it is amazing."

The Ladies Room in Chicago offers a space for freelancers, students, people who work from home, and those seeking conversations. Ladies Room has four coworking Wednesday meetups, feminist freelancer coworking and cocktails the third Thursday of every month, access to a directory, half-off admission to Ladies Room workshops, and 20 percent space rental. Moreover, Ladies Room offers various events and parties. In the past, they've held a Business Card Party, Clean Up Your LinkedIn, and a Story Pitching Workshop.

Who uses women-run workspaces? Karen tells me that a variety of different people are attracted to Ladies Room. "We've met writers, composers, graphic designers, nannies, photographers, muralists, business coaches, creatives, professionals, the list goes on. They are, for the most part, folks who typically work from home or coffee shops and are seeking out a reason to leave the house for the day and the chance to interact with other like-minded ladies."
Erin agrees, "I think that as a woman, it is a relief to be in a space without cis-men. I am so much more productive [at The Wing] than I have been in other settings."
She continues, "I feel completely comfortable." In co-ed spaces, Erin says she feels "less productive," which she didn't realize until she started working at The Wing.
Statista, a German market research firm, found that there are 11,300 coworking spaces around the globe, but there was little information on how many of these spaces were solely for women. While co-working spaces are most definitely on the rise, women-run spaces seem a close second in popularity.
When asked if she feels like The Wing is a safe space, Erin says, "Yes, 100%, and one I didn't know I needed until I was there."
---
Related: