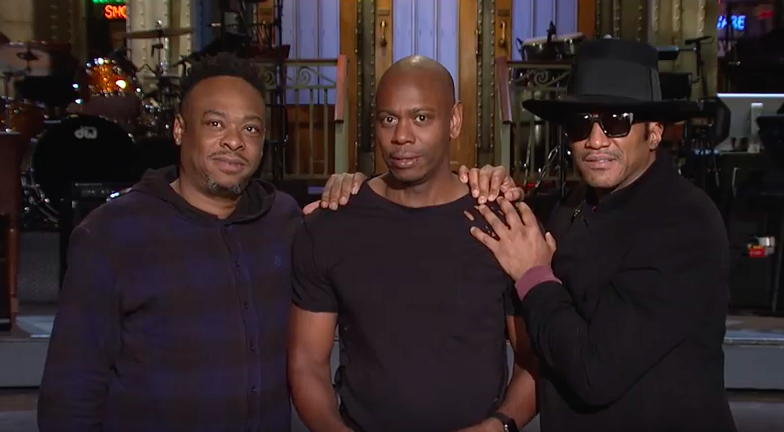 Image: YouTube
In these days post-election, like many Americans, I have been cycling through a nuanced array of emotions and attitudes — from shock, to disbelief, to guilt about my own naivety, to anger and frustration, to hope, to rage, to despondence, to optimism, to flat-lining, and back again in a circuit. 
I fell asleep Saturday night before SNL, because I am old (and the aforementioned fun house cycle of emotions has worn me out). 
So, I watched SNL yesterday, which was perfect timing. I had just read about yet another hate crime in this recent uptick since the election. This time in the form of swastikas, in a dorm at my alma mater, The New School, just around the corner. 
The cold open featured Kate McKinnon as Hillary Clinton, singing a moving rendition of Leonard Cohen's "Hallelujah" (Leonard Cohen passed away on election eve). 
Then came Chappelle's brilliant, funny, and moving monologue. As he wrapped it up, he spoke about a party he recently attended at The White House, one in which the majority of attendees were black.
"I thought about that, and I looked at that black room, and saw all those black faces, and Bradley, and I saw how happy everybody was. These people who had been historically disenfranchised. It made me feel hopeful and it made me feel proud to be an American and it made me very happy about the prospects of our country. So, in that spirit, I'm wishing Donald Trump luck. And I'm going to give him a chance, and we, the historically disenfranchised, demand that he give us one too. Thank you very much."
But you really need to watch the whole thing...
The show was also made AMAZING by A Tribe Called Quest, who paid tribute to recently deceased member Phife Dawg during a stellar performance of "We The People," off their new surprise album, We Got It From Here... Thank You 4 Your Service. 
If you haven't see these yet, or even if you have, enjoy them today, let them get your week started off — if not "right," then a little more hopeful.
And, as a bonus, let's throw it back to the 1990s, when Beverly Hills, 90210 was on the air, I was in high school, and it all felt — not perfect, but better than this.