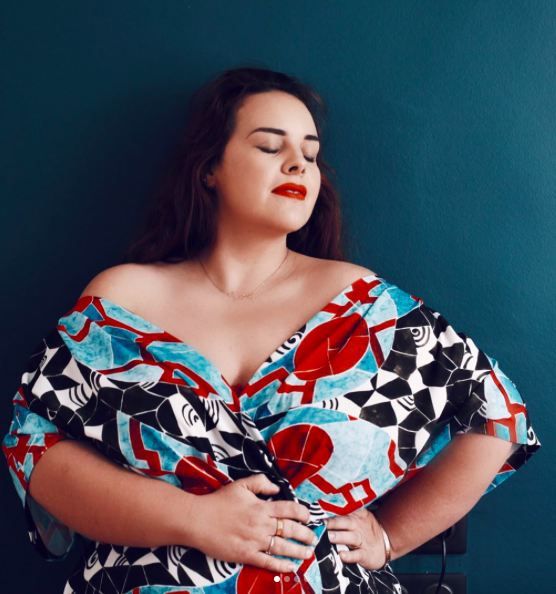 Instagram/ stephaniezwicky
There are tons of retro looks that resurface over the years, but one of my favorite silhouettes of all time is the off-the-shoulder look. Whether it's done with a ruffle, a slim-fitting top, or some other interpretations, the look is flirty and sexy without necessarily being low cut. You can play with accessories to take it throughout the decades, often using the same piece for many different looks. 
The current shoulder-baring look of the moment has been the cold shoulder look, carrying us through a couple of seasons now. However, if you want to make a timeless purchase, the key is to keep it simple and embellish with trendy accessories. 
Here are 16 Plus-Size Instagram Babes Rocking The Off-The-Shoulder Look. 
1. Ivory Jinelle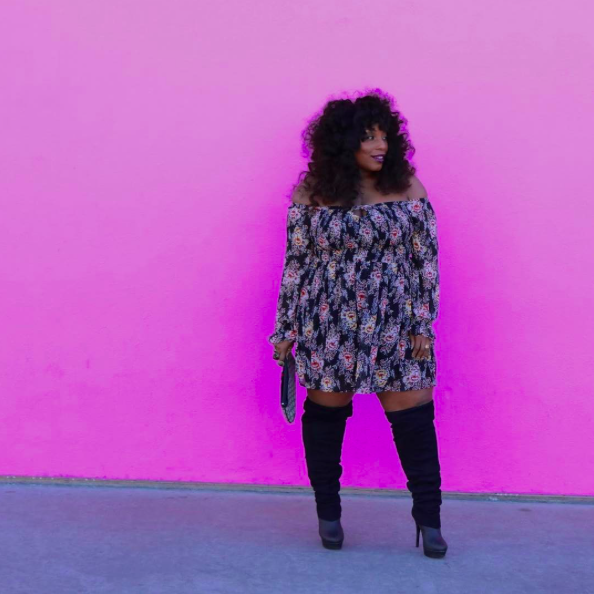 LA-based Ivory Jinelle's looks are always on fire. This off-the-shoulder dark floral number is no exception to the rule. Check out the leg warmers paired with heels! As always, she nails the look. 
2. Victoria's Broke Secret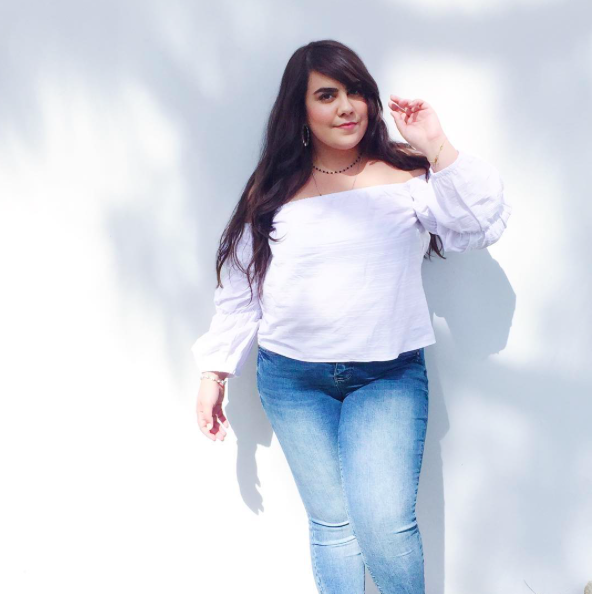 Victoria Isabela, of Victoria's Broke Secret, shows us how to style a beautiful retro off-the-shoulder poet shirt with jeans for an easy to achieve look that is anything but basic.
3. In My Joi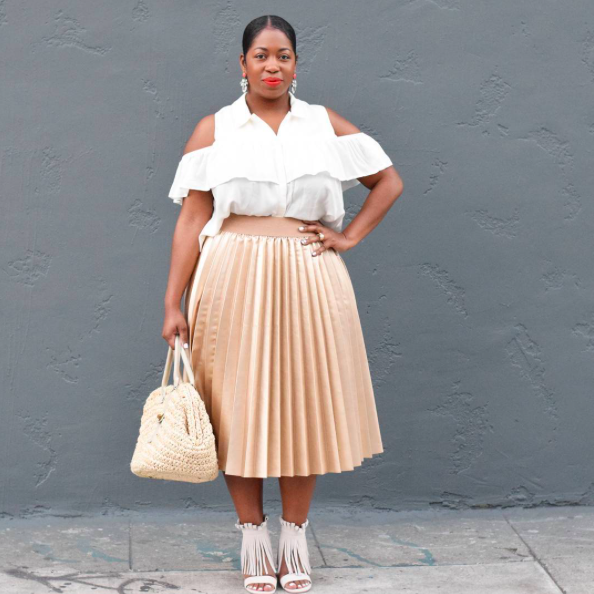 Joi, of In My Joy, shows us a fashion-forward look with copper pleated skirt paired with a white button-up cold shoulder blouse featuring an off-the-shoulder ruffle. 
4. Leigh Rich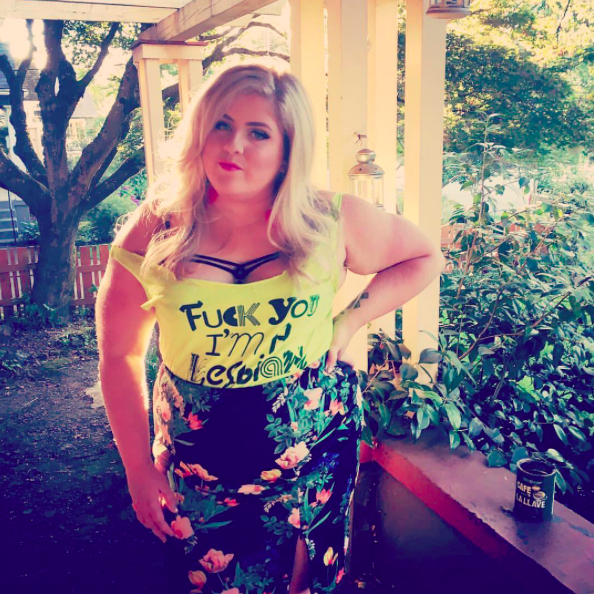 Leigh Rich's IG is chock-full of glamorous southern-bred lesbian shenanigans and incredible style inspiration. With an eye for retro glam, this blonde beauty shares her life and looks with us. 
5. Rebeca Gomez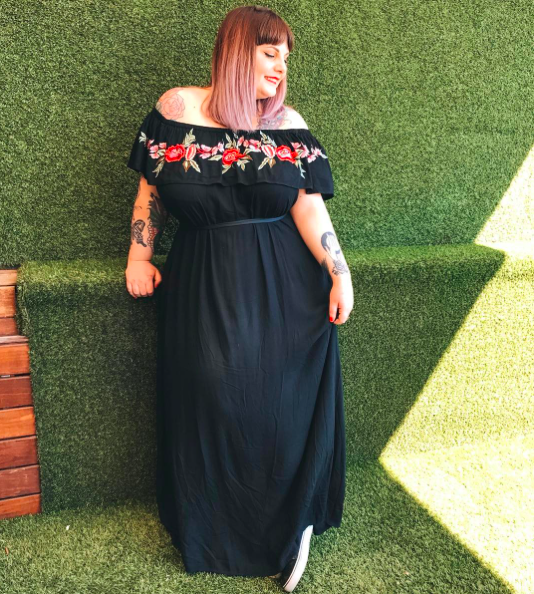 Rebeca Gomez shows off this gorgeous off-the-shoulder look that has spring written all over it, despite it being a black maxi. This is an excellent example of how black can be used in spring looks, too!
6. LaShaunae Veggies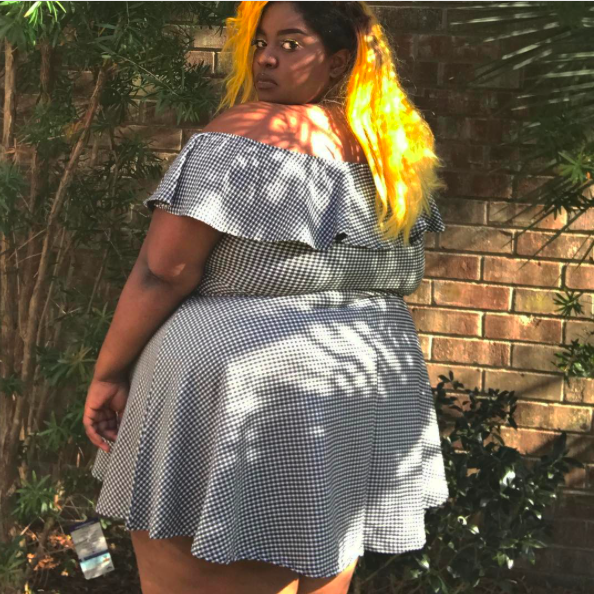 LaShauane Veggies is a 20-year-old fatshionista that made waves challenging the idea of what a skater could look like by wearing a Thrasher crop top. From racism to sexism to fatphobia, the rolls came out in droves to drag the young woman for her fashion choices. Instead, today we celebrate them with this killer off-the-shoulder gingham look.
7. Gaëlle Prudencio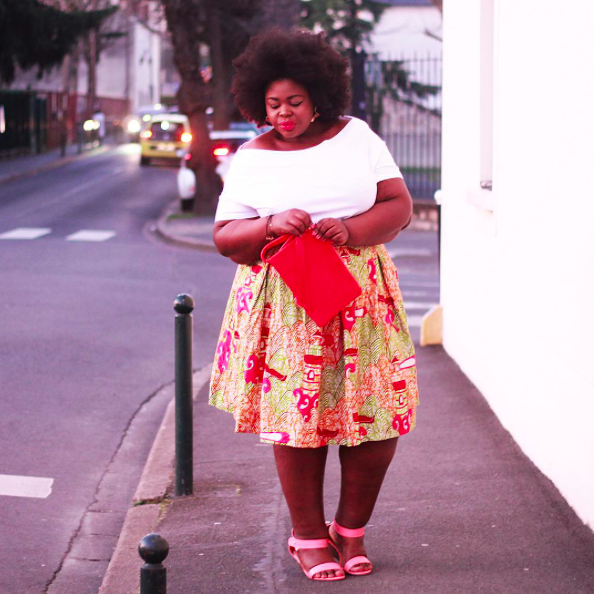 Parisian blogger Gaëlle Prudencio features a boldly printed skirt and a nice, simple white top as the perfect combo. Pair it with spring colored sandals (as seen), and you've got a complete look!
8. Katana Fatale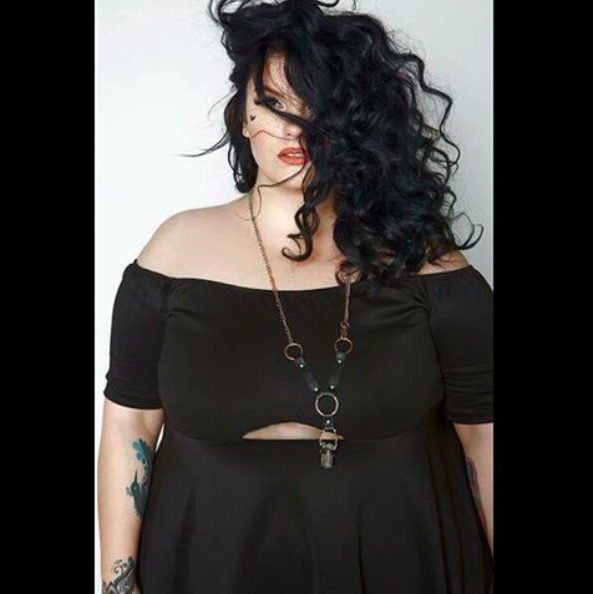 Katana Fatale rocks an off-the-shoulder black dress with a peekaboo tummy. The look is styled by Skorch Magazine's Tiffani Kaelin and is spot-on.
9. Triena Deniese of Circa 88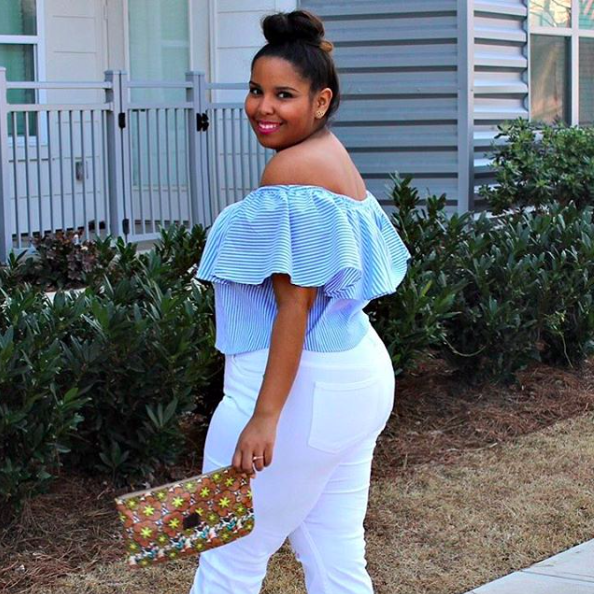 Plus-size fashion and lifestyle blogger Triena Deniese serves a super fresh look with this nautical-inspired blue and white off-the-shoulder ruffled top. We love the pairing of white denim to keep this look extremely springlike and now.
10. Stephanie Zwicky of Le Blog De Big Beauty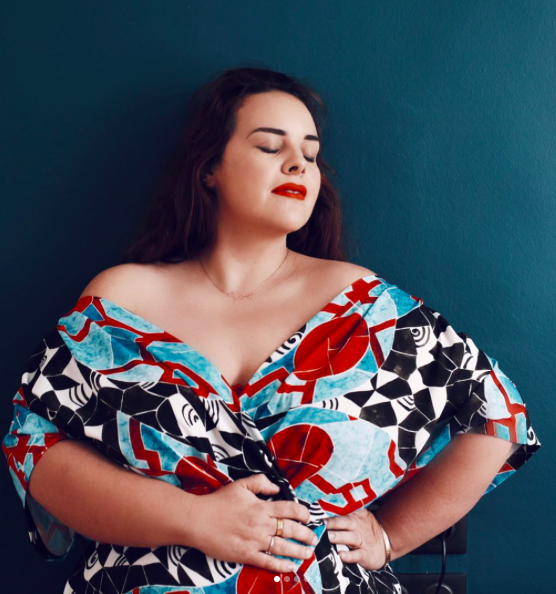 French fashion blogger Stephanie Zwicky never misses an outfit - seriously. Zwicky's style is exquisite, and after years of following her blog, it still feels fresh and beautiful just like this Marina Rinaldi look.
11. Veronica of Vero I Am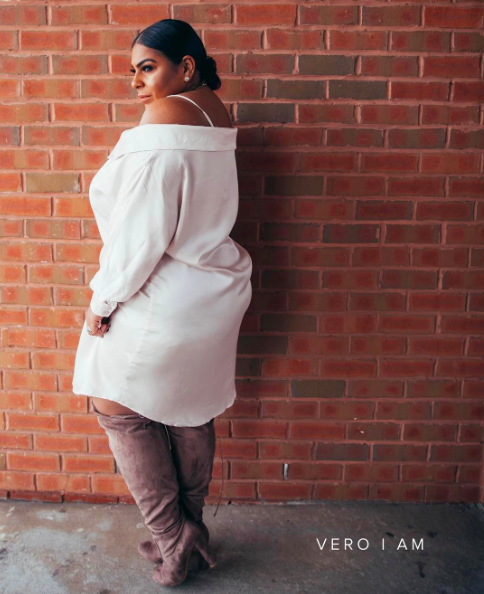 Veronica pairs over-the-knee tan boots with this neutral look for a combination of perfectly wearable spring trends.
12. Lottie L'Amour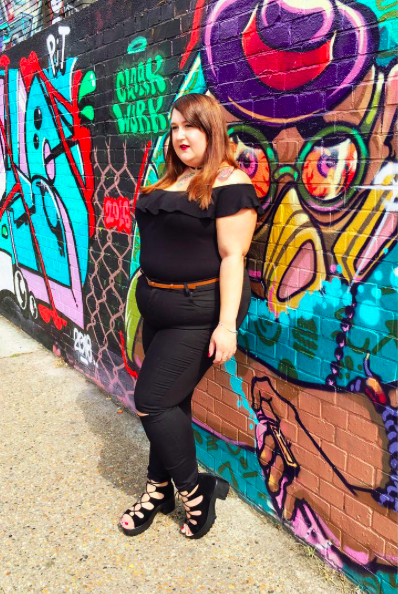 Lottie's all black look is super wearable and stylish. My favorite part? Those fantastic shoes! 
13. Hannah Monet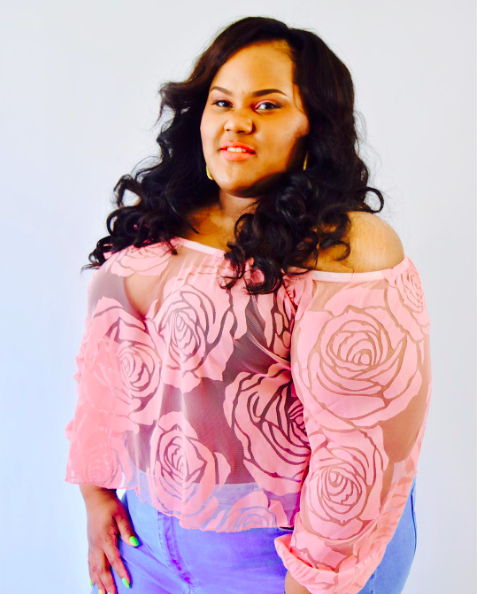 Hannah Monet combines crop top fashion with a see-through rose print for a playful and on-trend look. 
14. Celebrity stylist Tiffani Kaelin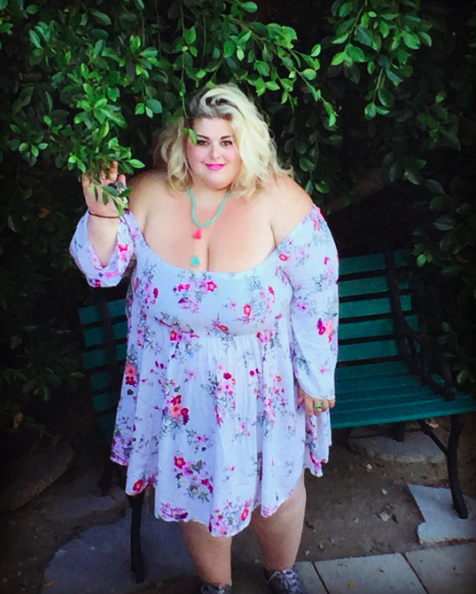 Tiffani Kaelin creates a perfectly feminine look with this Torrid dress and springlike palette.
15. Crystal Daniels, Society of Harlow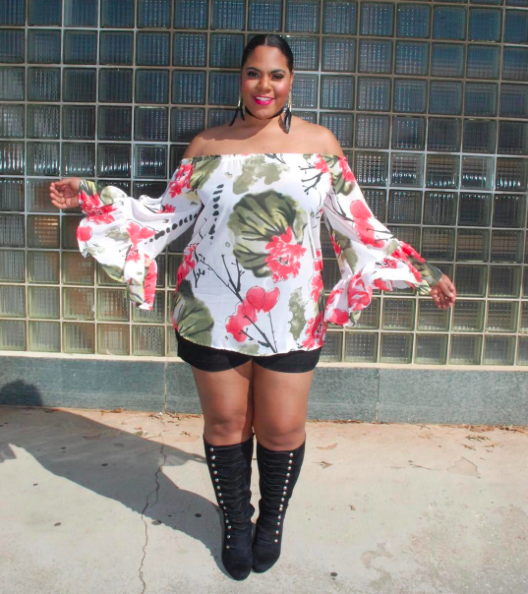 Atlanta's Crystal Daniels shows off a cute floral off-the-shoulder top paired with sexy boots and shorts to balance the nice with the naughty. 
16. Jessica Millichamp of On The Plus Size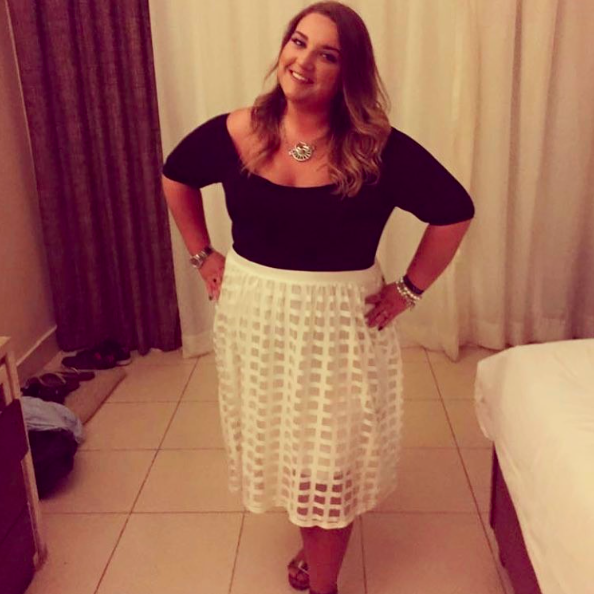 Jess, of On The Plus Size, shows just how easy it is to pair this simple off-the-shoulder black top with a white skirt for a classy yet easy black and white look. Dress it up or down with accessories, makeup and hair.