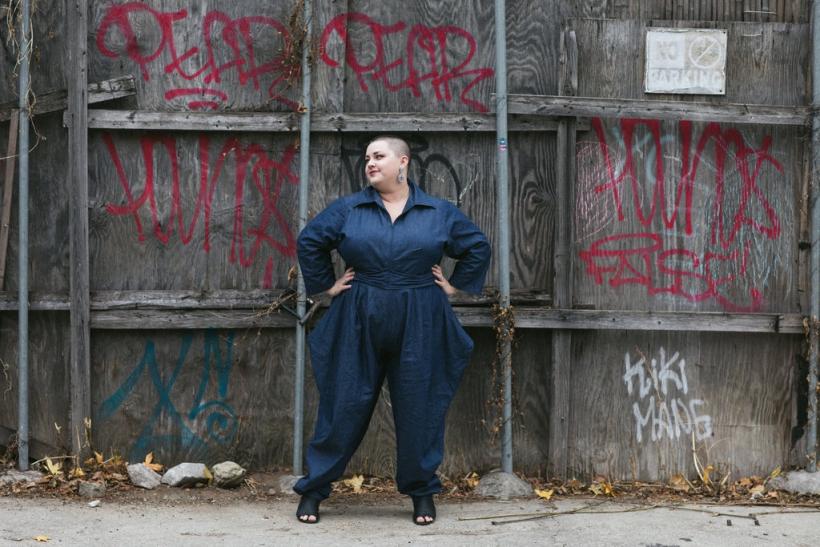 Brianne Huntsman wears JIBRI. Photo by Lydia Hudgens.
Boss Babes are slowly taking over the world. 
The business world is continually evolving, but we've got a long way to go. While one would assume that as time progresses, we'd move closer toward equality, that isn't necessarily true. A higher percentage of women were employed in 1999 than in 2016, according to statistics from Catalyst.org. Only a little over 5% of CEO positions are held by women at S&P 500 companies and women hold only 25% of the board or senior-level positions. Decision-Making regarding wealth and business is still very much male-dominated even almost two decades into the new millennia. Although more women are college-educated than men, women as a whole still make significantly less than men. That wage gap increases dramatically when you look at Black, Latinx, and Indigenous women (with Asian women being the only women of color making more money due to their higher involvement in STEM professions). 
Despite this, women are fighting back. As younger, more diverse workforces inherit the problems created by many old white men, more and more women are making boss moves. Sadly, many of us still feel as though there is something even more personal that holds us back.
Beyond the workplace itself, patriarchal power structures remain at play in our personal lives and psyche, too. 
"I think many women hold themselves back as a sort of apology:  'I'm sorry for making you uncomfortable by how freaking awesome I am.' They're worried they'll make a partner jealous or uncomfortable, that they'll lose friends, et cetera.  They trip themselves up out of the worry of how other people in their lives will react," says Brianne Huntsman of The Huntswoman. 
Huntsman is a self-described "bitch's bitch" and career coach, as well as a queer activist, plus-size clothing designer, fashion blogger, and all-around Boss Babe. A Stanford design grad, Huntsman, is a feminist fireball who is doing her damnedest to light fires beneath feminine-of-center folks everywhere.
When transitioning to follow one's dreams or make major career moves, life can be daunting. Sometimes it's easiest if you can just focus on a couple of important things to get your footing. We asked Huntsman for three things that you can do to start making the right moves.
"My first suggestion is to put money on the line. Hire a coach. Jen Sincero talks about this in her book You Are a Badass at Making Money. Putting money down, hiring an expert, makes you show up like nothing else will."
"For thing two, I suggest you research how someone else did what you're wanting to do. Pick one person, and make a timeline of how they got to where YOU want to be. Ask yourself, 'How can I emulate this?'"
"Lastly, plan one day a week. Sitting and planning a whole month or week can be extremely overwhelming. Plan one day that includes time dedicated to tasks necessary for attaining your goal."
While the old saying "Dress for the job you wish to have" exists, what about "Dress as the boss babe you wish to be?" While you ponder your life and career, check out these seven boss babes for a bit of inspiration. 
1. Marie Denee of The Curvy Fashionista (@mariedenee)
The Curvy Fashionista's Marie Denee is one of the original plus-size blogger babes. A woman who should be a household name in plus-size fashion, Marie has not only built her fashion empire one outfit at a time but has a worked to help launch others as well as herself. By offering tons of brilliant blogging tips, Marie Denee continues to boost the voices and ideas of badass bloggers who are smart enough to take her advice. 
2. Gabi Gregg  of Premme (@gabifresh)
One of the OG plus blogger babes, Gabi Gregg, has done wonders with the fatkini and with Premme, a plus-size clothing line created with writer and fashionista Nicolette Mason. The best part other than the amazing styles? Premme's generous cuts go up to 6x, providing larger plus-size babes with truly stylish options making them THE millennial plus brand. 
3. Alex Sundstrom of Alexandria Agency (@chubbystruggles)
Alex Sundstrom is the brains behind Alexandria Agency, a social media and marketing consulting agency for the bold. "I'm taking my own life philosophy of living boldly and colorfully in all aspects into the world of marketing and helping businesses shake up the norm," Sundrom says of her business. On top of being a badass boss babe, her style is cute AF, too. We're here for all of it. 
4. Chaya Miltchein of Mechanic Shop Femme (@mechanicshopfemme)
Imagine going to a mechanic shop or buying a car and having all of the information that you need. Women are so often preyed upon by predatory salesman and mechanics, and it's because we have not been conditioned to prioritize this knowledge or had opportunities to acquire it. Chaya Milchtein of Mechanic Shop Femme has built her life around changing that. Milchtein blogs, but she also offers incredibly useful classes, as well as a heaping of killer fashion on the side. Trust us — it's the blog you never knew you needed. 
5. Miz Chris (@mizchris)
Oakland-based Boss Babe Miz Chris is all about making things happen. From Queer Fashion Week to queer-centric cannabis dispensaries and WoC-owned salons, Miz Chris is deepening community bonds while bringing CBD-based pain management to the hands of some of the people who need it the most, all while investing in the community she calls home. 
6. She's All Fat Podcast (@shesallfatpod)
April K. Quioh and Sophie Carter-Kahn of She's All Fat are getting shit done. From talking about uncomfortable subjects to reaching out to corporate sponsors to discuss accessibility and broadening size ranges, She's All Fat is more than just a great podcast… they're truly walking the activist walk. Tune in to their weekly half-hour podcast. 
7. Beckah Sheeler (@beckahshopify)
Boss Babe Beckah Sheeler is here to teach us how to monetize our websites and push small businesses to make more money. She's a Boss Babe because she truly wishes to help support women and non-binary folks in achieving their goals. From simple lessons like "What is SEO?" to way deeper topics and services, Sheeler is here to make the web less intimidating for feminine-of-center and non-binary folks.
---
RELATED: