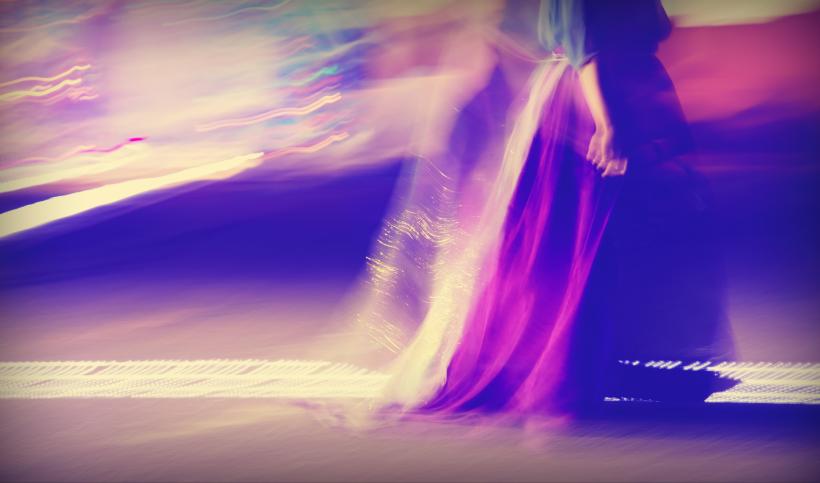 The 2018 Pantone Color of the Year may be named Ultra Violet (after the invisible light rays), but we can take it to mean EXTRA violet.
With its name derived from the flower, violet isn't simply a mish-mash of reds and blues — it is a spectral color with its own set of wavelengths on the spectrum of visible light. The 2018 Pantone Color of the Year may be named Ultra Violet (after the invisible light rays), but we can take it to mean EXTRA violet.
Be like ultra violet.
Leatrice Eiseman, executive director of the Pantone Color Institute, tells NYT that the color "communicates originality, ingenuity, and visionary thinking."
This year, I hope to see us — especially marginalized bodies — move into our most powerful, ultra violet selves.
May we transform into the supreme beings that we are meant to be, covered in the violet colors of cosmic nebulae, as we ascend to our rightful spiritual thrones.
May we embody the healing elements said to lie within the amethyst stones of the same hue, balancing our emotional and spiritual ailments while we expand our horizons through the crown chakra, which is often depicted in hues of purple and bright white light.
"It's truly a reflection of what's needed in our world today," said Laurie Pressman, vice president of the Pantone Color Institute, in a press release.
"We wanted to pick something that brings hope and an uplifting message," explains Eiseman.
"We are living in a time that requires inventiveness and imagination. It is this kind of creative inspiration that is indigenous to Pantone 18-3838 ultra violet, a blue-based purple that takes our awareness and potential to a higher level.
From exploring new technologies and the greater galaxy, to artistic expression and spiritual reflection, intuitive ultra violet lights the way to what is yet to come."
With such a vibrant color and the intense feelings that come with it, it can be a little intimidating to style. These spectacular fashionistas know just how to rock it, from splashes of color within accessories to full-blown UV gowns.
1. Maui Bigelow (@phat_girl_fresh)
Sequins get kicked up a notch with this gorgeous dress. Maui absolutely sparkles in this amethyst hue.
2. Yesenia Guadalupe (@myxxfly)
Miami-based bilingual NicaAmerican educator and fashionista Yesenia always delivers fresh takes on trends, often with a hard femme edge.
3. Angelina (@fiercefatfemme)
"I was told not to dye my hair a loud color because my Fat(ness) already made me stand out in a bad way. Fuck that," says Angelina of her beautiful bold locks.
4. Simone Mariposa (@simonemariposa)
Simone pairs ultra violet with velvet to channel its truest regality — even when paired with casual deconstructed jeans and plaid!
5. Jessie Lupinetti (@jessie_lupinetti)
If blue-purples aren't your thing, a touch of pink to the shade can still invoke the mood while working for you. Switch up the usual black, red, or ivory lingerie look with orchid or ultra violet for a bit of bold yet sultry color.
6. Alysse Dalessandro (@readytostare)
Petite plus-size blogger Alysse of Ready To Stare is spot on with the ultra violet trend in this gorgeous mermaid cocktail dress. Dress up or down with accessories to make it perfectly you.
7. Jazzmyne Jay (@jazzmynejay)
What's better than purple? Purple and leopard. GO BIG OR GO HOME!
8. Tracy Broxterman (@brxtrmn)
You can still sport the trend even if you wouldn't dream of wearing something purple. Tracy Broxterman's signature monochromatic gothic minimalism is kept from being too serious with an injection of beautiful color via her mane.
9.  Marcy Cruz (@fearlesslyjustme)
Marcy models the PERFECT ultra violet sheath, ideal for work or cocktails. Toss a blazer over it for a meeting or pearls and heels for happy hour.
10. Naomi Finkelstein (@practice_radical_self_love)
Plus-size yogi Naomi Finkelstein poses in an ultra luxe ultra violet dress with a regal brocade print.
11. Aarti Olivia (@curvesbecomeher)
Body-positive fashionista and chronic illness blogger Aarti Olivia celebrates her 36th birthday is this gorgeous purple hue.
12. Latti (@lattiland)
Don't want to commit to purple clothing but still want to switch it up a bit? Toss on a purple lip, as seen here on makeup artist Latti. Recommended shades: MAC's Heroine or 4eva, Maybelline Color Sensational Vivid Matte Liquid in Vivid Violet, NYX Liquid Suede in Amethyst or Run The World, and Kat Von D Everlasting in Roxy.
13.  Lakeisha Shurn (@lovethyself365)
Bay Area bopo warrior Lakeisha rocks a boho maxi in a gorgeous purple print. If that much print is intimidating, try it as a scarf or blouse with a neutral solid.
14. Alexis Hope (@slayinginbrooklyn)
Owner of plusBKLYN, Alexis Hope slays in this vivid party look. Want to really up the royal look? Accessorize with metallic gold, as seen here.
15. Keri Akins for Copper Union Apparel (@copperunion)
What's as bold as the color purple? This incredible large-scale monstera print seen in this gorgeous Copper Union look.
---
Related: