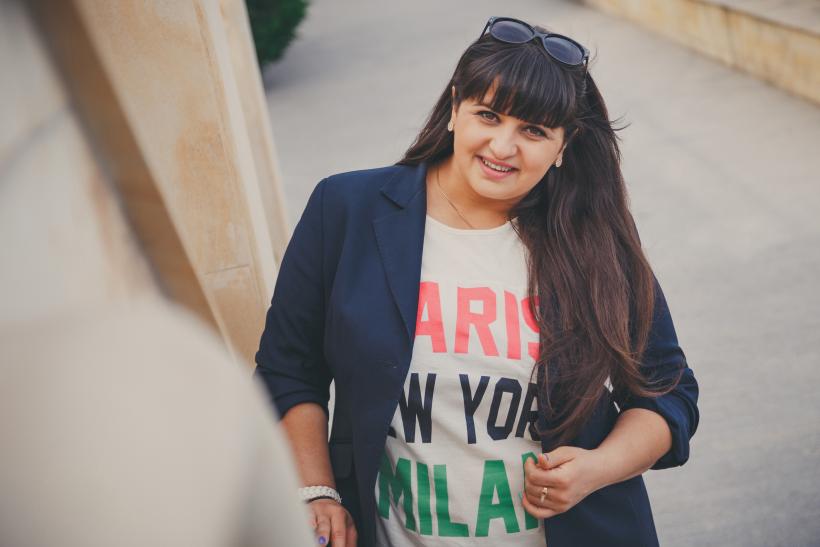 Let these fatshionistas for 2018 show you how to do it with these plus-size workwear looks!
It's 2018. It's time to get shit done.
2017 was a year of crisis for many, and 2018 is the year that we must resist. Whether you're gently subverting the corporate world in a 9-to-5, a creative working with a team, or self-employed and meeting with a client, sometimes you've got to ditch the jeans and "Fuck The Patriarchy" shirt for something a bit more professional.
If you're in a big body, being perceived as professional can be an uphill battle. Fatphobia is real and it is rampant in the workplace, as employment experts at Monster.com have acknowledged. Yale's Rudd Center for Food Policy and Obesity found that weight-based discrimination went up a whopping 66% from the mid-1990s to mid-2000s. In a time when body-positivity is finally getting a bit of footing as a movement, employers are even less enlightened than before — despite two-thirds of Americans now being considered "overweight" or "obese." Rudd Center goes as far to say that weight discrimination is now even more prevalent than hiring bias based on ethnicity, sexual orientation, and visible physical disabilities.
America may be more open to hiring a more culturally diverse workplace, but they still hate fat people. And it's not just America, either.
"This kind of bias affects people from the time they are hired to the time they are fired," says Rebecca Puhl, the Rudd Center's director of research and weight stigma initiatives. "Our research shows that obese workers are less likely to be hired and less likely to be promoted," she says. "Obese men earn on average 3 percent less than their slim counterparts — obese women more than 6 percent less."
Any plus-size person knows that they face an exponential amount of scrutiny for wearing the same outfits that a thin person wears. While thin women are lauded for looking "effortlessly chic" in slim-fit jeans and a simple yet well-constructed t-shirt and a messy bun, a fat woman wearing the same look is often labeled slovenly and not trying. The cards are stacked against us, but that just gives us an excuse to be extra stylish.
After all, we know we look good. Let these fatshionistas for 2018 show you how to do it with these plus-size workwear looks!
1. Jami Jaye (@styleoversize)
Bronx-based fatshionista Jami Jaye shows off the perfect way to incorporate a crop top with a professional suit. Need to cover up for a meeting? Just button up and no one knows!
2. Bettye Rainwater (@fashionschlub)
Fashionista and cancer-survivor Bettye Rainwater reps the over 50 crowd and shows off comfortable yet stylish looks that are accessible for healing bodies and great no matter what your age is.
3. Adriel (@stayhomme)
Minimalism doesn't mean boring! Adriel plays with texture and accessories in this grey and navy look that's perfect no matter what gender or shape you've got.
4. ShaKera (@therealsamplesize)
Math teacher ShaKera shows up for class with style. These separates are phenomenal together and easily remixed for many professional and casual looks.
5. Yael Perez (@yaelkitten)
Montreal-based burlesque performer Yael Perez, aka Miss Kitten, shows off a playful retro-chic look that is easily remixed with interchangeable blouses and shoes. Whether you're wearing loafers, ballet flats, sandals, or heels, this classic silhouette is easily workable and found in most sizes.
6. Brianne Huntsman (@the_huntswoman)
Business coach and fashionista Brianne Huntsman knows all about how to make her high fashion queer femme style into the perfect professional look.
7. Allison Teng (@curvygirlchic)
Allison Teng is the queen of classy looks with a preppy finish. This black and white look plays with texture, print, and silhouette in order to make the most of a simple palette.
8. Kiki Deluxe (@kikideluxe82)
There's no rule saying that suits have to be boring or that floral has to be high femme. Make a statement without even opening your mouth when you walk into a room in this floral suit.
You Might Also Like:
9. Manon Edwards (@chicwithcurves)
Manon Edwards shows us how to be BOLD in this vibrant pink suit. To avoid a trip to HR, slip any number of stylish blouses or graphic t-shirts. Change it up to suit your mood!
10. NikkiFree (@iamnikkifree)
Nikki creates a perfectly professional look with these sexy leggings and high heels by balancing it with a conservative sweater and button-up shirt.
11. Crystal Coons (@sometimesglam)
Want to look professional but still make a statement? Try a pair of boldly colored wide-leg pants and a simple top. Accessorize with a pair of heels or loafers and a statement necklace or earrings, or keep it simple with minimal accessories and a chignon.
12. Anita M (@foreign_curves)
You don't have to play it "safe" to look professional. Anita plays with silhouette, layers, and texture in this gorgeous look.
13. Bre Ducat (@breduct)
Who says you can't sparkle at work? Bre Ducat makes this gorgeous sparkly champagne jumpsuit work attire, and we're here for it. 
14. Runa (@glambyruna)
Runa keeps it simple with a (literal) statement tee and pants, perfect for casual Friday.
15. Natasha Nurse (@dressing_room_8)
Often the most stylish option is to just keep it simple! Take it back to basics with the perfect black skirt and a great t-shirt or blouse.
16. Darlene (@suitsheelscurves)
Inject your wardrobe with a dose of sunshine! This beautiful blazer can bring a bit of optimism to your look. If yellow isn't your thing, try another playful color like lavender, orange, or a vivid aqua.
17. Line O'Confetti (@von_confetti)
Just because you've got to walk into an office doesn't mean that you can't do it with style and attitude. German fashionista Line O'Confetti shows off a glamorous take on simple separates.
---
Related: