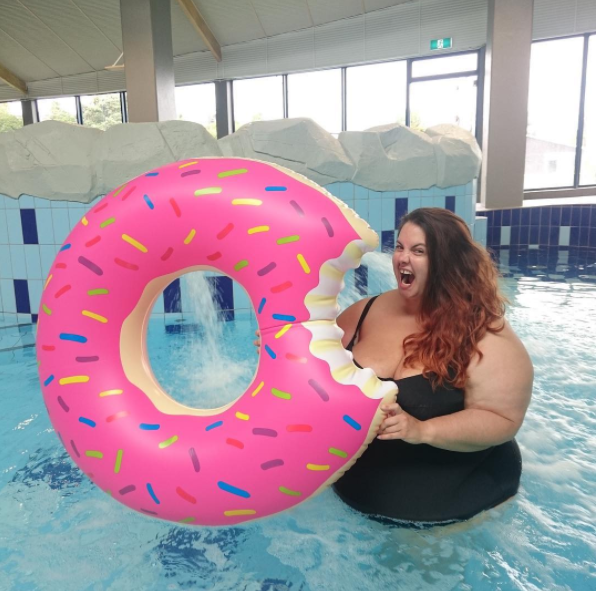 New Zealand-based blogger Meagan Kerr (@thisismeagankerr) shows off her silly side with her adorable donut floaty.
As we move into June, it gets warmer and sunnier -- perfect for long days at the pool or beach. If you haven't bought a swimsuit yet, it's time to find one (or more!) to stay cool and bare.
You've probably been flipping through catalogs or checking out different online retailers to take advantage of sales or just get a little more inspiration before you brave the dressing room or press "OK" on that online order. If you've spent any time scanning through what's available, you're probably asking yourself this question:
Where are all of the models that are actually plus size?
Even retailers who use larger plus size models typically stop at a size 18/20 when it comes to displaying their clothing, which is especially problematic because those size 18/20s or 2x's are usually the "right kind" of fat: smaller waist, flatter stomach or acceptably round, with large breasts and a curvy ass — fat in the places that people, particularly heterosexual men, want to look at.
That's all fine and dandy for those who are naturally shaped like that (Go you!), but what about the rest of us who don't see our bodies represented? Even masculine plus-sized folks are usually presented with a mostly "cut" dude that happens to be built with a larger frame, but lacking a belly.
With prices of swimsuits going up along with temperatures, take a break from padded advertising and potentially complicated feelings.
No, those boobs don't come with that fatkini top and it's okay that your stomach will not be that flat, either.
You're still brave and awesome if fatkinis aren't your thing and you feel more comfortable covered up a bit more, too.
You are enough and not "too much" all at once. You've got this.
Instead of spending time looking at smaller bodies that the world suggests you should be aspiring toward, why not surround yourself with images of fat people with bodies like yours — who are living their best lives and seriously having fun in their swimsuits?
Look no further than these badass babes who are a US size 24 and up as they show off their swimsuit looks. We want to party with these folks all summer long!
1. Saucye West, Plus-Size Model (@saucyewest)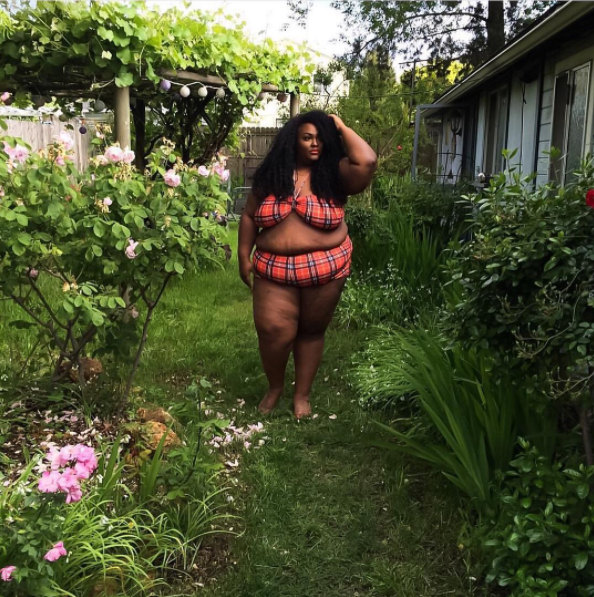 Plus-size model Saucye West truly embodies her #FatAndFree campaign in this gorgeous backyard shot featuring a plaid two piece by Size Queen Clothing.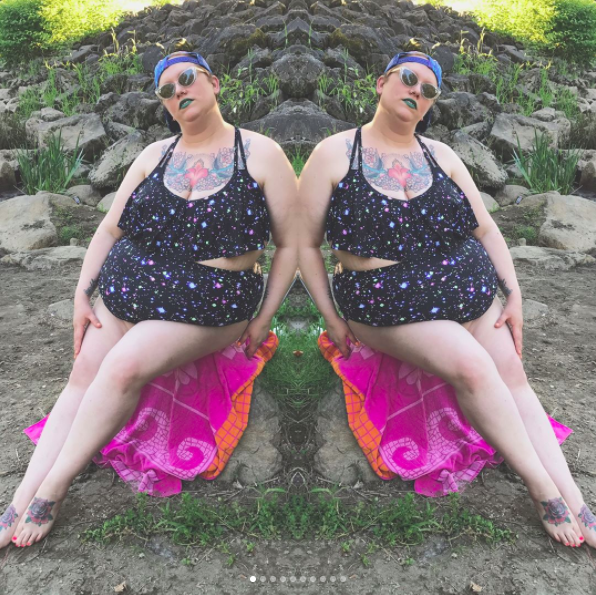 Rachele of Rad Fat Vegan gives excellent advice while rocking quite possibly the perfect black printed two piece.
"Put your body, fat, flat, round, hairy and shiny, however it is, in a suit. Dapper, pinup or athleisure garbage person. Cover up, show skin or come in a mumu. Just show up."
3. Kelly (@kellybellyohio)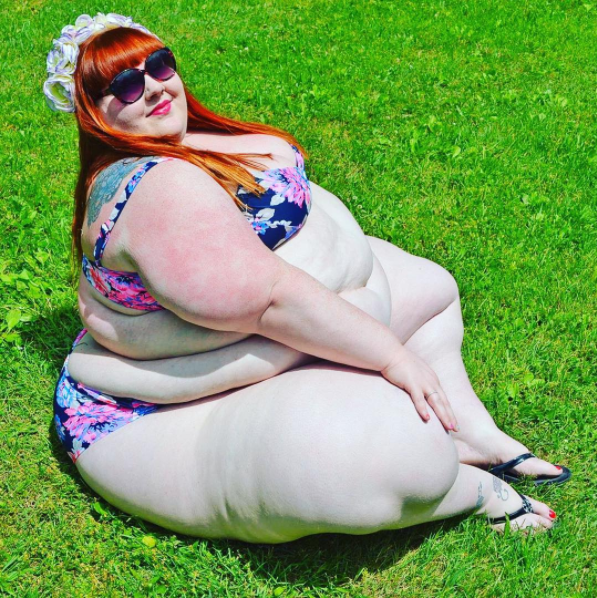 Kelly gets comfy on the grass for a lovely sunny picnic in her beautiful two-piece.
4. Ashley Wall of Simply Curvee (@simplycurvee)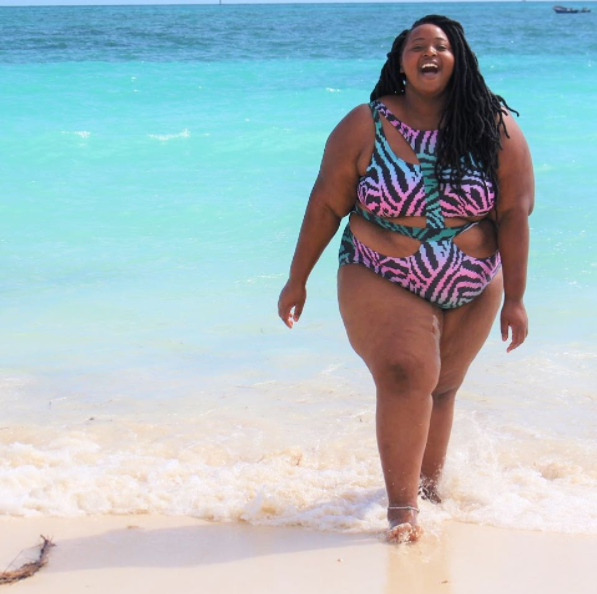 Ashley shows us some waterbaby love from The Bahamas in this gorgeous strappy monokini.
5. Marcy Cruz (@fearlesslyjustme)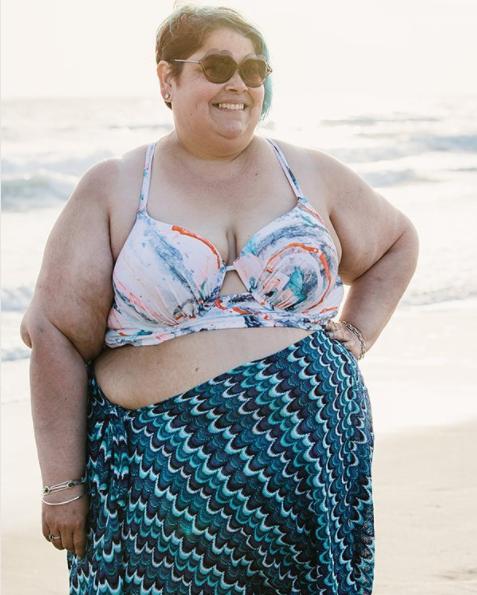 Marcy Cruz of Fearlessly Just Me shows off her gorgeous pastel suit from Lane Bryant during her recent west coast tour. This shot catches a moment of her on Venice Beach, enjoying a two-piece suit on a public beach for the first time.
6. Rachel Otis (@somewhere_under_the_rainbow)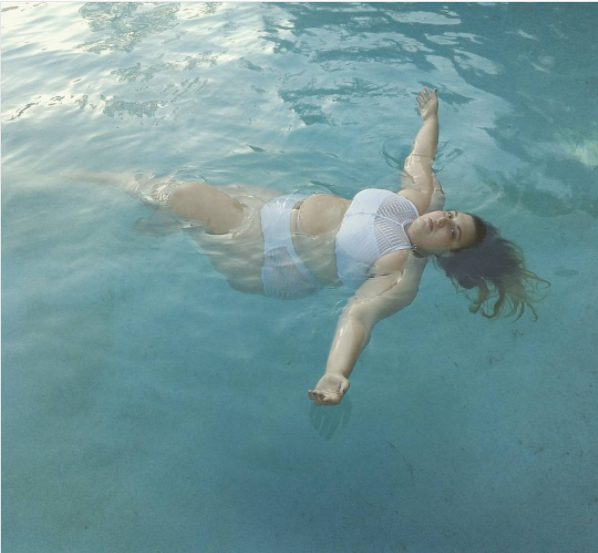 Rachel Otis shows off a gorgeous Gabi Fresh suit from Swimsuits For All while in her preferred habitat: floating or swimming in the water.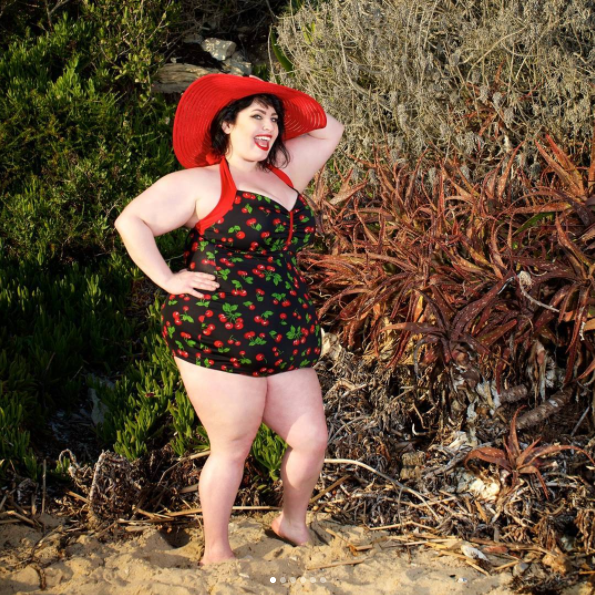 Glamour queen Jazzy Byner shows some serious retro cutie style in this delicious cherry print. Check out her perfect accessories! Don't forget to protect your eyes and face with sunglasses and hats!
8. Lacey Carroll of Pure Plus Fashion (@pureplusfashion)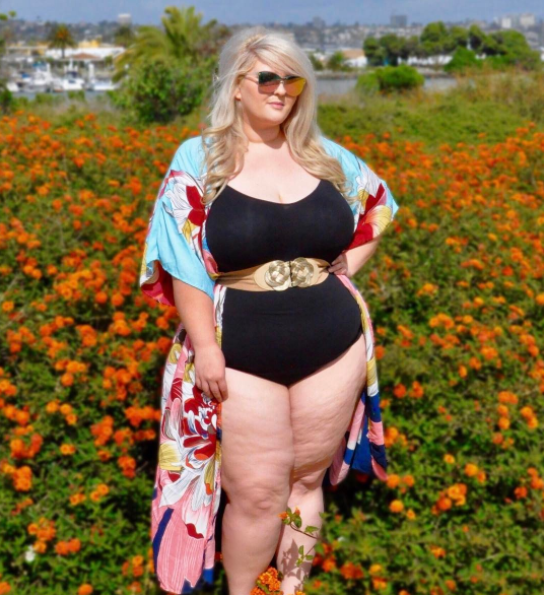 Lacey shows off a gorgeous summery look perfect for when you are spending more time beside the pool than in the pool. Complete with a belt and a gorgeous kimono, you can use your swimsuit as a bodysuit with the right outfit. Don't be afraid to make your wardrobe staples do double-duty!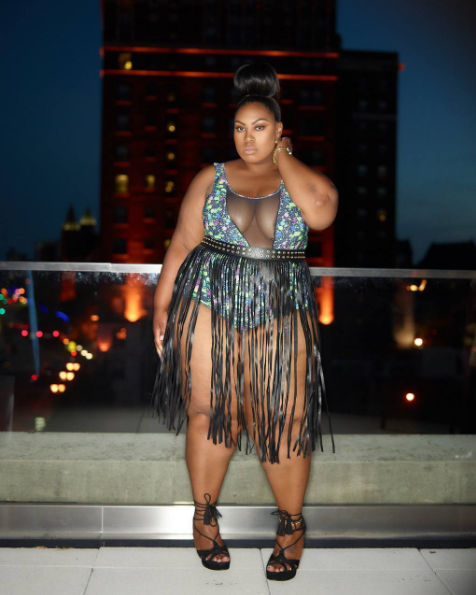 Ryane Renee takes her swimsuit from pool to party with the addition of a badass fringe belt, great shows, and perfect hair.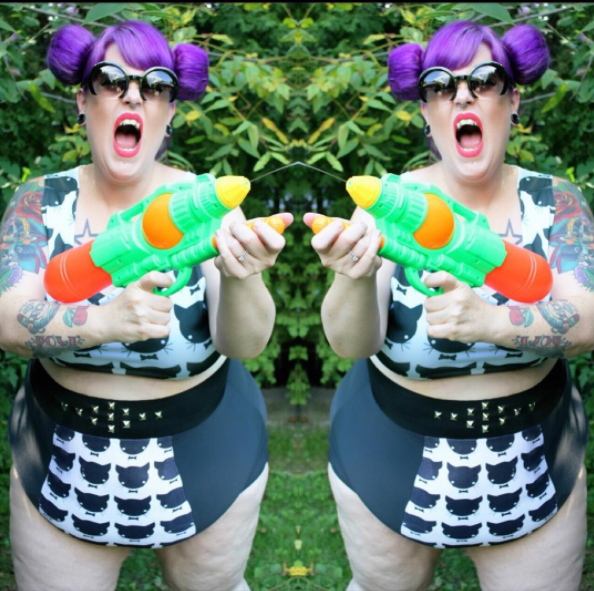 Alt fashion maven Stina Scott shows off her gorgeous Candy Strike two-piece as she reaches for a different kind of way to chill yourself and family out on a hot day… or just engage in a bit of non-violent combat. 
11.  Emily Ho (@authemmie)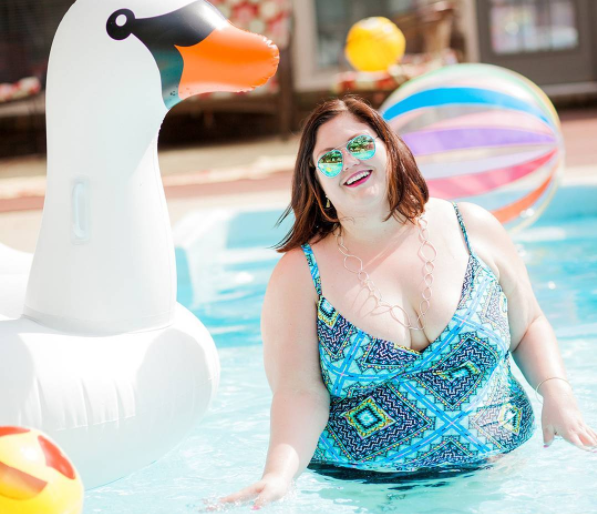 Body-positive and plus-size fashion expert Emily Ho rocks an adorable blue geometric suit alongside a fun inflatable pal.
12. ShaKera of The Real Sample Size (@therealsamplesize)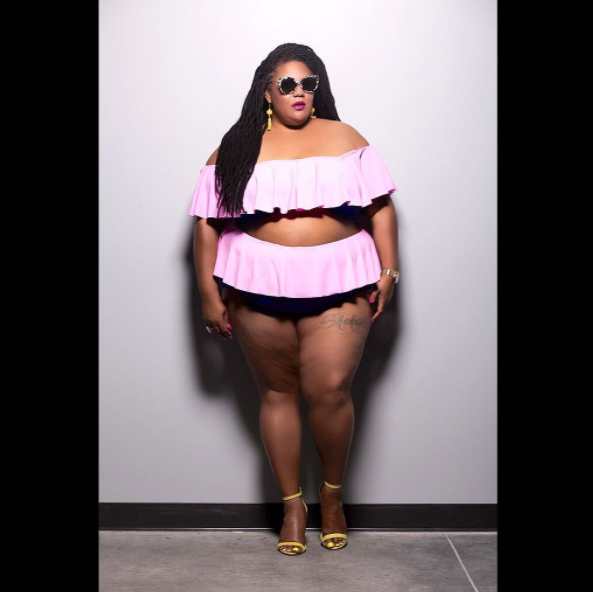 ShaKera rocks the cutest two piece with a ruffle/flounce top for seriously adorable vintage vibes all summer long!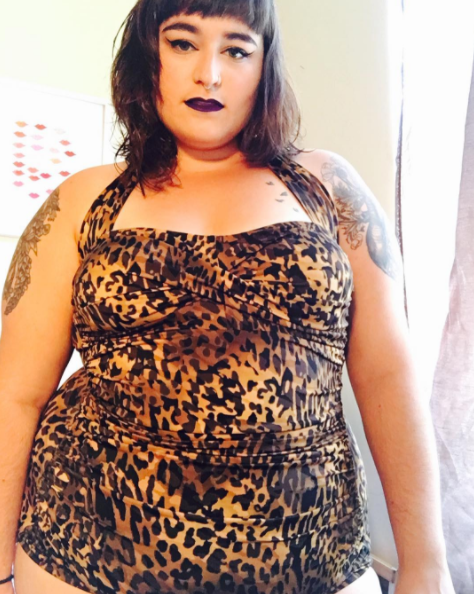 Designer and activist Nikki Padula channels some seriously sexy but empowered riot grrrl vibes in this vintage animal print suit.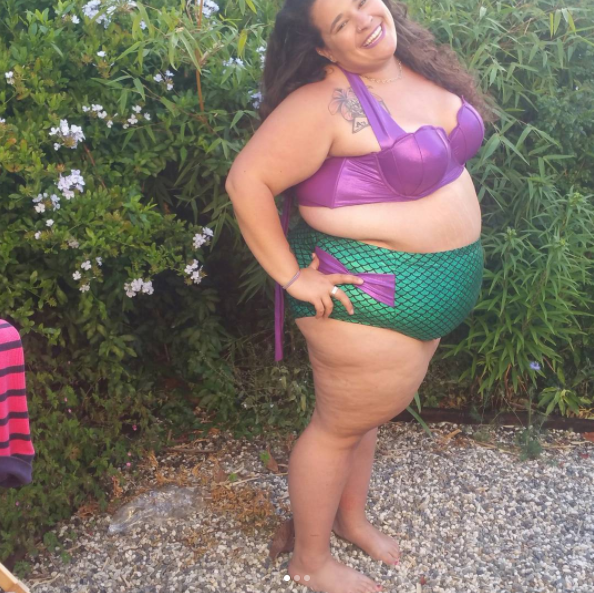 Sam shows off her absolute perfect fat mermaid look with this whimsical two-piece which is seriously vicariously making our fairytale dreams come true.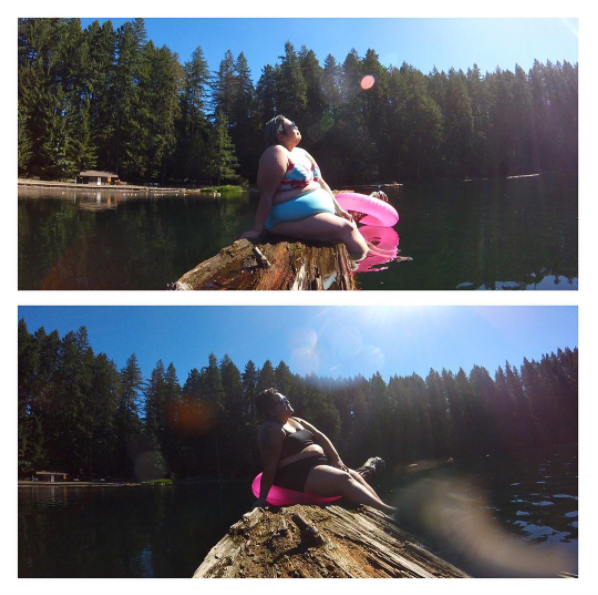 Esther Kim gives some seriously fun vacation vibes with this photo set on a lake. Definitely experiencing a bit of vacation envy right now!