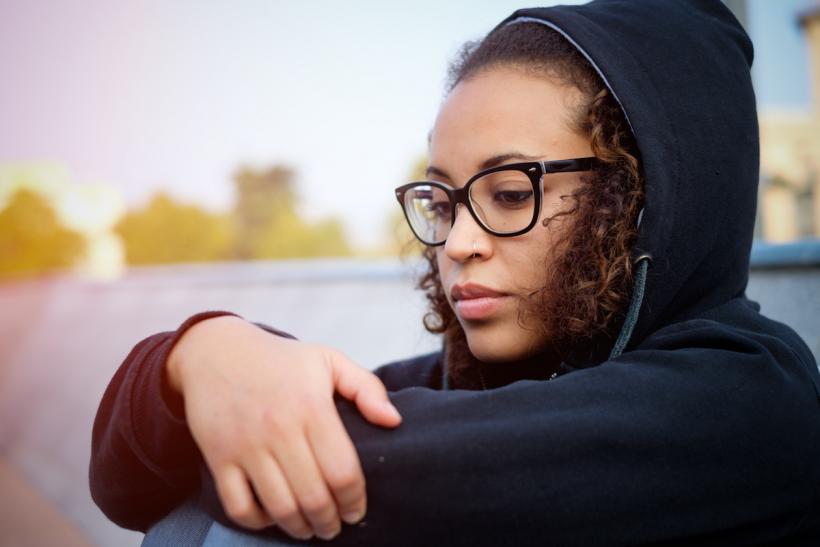 " The future of ending rape culture is intersectional and inclusive. There's no other way forward."
"Now, we'll pair up and practice what we're learning!" our instructor called out. I was ready. We were practicing defense moves to use on an attacker's eyes.
As my partner and I took turns, we said, "No!" and "Stay back!" These were terms taught to us by the Rape Aggression Defense (RAD) instructors of the weekly class we'd signed up for on campus. We weren't actually supposed to jab our partner in the eyes, but practice the motion we'd use if we were going to strike an attacker's eyes as a form of defense.
This was something I could do. I tried to memorize it: If I'm assaulted, I'll go for something vulnerable, like the eyes.
When I signed up for the class, I already knew about rape culture and the fact that we should focus our efforts on teaching people not to rape instead of teaching people how not to be raped. I also knew that most people are assaulted by someone they know, and it wasn't likely I was going to be cornered in a dark alley. But I'm also a physically disabled and small, and I've always had that fear in the back of my mind: If I were attacked, how would I escape?
Six months after the class, I became a rape survivor. My assailant was someone I knew, but not necessarily someone I trusted. I was drugged against my will, which added to the mobility limitations I already have, making it impossible for me to escape and difficult to understand what was happening.
As much as we try — especially in the feminist circles I'm in — not to ask survivors about why they couldn't get out of situations, a lot of people wondered why I wasn't able to escape my rapist, especially since she was female. I'd usually reply by telling them I was drugged, and that would shut them up immediately. Not many people I know have been given drugs like rohypnol or ketamine, but they can imagine from health class movies what it might be like. What they can't imagine is that, even if I were fully cognitively aware, I'm still not as able to fight back or physically escape as my able-bodied peers.
In the aftermath of my rape, I became an activist for ending rape culture. And I quickly found that even in feminist circles, disability was often left out of the conversation completely.
"As disabled folks specifically, we're often invisible in a lot of movements and campaigns, which I think speaks to our relative position in society, the silencing and invisibility we experience in general, and society's tendency to see us as disposable, worthless, and a severe burden," says Denarii Monroe, freelance writer and editor, activist, and aspiring screenwriter.
In the RAD class I took, disability wasn't a part of the conversation. I remember at the beginning of the class, our instructors, who were female, acknowledged that students came from a variety of different experiences. Some of us were athletic and muscular, while others were quite small. They reassured us that we could all perform these moves. But I took this class before I needed a mobility aid to get around, and although I could stand to perform the defensive movements, I didn't have the balance, muscle tone, or range of motion that my fellow classmates had. Add to that the fact that my disability is somewhat degenerative, and symptoms can be much more severe when I've had a physically exhausting day, when I'm stressed, when the weather's bad, or when I'm going through a particularly bad pain flare—many of the defensive moves I learned as a freshman in college would be useless to me most of the time now.
Why aren't we talking about disabilities in the conversations around rape culture and consent? "We're less likely to be seen as targets for rape, which is an argument that should fall apart in our current feminist understanding that rape is about power as opposed to being about desire," says Cade, a graduate student.
"When we leave these nuances out of campaigns and conversations, we're not serving to make our work intersectional."
Disabled people are often de-sexualized, and even though sex and sexual assault aren't the same thing, many people make a false equivalence. They don't think disabled people have consensual sex, so they don't think that we can be assaulted, either. Instead of making campaigns for consent and ending rape culture more inclusive, they decide to shy away from adding disability to the conversation, even though disabled people are at a higher risk of sexual violence.
"Since I don't fit the picture of the white, straight, non-disabled woman I see represented most by these campaigns, because I don't have the typical story that the media tells about rape, I can sometimes feel very alone and question if this happened to me because something's "wrong" with me," says Maisha Z. Johnson, Digital Content Associate and Staff Writer at Everyday Feminism.
I often feel left out of these campaigns, too. I'm queer, physically disabled, and autistic, and these are intersections I rarely see included in conversations about consent. These facts about my identity can't be separated from my experience of rape. When we talk about consent, we don't usually bring up the fact that sexual violence happens in LGBTQIA communities, too, and that an attacker can also be female. We don't talk about how enthusiastic, specific consent needs to be discussed on an ongoing basis for many disabilities; as an autistic person, I need to know my partner's boundaries, and they need to know and respect mine. We don't talk about the fact that physically disabled people may not be able to "fight back" or flee, that we may not be able to kick, scream, or run, that we may be easy to physically overpower.
I was raped on a campus, but I'm not the straight, able-bodied survivor people are used to seeing in campaigns about college sexual assault. When we leave these nuances out of campaigns and conversations, we're not serving to make our work intersectional. It also reinforces the idea about what a rapist looks like, and what a survivor looks like — leaving everyone whose story doesn't fit that narrative searching for answers and feeling invalidated.
Disabled survivors might also find it difficulty to access resources after an assault has already happened. If people—our friends, family, law enforcement, emergency support workers, medical providers—don't see disabled people as capable of being raped, they won't know how to help us if we are. When I was in the process of reporting the attack to campus police, the law enforcement officer I was speaking sounded doubtful. She didn't understand how, if my attacker was also female, I wasn't able to physically defend myself. I tried describing my lack of strength, poor muscle tone, and mobility impairments to her, but I'd already started to feel like my story wasn't believed.
The future of ending rape culture is intersectional and inclusive. There's no other way forward.