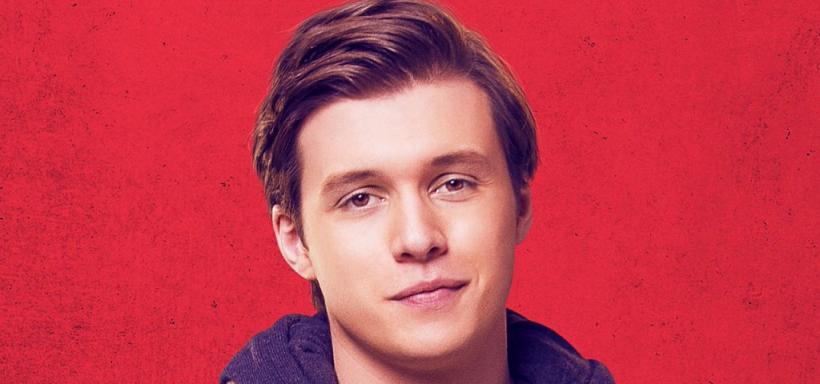 Photo credit: Love Simon Movie Poster
When I was in seventh grade, I logged onto my MySpace blog and wrote a short blog post about being gay and afraid to come out to my family and friends. The next morning, everyone at school knew. Strangers passed me in the halls and winked at me, and friends waited for me after class to ask a million invasive follow-up questions about whether I had a girlfriend and how long I'd known.
It was 2007, and MySpace was a small and intimate haven on social media. Most of my online friends were also people I really trusted offline, but someone — I still don't know who — saw my blog and leaked the information to the rest of the school.
In that moment, I was just like Simon, the protagonist of the movie Love, Simon. Simon is a closeted gay teenager who starts talking to another closeted gay kid at his high school over anonymous emails, and he's blackmailed by an acquaintance who threatens to tell the entire school about these secret emails if Simon doesn't help him impress a girl he likes. The film is an adaptation of the award-winning young adult novel Simon vs. the Homo Sapiens Agenda by Becky Albertalli.
It's 2018, and Love, Simon is arguably the first movie of its kind: An upbeat comedy about a gay teenager who doesn't die and whose story doesn't end in tragedy.
It has many of the hallmarks of straight movies like it — a catchy soundtrack, a meet cute, a costume party scene, and dialogue sprinkled with current cultural references to post-presidency Barack Obama and feminist rallies. Since its release, critics have been asking, "Do today's teens actually need a movie like this, now that same-sex marriage is legal? Is Simon's love story actually ten years too late?"
Whether it's easier to come out in 2018 than it was in 2008 or 1998 or even 1808 is not the conversation we should be having. Love, Simon is groundbreaking because most films about LGBTQIA+ teens (such as Call Me By Your Name) have been primarily aimed at adults, and queer characters in movies are most often minor roles and not main characters. Teens and people of all ages need to see mainstream major studio movies with LGBTQIA+ protagonists. Major studio films have a history of not being diverse, despite recent strides in the right direction like Black Panther and A Wrinkle in Time. 
Young adult literature is known for being significantly more progressive in terms of LGBTQIA+ representation, which has steadily increased since 2003, according to statistics compiled by author Malinda Lo. In the world of YA, Simon isn't the only LGBTQIA+ protagonist, and in 2015, the first book with a non-binary protagonist was released by a major book publisher. But YA books aren't nearly as widespread and accessible as mainstream movies, and studios should follow suit and make representation a priority across the board. 
When news of my sexuality spread through my middle school, I became the target of the kind of harassment that's daily fare for Ethan, a minor character in Love, Simon who has been hailed as the true queer role model of the story. My appearance fluctuated between straight-passing and outwardly queer depending on who you asked and because of my disability, I was already fairly visible in gym class and the hallway. While older LGBTQIA+ people were telling me that I was so lucky to be out in liberal Massachusetts, the first state where same-sex marriage was legalized, I was racing home after school because a girl in my class threatened to burn me with her cigarette because I liked girls. Coming out can be made easier by factors like an individual's privilege and a supportive community, but that doesn't negate the fact that it can be difficult for anyone on an emotional level because we live in a society that assumes everyone is not LGBTQIA+ until we tell them otherwise.
Watching Love, Simon has actually inspired some teens to come out to their communities, and is exactly the kind of feel-good movie I would have loved to show my dad when I was a teenager.
I'm very fortunate that he has always been completely accepting, and we watched Lost and Delirious and Brokeback Mountain together when I was in high school. As a teen, everything I watched about people my age coming out to their parents ended in tears and trauma, and it would have been powerful to see a positive on-screen portrayal where parents accept their kid and love them unconditionally. It might have helped me come out to him earlier, considering I'd known for nearly three years when I finally told him. 
I hope the positive reception to Love, Simon encourages all forms of media to be more inclusive in their representation. As beautiful as Simon's story is, he's undeniably privileged as a white, cisgender affluent guy whose parents gifted him his own car, and who tells us several times throughout the movie how happy he is with his friends and family. It would be trailblazing to see a film with Ethan, a queer teen of color with a feminine genderqueer presentation, at its center as a leading love interest or hero.
We need more movies with queer teens of color, trans and non-binary teens, queer teens with disabilities, low-income and working class queer teens, queer teens who are religious minorities, queer immigrants, and queer teens living in the American south or rural areas.
I would love to see a major studio film adaptation of Adam Silvera's They Both Die at the End, which features two queer Latinx teenagers who meet and become friends on their last day alive, or Becky Albertalli's forthcoming Leah on the Offbeat, a companion novel about Simon's best friend Leah coming out to her friends as bisexual.   
Nearly ten years ago, coming out was a whirlwind of emotions for me, and it wasn't always easy. But I'll never forget the day in high school when I was walking with my girlfriend back to class after lunch, and a few of our friends started encouraging us to kiss by softly chanting, "Kiss! Kiss!" By the time we worked up the nerve to kiss, a small crowd had gathered, and everyone clapped and cheered. When I watched Love, Simon in theaters with my partner, the theater burst into applause during one of the movie's iconic romantic moments (I won't spoil it). I grabbed my partner's hand and grinned.
It doesn't matter if it's 2008 or 2018: Queer teens need love and support, and to feel like their life-changing moments are just as worthy of celebration. 
---
Related: