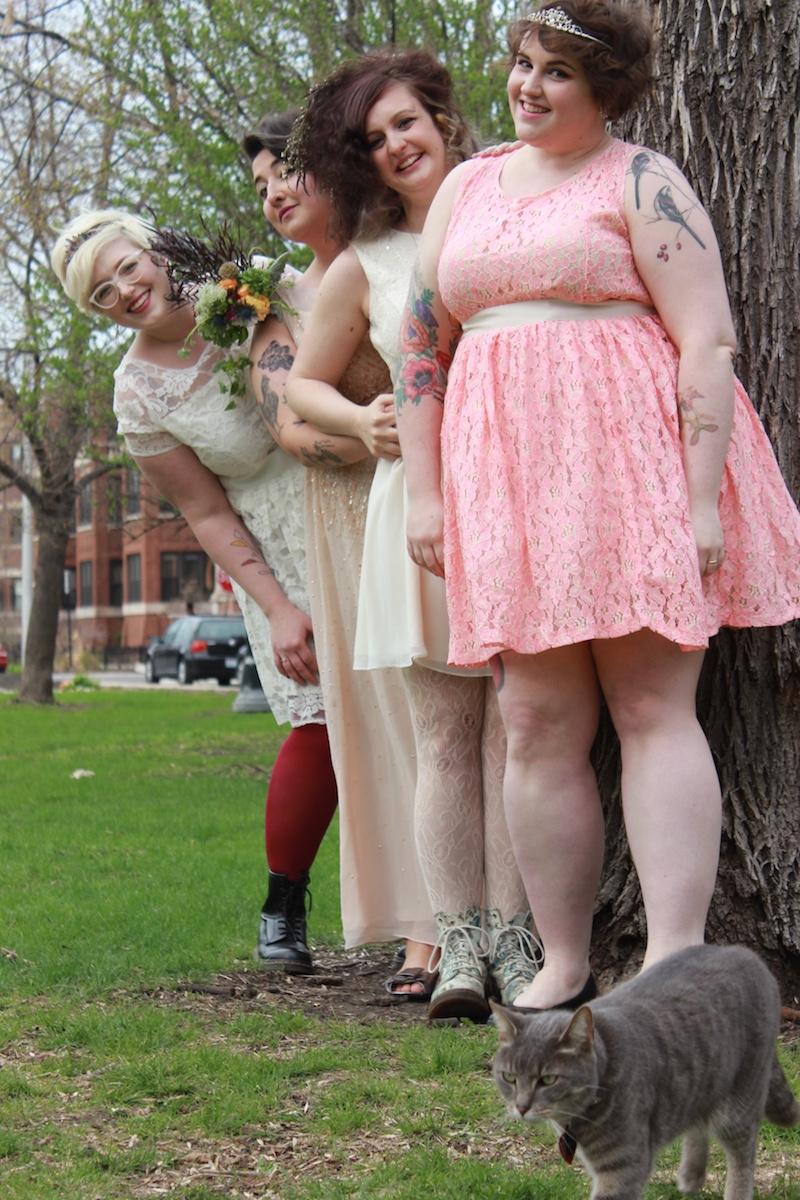 Check out these 20 fantastic plus-size bridesmaid looks! (Photo by Stacey Landino)
Weddings. Love them or hate them, they happen often and they are part of a booming industry which costs a whole lot of money.
There's a strong possibility that you will be asked to be in a wedding at some point in your life. That likelihood grows exponentially if you are a woman with other women as friends. For some, it's something they actively want to do. In fact, many of us have been dreaming of weddings - ours or helping plan one - for many years, as it is socialized into our feminine psyches from a young age. For those who are not into it, being part of the wedding party is truly an act of love for their friend or family member.
Regardless of how you feel about weddings, you've got to look good if you are invited to be part of the wedding party. The process of finding the perfect dress is difficult for straight sizes, but it can feel damn near impossible for larger bodies.
To make things worse, not everyone is as body-positive as us at Ravishly. Otherwise awesome brides can be inflexible regardless of their body type, but it can become especially difficult if they are not intimately familiar with the struggle of plus-size shopping. Some retail folks and designers can be less than accommodating, as well, adding literal insult to financial injury.
Despite this, it's important to remember that it's just a dress. It may feel like the most important thing in the world at the time, but ultimately it will just be a dress that you likely will only wear once or twice, but your friendship will endure. It is imperative to know that your body is not the problem — the industry is.
Instagrammer Angelina Maryann (@fiercefatfemme) sums things up perfectly in a recent caption:
"(I'm) about to be a bridesmaid again and just thinking about how amazing Fat people in wedding parties are. Like, listen - we deal with clothing stores that don't wanna cater to the Fat body and then we have to get them customized because our bodies hold weight differently and we deal with the shame that people give us because of our bodies.
But then, we slay. We rock it out. So for anyone who will be in a wedding or is fearing trying on clothing that they usually don't wear, it's going to be hard and you're going to have moments of fear, but you're going to shine. I promise."
As you fight through dress after dress, remember this: You will rock it. You will look fabulous. You will be fabulous. You will have a great time and share great memories with your loved ones.
Need proof? Check out these 20 fantastic plus-size bridesmaid looks that you, too, can rock down the aisle.
1. Natalie Hage (@nataliemeansnice)
Natalie twirls around in her gorgeous blush wedding dress from David's Bridal.
2. Kierra Tanner (@lifeplusstyleblog)
Kiki looks amazing in one of this year's most popular colors, lavender, as part of her cousin's special day.
3. Angelina Maryann (@fiercefatfemme)
Instagrammer Angelina rocks the perfect spring green dress.
4. Abby and Jane (@jane_czko)
Atlanta bride Jane and Scottish Instagrammer Abby pose together at Jane's autumn nuptials. Abby wears a beautiful floral maxi from ASOS.
5. Miria Benotti (@pluskawaii)
Italian plus-size blogger Miria shines in this gorgeous muted aqua dress from Joanie.
6. Nina (@ninakay415)
"Officiating this wedding with these crazy kids just might have been the highlight of my year."
7. Jen Pitch (@ohscorpio)
Australian Instagrammer and body-positive aesthetician Jen looks amazing with her bridesmaid crew in these gorgeous rosey gowns.
8. Cassie (@catchycoo)
"I wore one of those infinity dresses that are popular with straight sized bridesmaids, I was apprehensive about how it would look on my size 24-26 bod as I was 10cm beyond the recommended waist measurement. However, I'm really proud of how it turned out with my fat not feeling hidden and my styling really making it my own. I just wore bike shorts under it, too. No painful shapewear - fuck that!"
9. Kimmy (@kimmygaskins)
"One of my best friends got married this past March. A day that will be in our memories forever! I'm so thankful she let each of us choose a dress that fit our unique figures."
10. Margitte (@margitte)
Beautiful Margitte strikes a pose with her college besties in these gorgeous navy blue bridesmaid dresses. Navy is a great shade to keep it super versatile, making it possible to re-wear these dresses for other formal occasions.
11. Bree (@redlips_n_freckles)
"If you know me, you'd know how obsessed I am with weddings. The location, the decor, the groom, the vows, the food, the DRESS, but the best part, being a witness to love in one of its purest forms. Last weekend I was a bridesmaid for the first time. If I had to describe the experience in one word, I would have to choose overwhelming. So happy I got to be a part of my aunt's HEA," Belizean blogger Bree says of this photo. She poses in a beautiful peachy one-shoulder bridesmaid gown from David's Bridal.
12.  Amanda (@runfattyrun1)
Photographers capture a fun moment as Instagrammer Amanda laughs hysterically in her sunny yellow dress.
13. Lyndsay (@plussizebarbiiee)
Lyndsay models a super stylish, easy-to-wear navy dress from Azazie.
14. Kitty (@kittyramblesalot)
Kitty wears a beautiful deep red bridesmaid dress.
15. Amanda (@cut.sew.make)
Seamstress Amanda made her own dress! Check out this gorgeous look in an amazingly beautiful, rich deep plum.
16. Karyn (@killerkurves)
Karyn poses with her best friend in a beautiful blush gown.
17. Celeste (@vendakoko)
Body-positive counselor Celeste (far right) poses with loved ones on this special day.
18. Rachel (@somewhere_under_the_rainbow)
"Bridesmaid mantra: Don't cry. Don't fall. Don't walk too fast."
19. Stargemss (@stargemss)
Instagrammer Stargemss shows off all of the beautiful options she and her crew of bridesmaids tried on before settling on elegant black gowns.
20. Jessica Yvonne (@creating_naioth)
SoCal blogger Jessica poses in a beautiful purple gown at her friend's wedding.
---
Related: