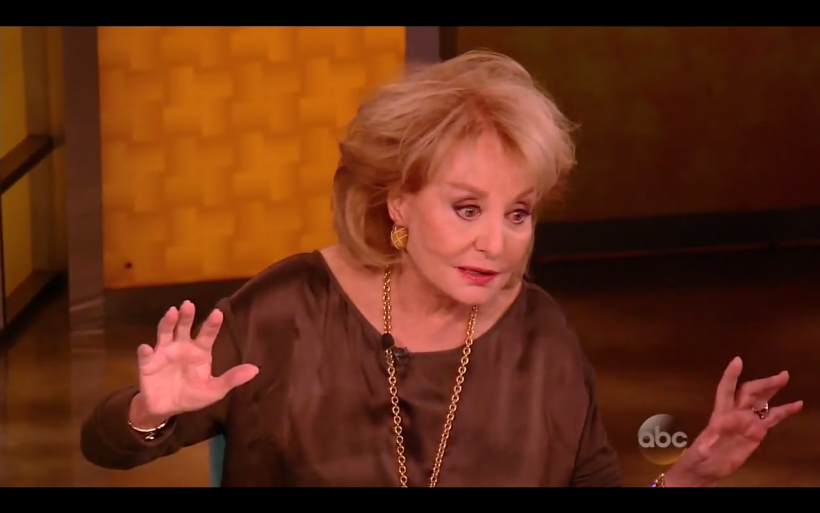 Unless you've just returned from trekking the lost trails of Patagonia, you've managed to catch wind of the resurfacing of Woody Allen's murky past in relation to his adopted daughter, Dylan. On Monday's episode of The View, Barbara Walters addressed the allegations of child molestation — and in the process sent waves of outrage through the stratospheres.
After Whoopi Goldberg's introduction to the story, Walters (in her first breath) makes it clear to the audience that "the statute of limitations...is over" when it comes to any hopes of prosecuting Allen. The dismissive tone lead into a still-echoing song of praise for the man, saying, "I have rarely seen a father as sensitive, as loving and as caring as Woody is and Soon-Yi to these two girls. I don't know about Dylan. I can only tell you what I have seen now." Barbara Walters finally asks, "So the question is: does your personal life interfere with the awards you may get?" 
It is absolutely true that Allen has never admitted to or been convicted of any form of child molestation — it is also true that his daughter has not visibly benefited from repeatedly accusing him of doing so. Walters' response is that the issue is resurfacing due to Allen's Oscar nomination, which in and of itself is a tangled logic. If Dylan Farrow was in fact abused, responding to public praise of her abuser by publicly addressing his sins would hardly be the vengeful spite Walters suggests — one can argue it could actually be the responsible thing to do. 
This isn't the first awkward moment involving child molestation in The View's history — back in 2009 Whoopi Goldberg famously stressed the need to clarify the charges brought against director Roman Polanksi: "I know it wasn't rape-rape. It was something else but I don't believe it was rape-rape." Goldberg quickly clarified she just wanted to present the facts correctly, but after clearing up that Polankski pled guilty to sex with a minor (not rape), she went further to support the lesser charge by dismissing any alcohol and drug use with the 13 year-old, saying he "had sex with her beforehand."
Ultimately, it should have been obvious to Walters from the get-go that sharing her thoughts on the matter would be beneficial to none — while she is a credible figure, she certainly isn't a family member of Allen's; she hasn't been a key witness in any of the aforementioned events; she hasn't been privy to any vindicating evidence that we're aware of. Rather, she is your docile-but-opinionated neighbor — she may notice when your car's there, but that doesn't mean she knows which room you're in.
Image: YouTube