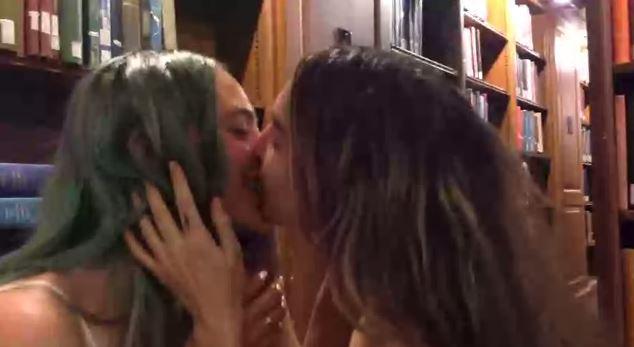 A Columbia University undergrad student and Vogue columnist have teamed up to produce a naughty girl-on-girl video in the Columbia library. The idea: "…explore the rituals of American Ivy League secret societies, to the point of hysteria, highlighting our culture's perception of female desire."
A little pretentious, sure, but an interesting enough concept. Yet as The Daily Beast points out, the video was promoted not as an intellectual enterprise, but as a video featuring….super-hot chicks! "I made a film…where I hazed some babes into a secret society in an Ivy League library," wrote one of the video's producers on Twitter.
And so it goes that smart women have succumbed, yet again, to using sex to promote their smarts.
Indeed, there are a slew of websites predicated on the intellectual-babe concept, from Heavy's "The 20 Hottest Girls Who Are Smarter Than You" to Complex's "The 50 Smartest Hot Girls."
Recently and notably, newly minted Yahoo CEO Marissa Meyer announced her glass-ceiling-breaking by posing provocatively in Vogue. The headline, "Yahoo's Marissa Mayer: Hail to the Chief," served as a sort of wink-wink to her naughty power. More annoyingly, CNN responded with a slideshow called "CEOs gone wild," featuring a photo of the sexy Mayer alongside images of high-powered men doing…nothing having to do with sexiness at all.
These kinds of incidents have long spurred impassioned debate. On the one hand, it's cool to show that a woman can be sexy and smart (and true, as it turns out!). But so often, the prevailing ethos seems to be "Come for my body, stay for my intellect." And because this continues to put sexual appeal at the forefront of a woman's identity, it doesn't really seem so smart after all.