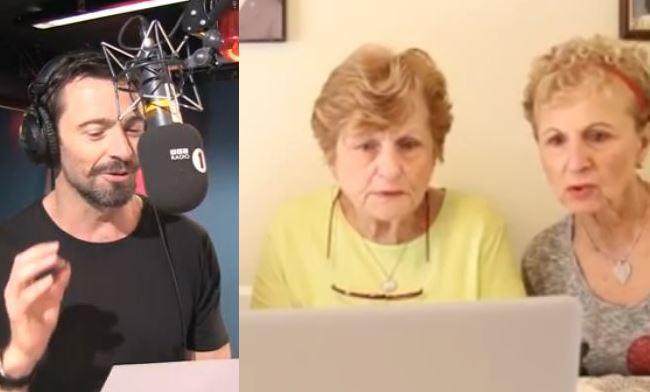 It's almost the freakin' weekend, baby, so say "work shmork" and revel in our choices for the best adorable, happy-making videos of the week:
Three Epic Grannies Can't Handle Beyonce's Booty Heat!
Adorability factor: 8. All you need to hear is the premise of this to know it'll be aw-shucks cute: three grandmas discuss the highly inappropriate nature of Beyonce's "Drunk in Love," while lacing in their own profanities in response to Bey's surfboard riding, breasts for breakfast and other uncouth lyrics. Why, they never!
Happy-making factor: 9. It's more than delightful to watch these grandmas get their granny-panties in a bunch—it's hilarious. Best part: when they lament how in the good ol' days, ladies didn't talk during sex.
Broadway Cast of Lion King Blows Everyone's Minds on Australian Flight
Adorability factor: 7. It's not so much adorable as it is amazing to watch the Broadway cast of The Lion King break out into an incredible performance from the show on a flight—though the sweet reactions of the lucky passengers are pretty dang cute.
Happy-making factor: 9. What delights about this is how it brings something joyous into one of the most soul-crushing experiences known to man—that of the cramped, bumpy, smelly flight. Dear airlines of the world: please hire Broadway performers to entertain guests on every flight. Hey, we can dream, can't we?
Hugh Jackman Singing Les Mis as Wolverine is Everything You Want and More
Adorability factor: 8. Watching the studly Wolverine (sorry, Hugh Jackman) belt out the sappy Les Mis number "Who Am I?" with unhindered passion gives us hope that perfect men do exist.
Happy-making factor: 9. We bet you the price of Les Mis tickets that when Hugh swaps "I'm Wolverine!" for "I'm Jean Valjean!" you will smile and maybe even do a little happy dance. Side note: let's marvel at the fact that we have two Broadway-related videos! Best. week. ever.
Jimmy Fallon's Samuel L. Jackson Boy Meets World Slam Poetry is Pandering, Delightful
Adorability factor: 7. Samuel L. Jackson is already adorable in a gruff, bad-ass kind of way. Add in a healthy dose of nostalgia, it's (almost) as coo-inducing as Topanga and Cory's relationship.
Happy-making factor: 8. Does this video shamelessly pander to those who grew up loving Boy Meets World?* Yes. Does it still succeed in making you very, very happy? Absolutely. (*God, we're suckers.)
Watch a Cat Go Adorably Insane in the Middle of a Ping-Pong Match
Adorability factor: 8. There's a reason we seem unable to do a happy-making viral video roundup without featuring at least one production involving a cat. Cats are cute. The end.
Happy-making factor: 7 (with a twinge of guilt). It's a little cruel to torture this poor little cat with the promise of a ping-pong ball he can never quite reach. But the results are so delightful and funny, it's hard to care too much.
Image: YouTube