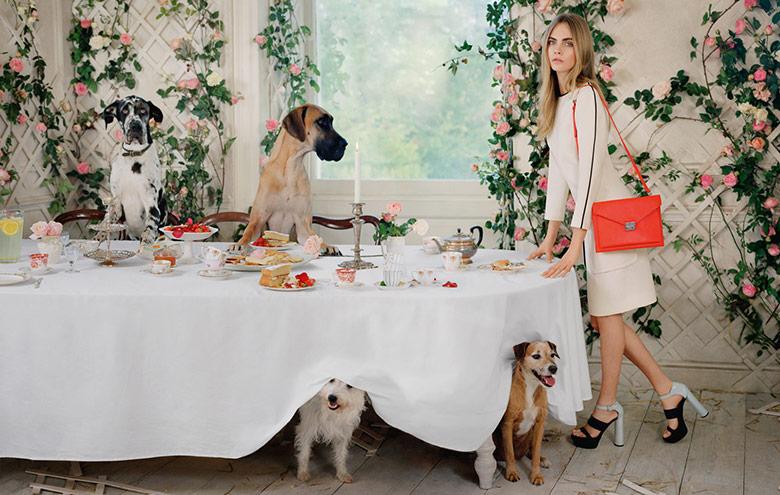 File this under fashion news double-take.
Mulberry, the luxury British handbag and ready-to-wear label—favorited by It-Brits Kate Moss, Alex Chung and Cara Delevingne—announced this week that it will be lowering prices on its covetable handbags. At a time when handbag prices are at an all-time high—a classic Louis Vuitton Speedy bag costs 32% more than what it did in 2009—this is refreshing, albeit shocking news.
While we're admittedly giggling with joy and making a mental wishlist of all the Editor and Bayswater bags we've pined for over the last few seasons, we can't help but call out Mulberry's crappy management. The brand's handbags were flying off the shelves until 2012, when CEO Bruno Guillon (hot off the heels of a tenure at the ultra-expensive, ultra-posh Hermès) decided to raise handbag prices to upwards of $2600. At the time, Mulberry die-hards were paying around $800 for the luxury bags, so suddenly seeing a tag with triple the price (comparable to bags from luxury leaders Chanel, Louis Vuitton and Fendi) probably sent them right into retail shock. No wonder they stopped buying. 
In the world of luxury fashion, "It" bags get you a certain level of status, and the customer who can afford to purchase a $2600 bag will do so at Chanel, not Mulberry. 
So here's the—not-so-surprising—fine print: Mulberry's lowering their bags' prices because the company is failing to meet its profit goals. So let this be a lesson to you. If you have a best-selling product, keep it consistent—don't alienate your customers by making them feel like they are no longer rich enough to buy into your brand. Though new prices are likely to drop back down to $800, will your original customer still return to your leather-clad shores?
Mulberry, stop trying to make $2600 handbags happen—they're not encrusted with diamonds, swathed in silver alligator skin or take 8,800 man-hours to create. So quit it.