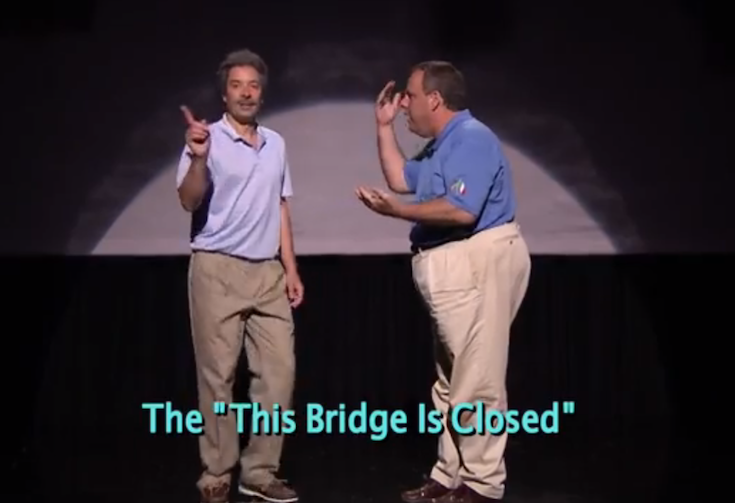 It's no secret that Jimmy Fallon is a fan of musical entertainment: The Tonight Show is always bumping with performances, often starring A-list celebs.

But making an actress do something funny is one thing; poking fun at an ostracized politician is a whole new game. So we were pretty excited to watch Governor Chris Christie—in all his bully glory—scurry onstage with Fallon last night to perform "The Evolution of Dad Dancing." It's pretty funny: moves like "mowing the lawn" and "I will turn this car around!" are so alarmingly unsexy that it's impossible not to laugh.

But the real hilarious moment was when Fallon pulled a move called "This Bridge is Closed." Christie's face went from joy to a caricature of an angry Italian avenging the death of Sonny Corleone. Angry gestures were made, words were mouthed, and Christie stormed off the stage.

Was it planned? Fallon looked a bit lost for an awkwardly long moment, but then Christie returned to the spotlight and began dancing alongside Fallon again, suggesting it was all part of a cutesy joke. The interview later wasn't exactly ballsy, either—Fallon actually praised Christie for handling the joke so well.
How awesome would it have been if Fallon had instead gone a step further? Let's not forget: traffic jams caused by the bridge closure affected paramedics and firefighters' ability to save lives. Why not put some pressure on Christie to explain himself . . .  truly putting him on the spot? It might not have been as funny, but it sure would have been more interesting.

Image: So. Awkward. Courtesy of, YouTube