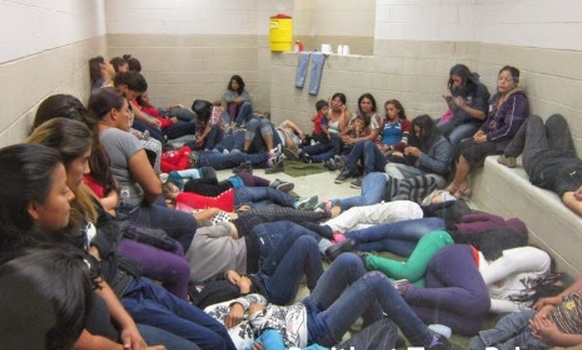 breitbart.com
It's no secret that America has a staggering immigration (humanitarian crisis?) situation. More than 57,000 unaccompanied children have fled to our Southern borders from Honduras, El Salvador and Guatemala, seeking refuge from the gang violence and staggering poverty of their motherlands.
With no real "solution" in sight, the Department of Homeland Security has been desperately trying to house, feed and repatriate these children, but it's proven to be an uphill battle, riddled with a lack of funding, proper infrastructure and follow through; in the Northwestern town of San Pedro Sula in Honduras, the morgue director Hector Hernandez says he's taken in the bodies of 42 dead children since February. San Pedro Sula holds the dubious title of murder capital of the world; the children may be well-tended to while they're in the States (we'll get to that in a minute) but there's no one waiting on the other side to protect them. Their previous lives wait for them, jaws open perilously wide.
This map created by the U.S. Customs and Border Protection illustrates the hometowns of nearly 35,000 unaccompanied Central Americans it apprehended between October 1 and May 14, 2014:
We analyzed these locations to determine the factors pushing child migration to the US Southwest Border. We assess these reasons vary regionally. For example, many Guatemalan children come from rural areas, indicating they are probably seeking economic opportunities in the US. Salvadoran and Honduran children, on the other hand, come from extremely violent regions where they probably perceive the risk of traveling alone to the US preferable to remaining at home. This violence, combined with poor economies and other secondary factors will make stemming the flow of UACs to the US a very complex issue to address. — Department of Homeland Security
Some pseudo-refugees are attempting to combat what they perceive as gross injustice; on August 22, a lawsuit was filed against the U.S. Department of Homeland Security insisting their right to due process was being violated by the rapid acceleration of deportation processes. The lawsuit follows in the wake of increased complaints about the Artesia Family Residential Center in New Mexico, where just this past Wednesday 280 women and children were deported. 
Accusations against Artesia range from unsanitary conditions to a dearth of food, supplies and inconsistent temperatures; the Department of Homeland Security finally formally investigated the facility and released a report on July 30, prompted in part by the ongoing allegations. 
The DHS performed 87 unannounced site visits to 63 locations, including Customs and Border Protection (CBP) ports of entry, U.S. Border Patrol (USBP) checkpoints, stations and holding facilities; Immigrations and Customs Enforcement (ICE) detention centers; and the Federal Law Enforcement Training Center Artesia. Said the DHS:
We are performing ongoing unannounced site visits to determine the conditions of detention for unaccompanied alien children (UAC) in DHS custody. Site visits are taking place along the southern border in facilities where Customs and Border Protection (CBP) temporarily house UAC. This report covers fieldwork performed from July 1-16, 2014.
Of the 116 allegations from a variety of groups including the ACLU and CRCL (Civil Rights and Civil Liberties), the DHS determined there were 38 potential violations, though they insisted they "did not observe misconduct or inappropriate conduct by DHS employees during our unannounced site visits. "
Some Violations
• Many UAC and family units require treatment for communicable diseases, including respiratory illnesses, tuberculosis, chicken pox and scabies. 

• UAC and family unit illnesses and unfamiliarity with bathroom facilities resulted in unsanitary conditions and exposure to human waste in some holding facilities. Contract cleaners and DHS employees are working to maintain sanitary conditions. 

• DHS employees reported exposure to communicable diseases and becoming sick on duty.

• DHS is holding UAC longer than 72 hours because no permanent shelter is available. Employee-to-UAC ratios are inconsistent. For example: one station had more than 25 UAC for each employee while other facilities ranged from zero to three UAC for each employee; not all facilities post copies of UAC policies in English and Spanish; and not all facilities are systematically maintaining an inventory of UAC property. 
According to the L.A. Times, there are currently more than 1,000 women and children remaining in the two family detention facilities—536 in Artesia and 532 in Karnes, Texas. 
"Once medically cleared, residents who have a final order of removal and a valid travel document may be repatriated," explained Leticia Zamarripa, a spokeswoman with the Department of Homeland Security. 
Somehow, it feels like "repatriate" is just a shamefully cheerful euphemism for "shipped off and abandoned."