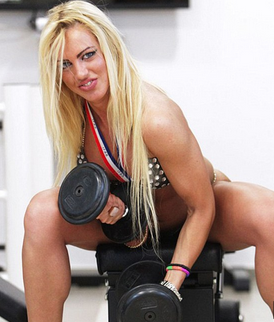 Pavlovic. Where pumping iron and politics collide.
One need only look at the Oval Office to see that when it comes to politics, we've got a bit of a gender discrepancy. In this weekly roundup, we focus on powerful political women in the news who are helping to break the proverbial glass ceiling of policy-making around the world. Politicos, move aside. We bring you . . . politicas. For more on female politicians to watch, click here.

Maja Pavlovic
Talk about a woman of many talents. At age 23, Maja Pavlovic is a cardiologist, a bikini fitness contest winner, a competitive bodybuilder and—oh yes!—a politician with Serbia's ruling Socialist Party (she serves as a councilor in her home city of Cacak).
Pavlovic is making headlines this week for voicing her support for Margaret Thatcher, despite her disparate political views: "I know it may seem strange that someone from the other side of the political spectrum can be so impressed, but Margaret Thatcher was a force of nature," Pavlovic told The Daily Mail.
Of course, it's hard to imagine a Serbian politician talking about Margaret Thatcher landing in the news cycle unless she looked like Pavlovic, who has been voted "Serbia's sexiest politician" and posed in a series of provocative shots. This is, of course, distressing: Who cares about the women working tirelessly in politics to create change; check out that sexy young thang!
Then again, who says a woman can't pump iron, be sexy and have political talent? This may be a different version of female political prowess than Margaret Thatcher embodied and laid the groundwork for, but in having a real voice in the policies of her home country, Pavlovic isn't so far removed from Thatcher.
One could argue that Pavlovic has surpassed her hero, however. After all, Thatcher never won a bikini contest.

Kirsten Gillibrand
Imagine trying to hold down a full-time job as a high-powered politician right after having a baby. Now imagine trying to do said job while being told by male colleagues that you're (and we quote) "porky."
That is precisely the lamentable scenario New York Sen. Gillibrand found herself in; in her new book Off the Sidelines, she recounts not one, but two, but three men in Congress who commented on her expanded post-pregnancy figure. "Don't lose too much weight now. I like my girls chubby," said one. "You know, Kirsten, you're even pretty when you're fat," complimented another. Yet another proffered the charming "porky" comment.
Naturally, the political world immediately retaliated against Gillibrand's admission, with one Politico reporter claiming she made the statements up (because women invent comments about being called fat all the time).
Considering Gillibrand had to have known that ringing the sexism alarm would not go over well with many, you have to admire her gumption. Then again, this is a woman who has pushed for reform of sexual assault policy on campus and in the military, and whose Off the Sidelines initiative specifically seeks to empower women. What better way to empower women than by speaking out about the harassment she's faced in her own career?
(Oh and guys? Telling someone they're pretty even when they're fat does not constitute a compliment.)
Hillary Clinton
Meanwhile, in Hillary-World, Clinton came out strong on Ferguson, addressing racism more forthrightly than many of her political peers. In a prepared statement, she said:
Imagine what we would feel and what we would do if white drivers were three times as likely to be searched by police during a traffic stop as black drivers instead of the other way around. If white offenders received prison sentences ten percent longer than black offenders for the same crimes. If a third of all white men—just look at this room and take one-third—went to prison during their lifetime. Imagine that. That is the reality in the lives of so many of our fellow Americans in so many of the communities in which they live.
Preach!
In other news: Rand Paul doesn't agree with Hillary's foreign policy (surprise!), and in a story just perfect for this blog, a shop in Kosovo now sells Hillary-inspired fashion, including—of course and hurray!—plenty of killer pantsuits.