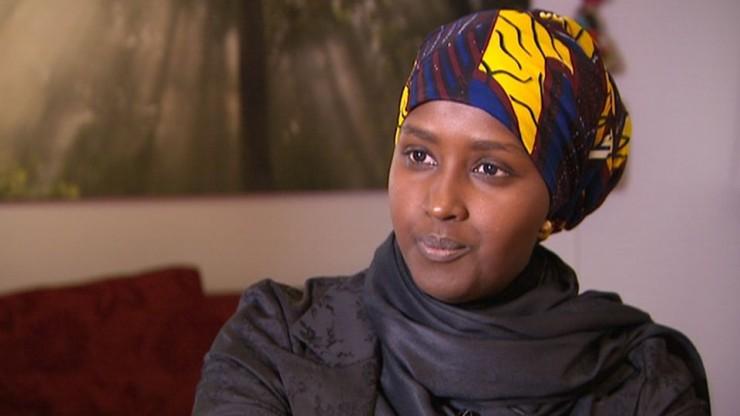 Fadumo Dayib (Credit: Yle)
One need only look at the Oval Office to see that when it comes to politics, we've got a bit of a gender discrepancy. In this weekly roundup, we focus on powerful political women in the news who are helping to break the proverbial glass ceiling of policy-making around the world. Politicos, move aside. We bring you . . . politicas. For more on female politicians to watch, click here.
Fadumo Dayib
It's safe to say Somalia doesn't have a strong track record when it comes to women's rights. Earlier this year, Human Rights Watch called on the Somali government to deal with rampant sexual violence in the country, and men have had an unbroken stronghold on the nation's political leadership.
In the face of such a hostile climate, it's particularly impressive that Dayib, a Somalian woman who fled to Finland during the country's civil war, wants to run for the highest office in the land: president.
Now studying at Harvard, Dayib plans to return to the country next year to run her campaign for the 2016 presidential elections. The hope is that she can take advantage of a newly democratic climate; incumbent president Hasan Sheikh has called on Somali political parties draft a new constitution and break free from clan affiliation, which has historically dictated political leadership.
Dayib, who's already been threatened with violence, is staying strong in her conviction that the country is ready for change:
I want to be Somalia's president because I believe women have a chance to lead Somalia. Women lead the country economically, manage family budgets and are very visible in society, but they have been kept out of politics. Somalia is now ready for a female president.
Whether she's right or not remains to be seen. But her very presence in the election marks a powerful shift in the political status quo.
Yuko Obuchi and Midori Matsushima
Obucki and Matsihima are two women who have been selected to join the Japense cabinet in high-powered political roles—Obuchi as trade and economy minister and Matsushima as justice minister.
Why is this important? Because following a cabinet reshuffle, they are two of five women in a cabinet of 18—representing only the second time such a large share of women have held down such posts. Ever.
Considering just 8.1 percent of Japan's national lawmakers are women, this is a signficiant setp toward necessary gender progress. And it wasn't done on accident: Prime minister Shinzo Abe, who made the appointments, has been vocal about his desire to tap into Japan's pool of highly educated women to bolster the nation's political influence. Before the current reshuffle, his cabinet had just two women.
The best part? Abe, who has dubbed his plan for economic regrowth "Abenomics," has called his push for more female representation "Womenomics." Brilliant. And about damn time.
Hillary Clinton
Meanwhile, in Hillary-World, Hills has officially announced what everyone has been saying and predicting for months on end: that she'll announce whether or not she's running early next year (consider this your weekly reminder that she's not officially running. Yet). If Clinton runs, word on the Hill is that she'll nab John Podesta, longtime Clinton confidant and an Obama advisor, to serve as her campaign manager.
Also making headlines: her hard-line statements about the country's environmental crisis. At the National Clean Energy Summit in Las Vegas, she noted that the climate change data are "unforgiving," and noted that the U.S. can become a "superpower" in clean energy if the nation confronts the "most consequential, urgent, sweeping collection of challenges we face."
If she runs for president, and if she wins, this will surely be a cause she fights for.
But you know . . . only if.