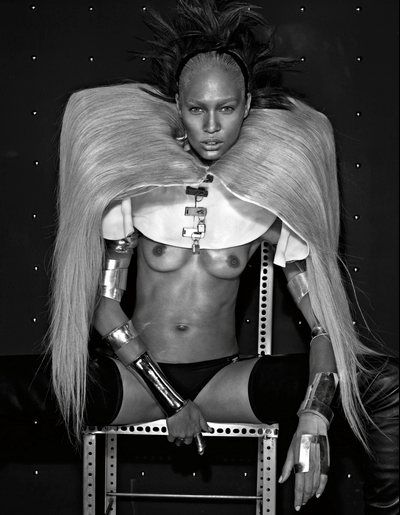 Facebook
As the East Coast temperatures continue to plummet—and with them the residents into despair—let us think about a new kind of outerwear: hair. Human hair.
Alas, Charlie le Mindu, the French bad-boy who's made a name for himself by crafting scary-beautiful, avant garde creations from 100% natural strands, thought about it first.
His towering wigs and draping capes won't keep you too warm, but they sure are gorgeous and nice to gawk at.
28 years old, tattooed and sporting perfectly messy hair (of course) le Mindu's name has been on the cutting edge of fringe fashion for a few good years now. He started his meteoric career as a traditional hairdresser, but fell in love with culture that goes POP and began creating wigs for don't-make-eye-contact, larger-than-life divas like Lady Gaga (back when she mattered, remember?) and later, Lana Del Rey. His coiffure calling became evident in 2009, when Le Mindu started straying from the mainstream even further by presenting his own elaborate, electric 'haute coiffure' shows.
In the 'collections' presentations, named everything from 'Kosher Dreams' to 'Burka Curfew', the models wear unremarkable (often latex) body suits and unforgettable hairstyles—if you can even call them that—at this point, le Mindu is hawking hair as performance art. Sweeping cascades of hair are braided, teased, draped, spiked, curled, painted and rendered into wild shapes; Le Mindu purchases from manufacturers like Hairdreams. (Where those clever bastards get all their lopped locks is a bit of a mystery however. Although you will be pleased to know that each and every strand is subjected to a 15-step process to render it head-palatable.)
Le Mindu's latest collection of looks—'Stronger'—surprised everyone, even his devoted die-hard fans, boasting an entire collection of creations the that glowed in the dark like psychedelic cuttlefish.
This year, he was invited to create the storefront windows at Galeries Lafayette in Paris and Bordeaux, and 2015 brings him participation in an upcoming Palais de Tokyo exhibition—if you're arranging yourself a voyage to the land of the baguette, make sure you stop by.
"I'm waiting to work on my new collection. I have a challenge because I don't want to do a fashion show. I want to do something freakier this time, but really on the subject of freaks," Le Mindu said recently in an interview with Schon! Magazine. "I don't want it to seem like fashion. I want people to look at it and say "Uh… oh my god."
So we have that to look forward to.