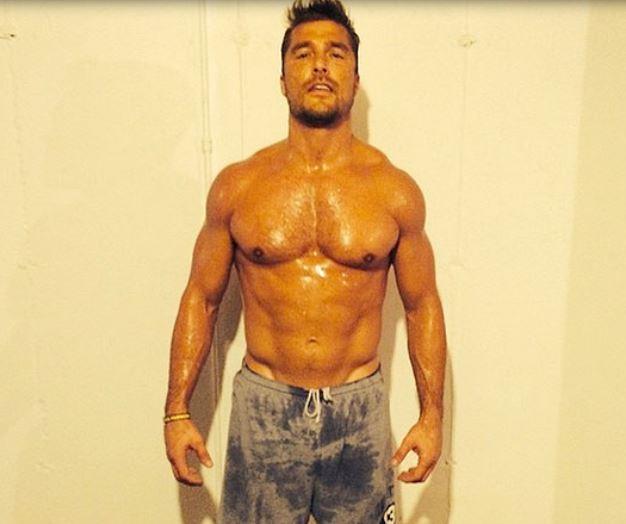 Bachelor Chris Soules, sweaty, shirtless, and ready to be ogled (Credit: Michelle Money)
One thing to know about The Bachelor, should you have thus far—by some miracle!—avoided its addictive vortex of tawdry love, is that its male protagonists are shirtless. A lot.
The sheer volume of shirtlessness—often captured in hilariously gratuitous steamy shower scenes (like the one below)—has even become something of a running gag; an in-joke among producers and audience alike.
On the premiere episode of last season's The Bachelor, for instance, star Juan Pablo Galavis met up with former contestant Sean Lowe, the undisputed king of perpetual half-nakedness. In the midst of Lowe providing some enlightening advice to Galavis, the shirts on both men magically disappeared. The none-too-subtle suggestion? If you want to be The Bachelor, you better get ready to bare all . . . at least from the navel up.
This season's Bachelor star, studly Iowa farmer Chris Soules, has already proudly joined the shirtless fray. In the premiere episode, Soules was shown working out with personal trainer and former contestant Cody Sattler. A photo of Soules in his post-workout state was circulated to news outlets, which ran shameless, tingle-inducing (and highly clickable!) headlines like "Chris Soules, Shirtless and Sweaty: See The New Pic." It's also surely no coincidence that producers made sure to point out in the very first episode that Soules has an outdoor shower at the mansion he's staying in. (Let the shower-ogling trope begin!)
Amid all of this, is of course an utter lack of surprise; after all, the program's audience skews heavily female, and there's nothing like a half-naked beefcake to elicit interest from heterosexual women watching at home.
The show is, in this sense, a refreshing change of pace from a television landscape predominantly focused on sexually objectified women. In fact, this ostensibly silly reality TV show can be seen as a key player in a larger cultural movement to embrace a powerful, infrequently represented concept: the female gaze.
The Rise Of The Female Gaze
The idea of the male gaze first rose to prominence in Laura Mulvey's 1975 essay "Visual Pleasure and Narrative Cinema," which posited that, because most films (and TV shows) are helmed by heterosexual men, they tend to sexually objectify women, lingering over exposed body parts as a form of patriarchal voyeurism. In the film and television industry, there's been a recent effort to subvert this paradigm and embrace instead the female gaze, turning men into sexual objects and women into voyeurs.
In a recent Ms. Magazine interview, Transparent creator Jill Soloway noted:
"No one does sex for women well—not in film and not on TV. Women are accustomed to seeing distorted images of themselves reflected back by way of the male gaze, but media that operates from the nexus of a woman's desire is still so rare. We're essentially inventing the female gaze right now—not just myself, but also showrunners like [Orange is the New Black creator] Jenji Kohan. We're trying to show sex and desire from a female vantage point, and my ultimate hope is that I can inspire women, queer and trans people everywhere to join in and tell their truths about desire, identity and sexuality from unconventional perspectives."
The new film Wild also garnered attention for a scene in which its female protagonist gazes upon a man bathing in a lake. As Variety put it, the scene was "a rare example of the female gaze at work in American movies." The movie was, notably, produced by Reese Witherspoon's Pacific Standard production company, which is explicitly devoted to creating female-driven material.
The Bachelor, of course, is hardly the bastion of feminism ideals that Wild, Orange is the New Black, or Transparent are. In fact, the show—helmed by the controversial Mike Fleiss—has faced justified criticism for its misogynistic overtones. Plus, one could read its shirtless scenes as not so much a subversion of the male gaze, as a different take on it.
In a piece for Jezebel, Dodai Stewart wrote about the key difference between the male and female gaze:
"[T]he objectification of men is a false equivalency to the objectification of women, because what's being fetishized is strength. Virility, capability, vigor, fortitude. Power. In a world where men actually do have power. You can't say the same about the standard objectification of women, which usually revolves around sexually-charged parts like breasts and buttocks, not biceps. In addition, "sexy" images of women generally involve us being relaxed, lying down, finger in the mouth like a child. Submissive, pliant, docile."
Certainly, this judgment holds true for The Bachelor, where the shirtlessness of the men plays up strength and virility, while the sexual objectification of the female contestants is derived from docility and submissiveness. Last week's episode of The Bachelor, for instance, featured female contestants literally walking through the streets of L.A. in bikinis, passively being ogled at by passerby. Later, a separate group of women went to a zombie paintball park, where—in trademark sexy shorts and dresses—they cowered and screamed.
Still, it's hard not to see some value, however tenuous it may be, in The Bachelor's fondness for exposed pectorals and glistening abs. The sheer ubiquity of the male shirtlessness—and the often-cheeky way in which it's presented—invites female viewers to serve not as sexual object, but as sexual subject, gazing and ogling with glee.
Who knew a chiseled six-pack could be so socially constructive.