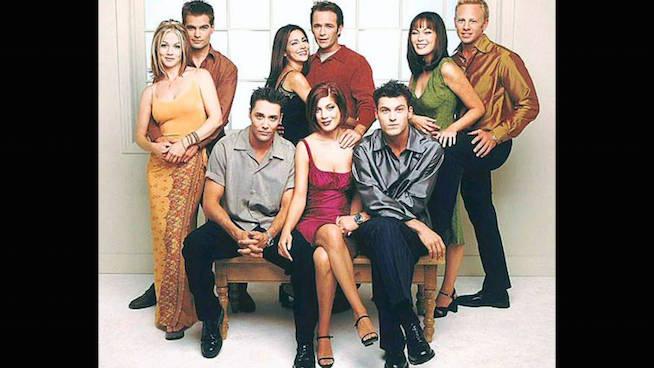 Image: YouTube
I have always been the type of gal to want to remain close with ex-boyfriends. Well, except for that one guy that poisoned my spaghetti, who was even crazier than Emily Valentine.
One could make a reasonable argument that I've made some (OK, a lot) of mistakes when it comes to relationships. I've been a little…messy.
It's not entirely my fault. I blame Beverly Hills, 90210.
I came of age watching the show. This was my generation. Everything I learned about relationships I learned from Dylan, Brandon, Kelly, Brenda, Donna, David, Steve, Valerie, even Andrea Zuckerman. No wonder I was so screwed up! These people had a serious lack of boundaries. 
Only date people within your tight-knit group of dysfunctional friends. In my late teens/early 20s, I worked at a well-known large boutique in LA and was in acting class — a serious acting class. This was my dating pool. I was sort of the Kelly Taylor of my social circles. (For the record, I was always Team Kelly. Brenda bugged.) I dated the Steve Sanders, the Dylan McKay, and the Brandon Walsh, and then maybe went back for seconds with Dylan and Brandon. At that age, we did little to respect boundaries of friendship and romantic entanglements, and had a truly codependent need to always remain within our tight circle. So of course we ended up dating each other! There was no Tinder or OkCupid or Raya. We kept our dating in small, incestuous groups. We were unhealthy and we liked it.
Stay close with all your exes, even at the expense of your current relationship. I have always been the type of gal to want to remain close with ex-boyfriends. Well, except for that one guy that poisoned my spaghetti, who was even crazier than Emily Valentine. When people broke up on 90210, they didn't exit each other's lives, they stayed friends.They still hung out, all the time: at the Peach Pit, at the Beverly Hills Beach Club, and later at the After Dark. This has been my vision after every breakup. Sadly, my exes have not always seen it this way. Sometimes these friendships caused problems, sometimes they caused reconciliations, and sometimes they settled in to the friend zone, albeit with the ever-present what if hanging in the air. Is it unhealthy? Maybe. But there are a few guys who, although it ended badly with them, I would love to share a Mega Burger with. Oh, well.  
Just because it didn't work the first time doesn't mean it won't work the second, third, or fourth time. Case in point: Donna and David, and they ended in marriage on the final episode in Season 10 (I'm telling you, diehard fan right here). Now, they broke up and tried again more than any other couple on the show, although Kelly and Brandon, Kelly and Dylan, Brenda and Dylan, and Valerie and David all made a valiant effort. Lord, how much time did I waste trying another go at a relationship that didn't work the first time, and ended again and again, for the same fundamental problem. I guess you can't cry over those lost four months…or four years. 
Kissing isn't cheating, is it? When I was younger, I did a lot of kissing. A LOT of kissing. And I didn't always consider it cheating. I know, I am a jerk. But...but...look! David kissed Nikki, and Donna forgave him. Kelly kissed John Sears, Dylan kissed Kelly while he was dating Brenda and Brenda while he was dating Kelly, Brenda kissed Rick (while faking a French accent in Paris, mind you), Brandon kissed Emily Valentine while Kelly was caught in a fire at Steve Sander's illegal rave, and Valerie, well, she kissed everyone. It all seemed so innocent, and I did a lot of casual kissing both in and out of relationships. Now, as a full-grown adult, I realize that "just kissing" is still cheating. Oops! Sorry guys, I've changed, I swear! 
Ignore the warning signs, because he's/she's cute! Listen, we've all been guilty of this one. And we've probably paid the price. Brandon got roofied by Emily Valentine before she almost set the Homecoming float on fire in his driveway. Donna didn't notice the warning signs about Ray Pruitt's anger issues. Kelly started using cocaine with her "artist" boyfriend Colin and then Valerie proceeded to almost lose the After Dark because he jumped bail. Yes, as they ignored the warning signs, I did too. I did not see it coming when my crazy boyfriend tried to poison me, I Love You to Death style, nor did I heed the warnings about the guy whom my friends pleaded me to avoid. Also, I may have had less-than-better judgment during the brief period that I dated a drug dealer at age 17. Thank God I never slept with him. We just kissed. I mean, kissing doesn't count, right? 
I learned a lot from the gang at West Beverly. They taught me to make a lot of mistakes. They taught me that even though you make a lot of these mistakes, everyone can remain friends, and they taught me that when all else fails, you can always count on someone like Nat to give you good advice. And, thanks to the show, "Damn I Wish I Was Your Lover" by Sophie B. Hawkins will always be my favorite love song…