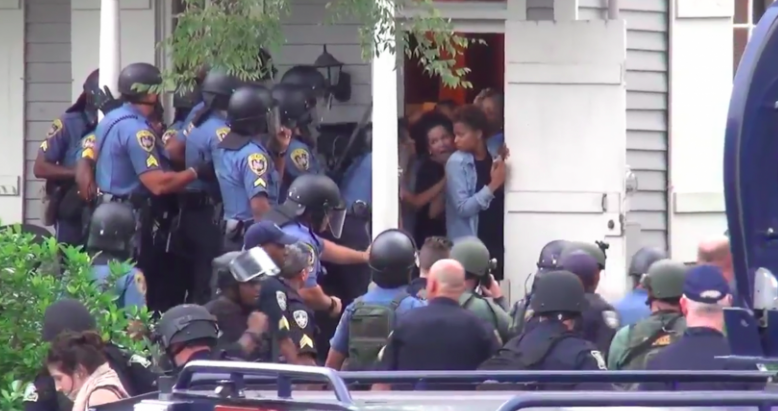 There is no correlation between violent crime rate and the rate at which police offers kill people. Image: Youtube.
Content notice: guns, racism.
On Monday [July 11], CNN hosted a heated debate between host Marc Lamont Hill and retired NYPD detective Harry Houck in which Houck ran up a list of statistics to back his allegation: "Black people are more prone to criminality."
But according to recent studies there are a multitude of factors which lead to black people being arrested and shot by police, and "more prone to criminality" isn't one of them.
Here are 5:
1. Police Departments patrol black neighborhoods more than white neighborhoods.
Cenk Uygur, host of "The Young Turks," points out statements made by former Baltimore cop, Michael A. Wood Jr., who explained why, in his experience, more Blacks are arrested.
"Part of the reason for that is we only go and arrest people in Black neighborhoods 'cause we're afraid if we arrest people in White neighborhoods we're going to get in trouble," Wood said.
"We don't want to hit a judge's son; we don't want to hit someone powerful, so they pick on the powerless," as Uygur puts it.
2. Unarmed black Americans are shot and killed by police at much higher rates than unarmed whites.
One study found that, "Black people were five times as likely to be shot even though they were unarmed."
"They'll say 'Blacks are prone to criminality that's why I had to shoot them' but in that case, they were unarmed," Uygur adds.
3. Black-on-black crime occurs almost as often as white-on-white crime.
While the Right wing often brings up "black-on-black" crime (90%), they never speak of "white-on-white" crime, which at 82% is nearly as high.
Uygur asserts that, "if you do the wrong kind of training, that is overly aggressive, you will get more people being shot, both white and black, but blacks disproportionately...based on police training."
4. There is no correlation between violent crime rate and the rate at which police officers kill people.
According to Campaign Zero, in report covering 2015 data, the organization found "no correlation" between the two — in 50 major cities.
"Every once in a while, they'll say 'Chicago; it's black-on-black crime, and the cops, they gotta protect themselves...' but it turns out that the police officers killing people is not correlated to how violent that city is and how much violent crime there is," Uygur explains.
5. White Americans killed by police put cops in greater imminent danger, but posed a greater legal threat to police.
"In threat level, black Americans who are fatally shot by police are, in fact, less likely to be posing an imminent lethal threat to the officers at the moment they are killed than white Americans fatally shot by police," the host reveals.
Watch:
---
This article originally appeared at Alternet and has been republished with permission.