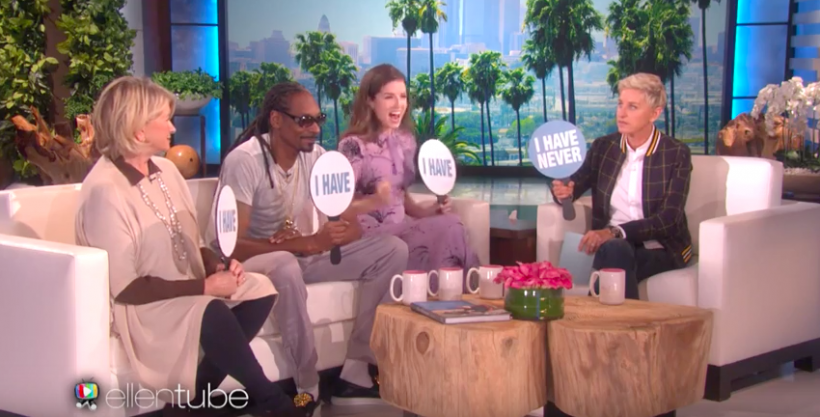 Image: Youtube
Confession: I have had a long-time love for/fascination with Ms. Martha Stewart, grande dame of parties, cooking, and the craftiest "nasty woman" ever in the federal pen. So, when I heard that she had a new show coming out with Snoop Dogg (!!), I was beyond thrilled. Their show, Martha and Snoop's Potluck Dinner Party, premieres November 7th on VH1. I feel like it will be the perfect thing to soothe my soul on election eve. Check out the trailer below:
According to VH1, "Each week, Snoop and Martha will invite celebrity friends over for a half-baked evening of cocktails, cooking, conversation, and fun where nothing is off limits."
Snoop adds, "My homegirl, Martha and I have a special bond that goes back. We're gonna be cooking, drinking and having a good time with our exclusive friends. Can't wait for you to see how we roll together!" I, for one, cannot wait! 
This week while promoting their new show, Snoop and Martha — along with fellow guest Anna Kendrick — played a round of "Never Have I Ever" with Ellen DeGeneres. If you've never seen it, Ellen gives a series of statements, all beginning with "Never have I ever..." Then, she and her guests hold up a paddle with their response — either "I have" or "I haven't." It's usually pretty funny. And this time was no exception. 
How would you answer the following?: 
• Never have I ever sexted.
• Never have I ever been in handcuffs.
• Never have I ever been stoned on a talk show.
• Never have I ever returned something to a store after wearing it.
• Never have I ever been to a nude beach.
• Never have I ever drunk dialed an ex.
• Never have I ever used my fame to get out of trouble.
Come on, you can tell me!