The alchemy of celebrity-endorsed fashion campaigns will forever be a mystery to the everyday consumer. While certain choices are no-brainers—Jennifer Garner is perfect for Max Mara's sophisticated campaign (though Amy Adams is apparently even perfect-er)—other choices baffle. Rihanna for Balmain or Lady Gaga for Versace, for example, made for very awkward centerfolds, as the design houses' energy failed to jive with the celebrities' appeal.
The news about Anna Kendrick's partnership with Kate Spade—Kendrick will be the face of the brand's holiday campaign, as well as a "muse" for its Year in Adventures 2015 campaign—is altogether something else. It's not per se a good fit, but it is a damn refreshing one.
"Kendrick is beautiful, smart, hilarious and wildly talented," states the press release announcing the partnership, and justly so. Since lending her off-beat charm to Drinking Buddies and Pitch Perfect, the Twitter-ruling star has became an indie favorite and the thinking man's imaginary girlfriend—she's genuine, funny and the perfect amount of "weird."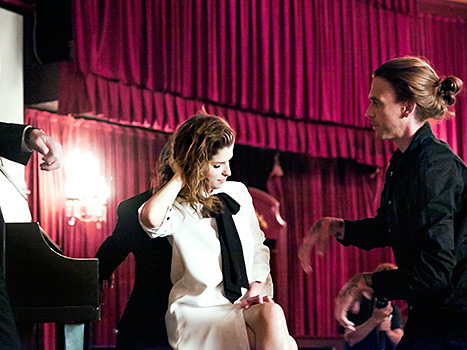 What Kendrick's never been, even if her style has improved lately, is a bona-fide fashionista. Her early red carpet choices left much to be desired, and her recent ventures into "sexy" territory felt like awkward, if earnest, attempts to "dress up."
Her first major fashion campaign with one of the country's leading luxury brands proves that lately, brands prefer to link themselves to stars who aren't so much fashionable, as they are interesting and individual. It's about personal qualities, not clothing.
Judging by the behind-the-scenes photos, the brand is building a frilly, super-girly world around Kendrick's sardonic persona. Will this work . . . or will it become a dazzling, festive flop? Time will tell, but in the meantime, this is a welcome departure from all those frosty models and swag over-sexed celebrities who don't know how to sing "Cups."